Opera
Madama Butterfly
State Opera South Australia
With certain artists – the luminaries, the abiders – it's tempting to assign a kind of inevitability to their oeuvres. The musicals of Cole Porter, the satires of Jane Austen, the exiguous poems of T.S. Eliot have a kind of perfection that make them seem nonchalant. But here we run the risk of overlooking the sheer chanciness of most artistic careers – not to mention the false starts and tribulations.
Giacomo Puccini – hedonist, philanderer, suavest of Italian composers – was nonetheless assiduous in his quest for fresh operatic material and was subject to the disappointments and dead-ends that beset any ambitious artist.
After the première of Tosca in January 1900, Puccini was unsure what to write next. He thought of Maeterlinck's Pelléas et Mélisande, despite the fact that Claude Debussy was already adapting the play into an opera. He contemplated Victor Hugo's Les Misérables and flirted with the idea of writing an opera about Marie Antoinette. In Paris he sounded out Émile Zola about adapting his novel La Faute de l'abbé Mouret. Then, in a theatre in London, though he could follow little of the English dialogue, he found the subject for his next opera: a one-act play called Madame Butterfly by David Belasco, itself adapted from a story by John Luther Long. Backstage, Puccini embraced the American dramatist and beseeched him to let him have the rights. According to Belasco's memoirs, he told Puccini that he could do anything he liked with his play, 'because it was impossible to discuss arrangements with an impulsive Italian who has tears in his eyes and both his arms round your neck'.
John Luther Long's story 'Madame Butterfly', first published in Century Magazine in 1898, was based on Pierre Loti's 1887 novel Madame Chrysanthème. Loti's former career as a naval officer had taken him to distant lands; Léo Delibes's opera Lakmé (exotic as they come) is based on his novel Le Mariage de Loti. Long, writing in what Charles Osborne (in his indispensable book The Complete Operas of Puccini) describes as 'plain, unvarnished prose', has Butterfly expressing herself in 'a most unconvincing pidgin English which seems frequently to take on something of the speech-patterns of the American Negro stereotype, as in this scene with her maid, after Pinkerton's departure: "Aha, ha, ha! Aha, ha, ha! What you think, liddle maiden? Tha's good song 'bout sorrow, an' death, an' heaven? Aha, ha, ha! What – you – thing? Speak."'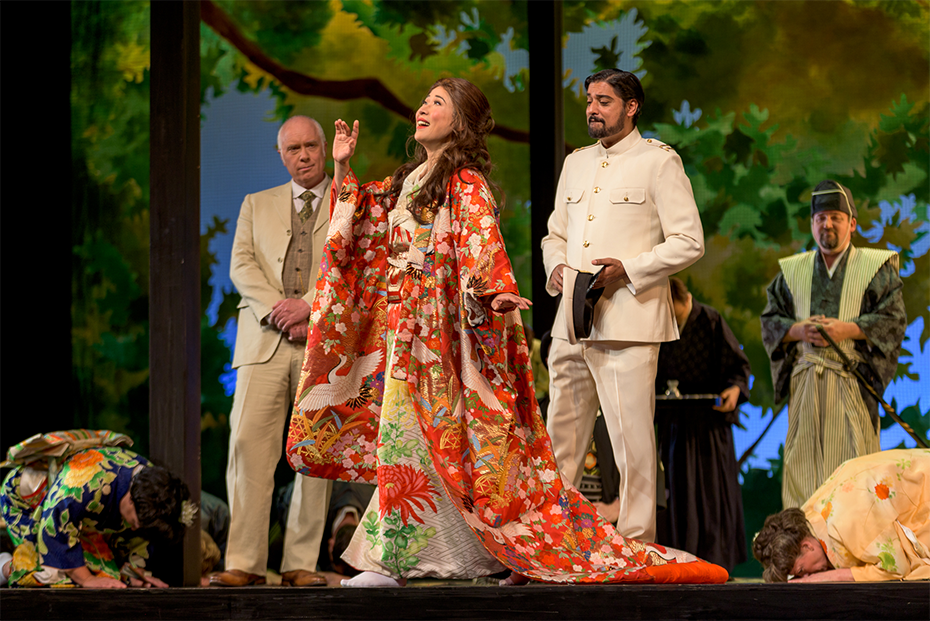 Mariana Hong as Cio-Cio San in Madama Butterfly (photograph by Soda Street Productions)
Belasco made many changes to Long's tale of the forlorn geisha and her callous lover, Lieutenant Benjamin Franklin Pinkerton. Major additions included Butterfly's suicide and Pinkerton's guilt-ridden return as she dies. To convey Butterfly's night-long vigil as she awaits the Pinkerton's return, Belasco added a silent fourteen-minute scene with changing lighting effects to simulate dusk, night, dawn, and sunrise. Such was the success of this coup de théâtre that when Puccini staged Madama Butterfly at the Metropolitan Opera in 1907, he borrowed Belasco's electricians and the models for the décor.
The première of Puccini's opera, which took place at La Scala on 17 February 1904, was a famous fiasco, notwithstanding the stellar cast and production team that had been assembled. The Milan audience, encouraged by Puccini's enemies, was bilious throughout. Hisses greeted the languorous love duet in Act I. One newspaper headline read, 'Butterfly, Diabetic Opera, Result of an Accident'.
Writing to a friend, Puccini described the first performance as 'a Dantean Inferno, prepared in advance'. He withdrew the opera, tinkered with it, and divided Act II into two parts with an intermission, as he knew he should have done in the first place. Kate Pinkerton was all but erased from the piece, becoming one of opera's most interesting unrealised women. (Someone should write an opera for her. She should divorce Pinkerton in the first act and keep the boy.)
When the new version was unveiled in Brescia three months later, it was an immediate success. In July 1904, Toscanini conducted it in Buenos Aires, and Butterfly quickly became one of the most frequently performed operas in the Italian repertory.
State Opera South Australia is presenting New Zealand Opera's production, directed by Kate Cherry and first heard in Auckland in 2013. This is a welcome addition to the ranks of local Butterflys, dominated for so long by Moffatt Oxenbould's elegant production, last heard in Sydney in 2015.
After the directorial excesses and digital vagaries of Graeme Murphy's new production for Opera Australia (first heard in Sydney in June 2019 and bound for Melbourne next May), Cherry's account comes as something of a relief.
Pinkerton's limitations and immorality are apparent from the start. For Cherry, as she states in the program note, Pinkerton is the 'ultimate careless conqueror'. Devoid of curiosity or depth, he is shown around the house in Nagasaki by the unctuous Goro. With the property comes Cio-Cio-San (fifteen years old in Giuseppe Giacosa and Luigi Illica's libretto). Tongue in cheek, Pinkerton takes a 999-year lease on both. Only with Sharpless, the American Consul, is he confiding: the marriage contract comes with a monthly get-out clause. Sharpless, a sympathetic character who has met Cio-Cio-San, warns the lieutenant to be careful, to little avail. Cherry might be thinking of modern tourism when she writes, '[Pinkerton] can travel the entire world and remain unchanged. He has no need to search for the individuality in Japan … He makes no attempt to understand what Cio-Cio-San's place is in her community. He is not on a journey of imagination or daring.'
Perhaps this is why Puccini later remarked, 'I am conscious that in it I have written the most modern of my operas.'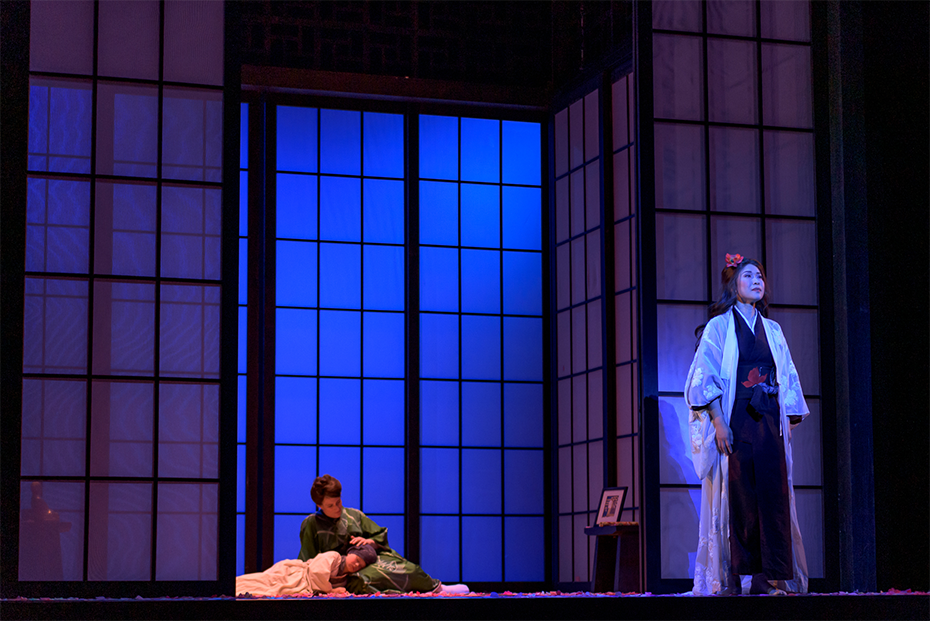 Nate Bryant, Caitlin Cassidy, and Mariana Hong in Madama Butterfly (photography by Soda Street Productions)
For Cio-Cio-San, of course, the implications of Pinkerton's aggrandisement are dire. Passionately, impetuously, she abandons her religion, her family, her friends – her nationality in effect – all for a man who is indifferent from the start (aroused though he might be) and who will lead her into poverty and disgrace.
Christina Smith's design has been rightly lauded. It is bright, serviceable, and flexible (as in the Oxenbould production, there are more screens than a multiplex, and they are always being opened or drawn to create new vistas, new intimacies). Matt Scott's lighting is inspired, especially in the overnight vigil and the final moments when Cio-Cio-San's obscured suicide saturates the set with red.
Mariana Hong is a seasoned Butterfly. She has sung the role for Opera Australia, Opera Queensland, and the Finnish National Opera. Hers is not a large voice, and Butterfly requires enormous vocal resources, especially in a vast theatre with such leaden acoustics. From row N in the stalls, Hong was often barely audible. This was especially noticeable in 'Un bel dì' and in the magnificent Act II aria 'Che tua madre'. The latter should be seismic (listen to Callas's version on the famous Karajan/EMI recording), but here it seemed confessional, remote. Yet Hong at times was vocally assertive. Some of her gestures were mannered and old-fashioned, but histrionically she was at her best in the love duet, the overnight vigil (gravely standing and staring at the audience), and the long, tragic passages leading up to Butterfly's suicide. It was a thoughtful, plaintive realisation of a hugely demanding role.
Angus Wood relished the ambiguous role of Pinkerton. Like the Duke of Mantua in Rigoletto, this narcissist has the sweetest tunes. Wood was resonant and unchecked throughout, with a Bergonzi-like sheen. He was especially fine in the Act I aria 'Dovunque al mondo', with its incorporation of 'The Star-Spangled Banner', which Gustav Kobbé found so objectionable. Notable too was the remorseful aria 'Addio, fiorito asil' at the end, which Puccini added after the calamity in Milan.
Caitlin Cassidy was an attentive and anguished Suzuki. Only in the closing trio with Pinkerton and Sharpless (Douglas McNicol) – Suzuki's only opportunity to make a sustained lyrical contribution – were we conscious of the lightness of this young mezzo voice.
The star, in a way, was the orchestra, which did justice to Puccini's magnificent score. Swedish conductor Tobias Ringborg, making his Australian début, led the Adelaide Symphony Orchestra. The instrumental nocturne that accompanies Butterfly's vigil took us back to 1998, when Jeffrey Tate succeeded in transforming the ASO during the first of the Adelaide Rings.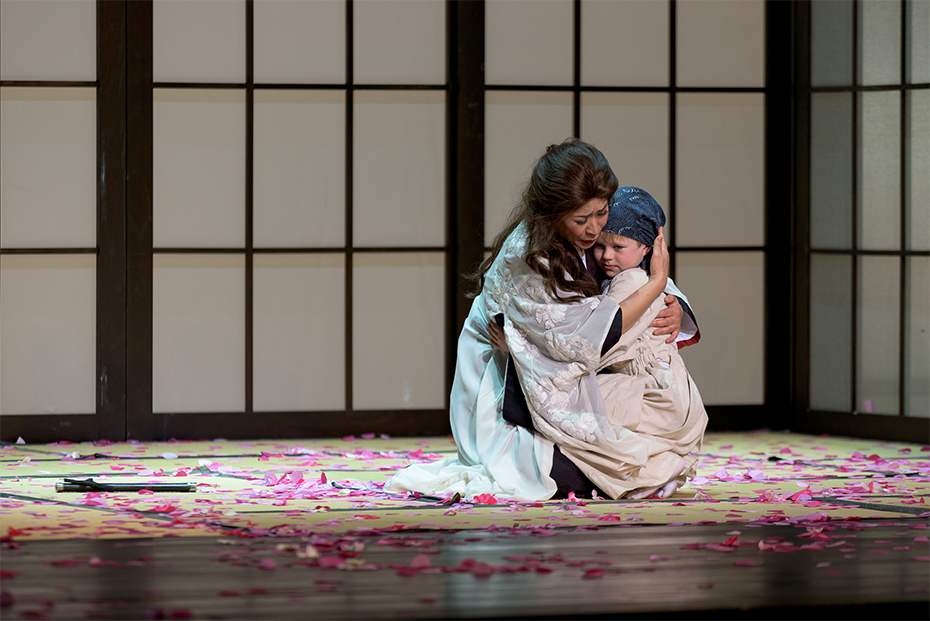 Mariana Hong and Nate Bryant in Madama Butterfly (photograph by Soda Street Productions)
While creating Madama Butterfly, Puccini immersed himself in japonaiserie and learnt some Japanese folk-songs. He was curious about Gilbert and Sullivan's operetta The Mikado. The vocal score in his library at Torre del Lago contains pencilled translations of two of the numbers.
The Mikado, currently presented by State Opera South Australia, was a phenomenal success when it opened in 1885. It ran at the Savoy Theatre for 672 performances. By the end of that year, about 150 companies were producing productions of the operetta. It came to Australia six months after the London première, and the J.C. Williamson Company went on touring it until the 1960s.
Director Stuart Maunder, in his program note, writes: 'The G&S operetta's durability is extraordinary, but not unexplainable. After all, Gilbert's dramatic situations are still funny, and Sullivan's music succeeds in providing a kind of romantic foil to Gilbert's pervasive drollery and cynicism.'
W.S. Gilbert's lyrics – modernised here, with references to Donald Trump and local politicians – are inspired. Dominic J. Walsh was outstanding as Nanki Poo. (It would have been good to savour his clarion tenor without the inevitable amplification.) Byron Coll was a droll Ko-Ko, and Amelia Berry was good as Yum-Yum. Elizabeth Campbell stole the show as a fur-clad, vengeful Katisha, as only a veteran can.
Simon Kenway conducted the Adelaide Symphony Orchestra.
---
Madama Butterfly, presented by State Opera South Australia, continues at the Adelaide Festival Theatre until 23 November 2019, as does The Mikado. Performances attended: November 14 (Butterfly) and 15 (Mikado).