Opera
Nina Stemme Returns
Tasmanian Symphony Orchestra
Three years ago, almost to the day, the great Swedish soprano Nina Stemme made her Australian début – in Hobart, a little unexpectedly. Joining her was Stuart Skelton, with whom she had just performed in Mariusz Treliński's production of Tristan und Isolde at the Metropolitan Opera – a sombre, martial, digital creation that divided critics and audiences alike ('overdetermined darkness and cynicism' was one complaint) but which this reviewer found coherent and ungimmicky.
In Hobart, rested and possibly liberated after the rigours of a month-long journey on a warship in the capacious Met, Stemme and Skelton performed generous extracts from Tristan und Isolde. The concert was rightly awarded the Best Symphony Orchestra Concert in the 2017 Helpmann Awards.
Few people who heard that memorable concert stayed away last Saturday evening when Nina Stemme 'returned' to Hobart. There was a real sense of occasion in the Federation Concert Hall. It was full of course. Half the audience seemed to have flown in from the mainland – an auspicious sign for Opera Australia's new production of the Ring cycle in Brisbane in late 2020. Wagnerites are peripatetic creatures, like his afflicted characters.
Notwithstanding the stellar soprano and the glories of this repertoire, the hall itself, though not beautiful to behold, is an attraction. Is there a better acoustic in Australia for Wagner's sonorous dramas? From the outset, the sound had a vividness and power that simply can't be achieved in those mushy concert halls in Sydney, Melbourne, and Adelaide. Even the silence was potent (marred only by a weird whirring sound from the rear of the hall for the first few minutes of the second half, quickly hushed).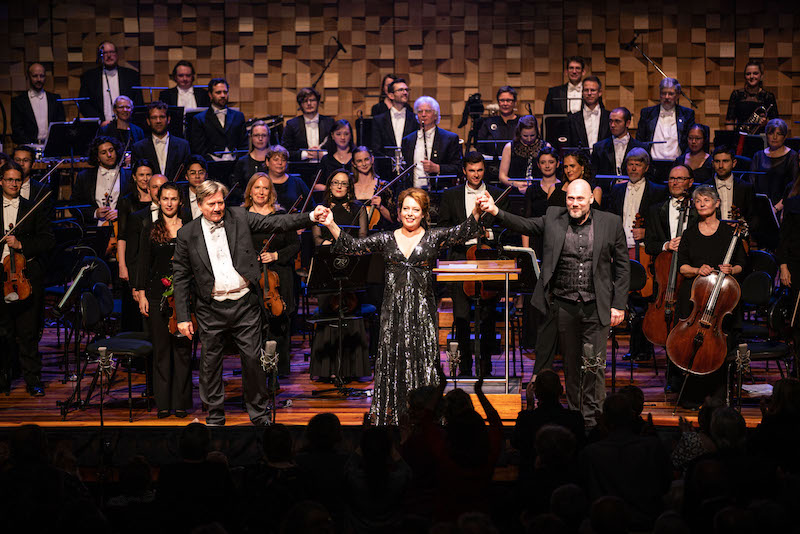 Nina Stemme with Marko Letonja and John Lundgren (photograph by Brad Harris)
Marko Letonja knows this hall well. Following his term as conductor and artistic director of the Tasmanian Symphony Orchestra (2012–18), he is now the inaugural Conductor Laureate. Conscious of his disparate forces (the TSO was joined by about forty musicians from the Australian National Academy of Music in Melbourne), Letonja led the orchestra with a firm eye and precise baton. Cleverly, he made the most of a varied program – those 'bleeding chunks'. Eschewing applause, and after a few hints from Robert Gibson in his excellent pre-concert talk, Letonja moved from scene to scene without pause, giving the concert a kind of unity, despite the inevitable truncations.
The audience, full of anticipation, remained silent and amazingly absorbed throughout (unlike the almost mutinously cacophonous audience that performed throughout much of Yo-Yo Ma's Sydney recital on Monday night, all captured on the radio broadcast). Only once did the Hobart audience interrupt the music with applause.
The orchestral playing throughout was good; the winds and brass were especially fine. The Ride of the Valkyries, that almost parodic music from Act III of Die Walküre, was dispatched with restraint and finesse, not as a poll-winning romp. Every bit as impressive in orchestral terms was the tempestuous conclusion to the Dutchman's Monologue. Best of all was the opening of the Funeral Music from Act III of Siegfried, which was performed with poise and gravity, before the extraordinary outpourings that follow.
Nina Stemme began with Brünnhilde's war-cry 'Ho-jo-to-ho!' – offstage at first, then full-throatedly greeting Wotan. This was followed by the Ride of the Valkyries, then the long third scene from Act III of Die Walküre, when Brünnhilde, having disobeyed her father in order to save Siegmund, learns of her fate – condemned to sleep on a rock, deprived of her divinity, until she is claimed by the first man who wakes her – and pleads with him to be guarded by fierce flames.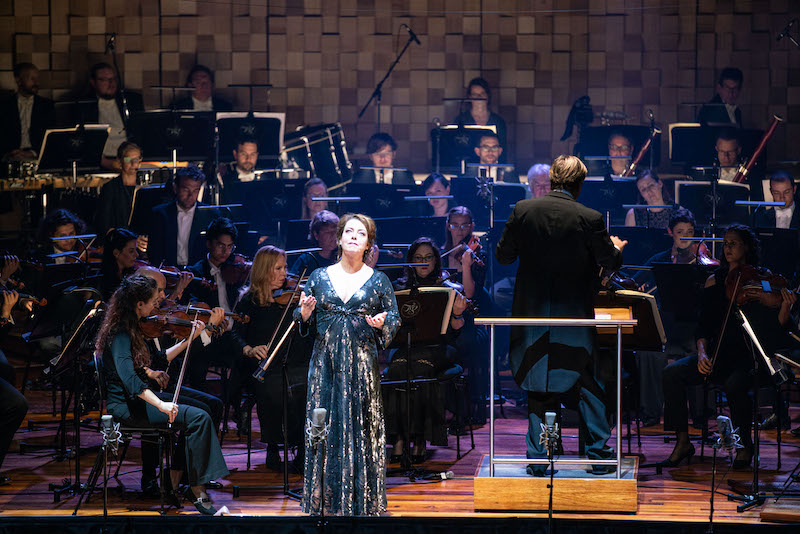 Nina Stemme (photograph by Brad Harris)
Stemme's voice seems in even better shape than when I first heard her in Francesca Zambello's Ring cycle in San Francisco eight years ago. There is little vibrato, and, as in Tristan, she is capable of enormous vocal stamina and power. Yet she can sing with great delicacy, as at the start of this magnificent scene from Walküre, when Brünnhilde asks Wotan: 'Was it so shameful / what I did wrong / that you punish that wrong in so shameful a way?' (trans. Stewart Spencer). Stemme, compelling throughout, was quite magnificent in 'Der dies Liebe', filling the hall with her soaring admission of guilt.
John Lundgren, her compatriot, was almost as good in this most affecting of scenes, which culminates in Wotan's kissing Brünnhilde's eyes ('That radiant pair of eyes / which I often caressed with a smile') to music of the greatest beauty. We almost forgot this was a concert performance; there was no restraint, no awkwardness. Here were two fine singing actors emoting, parting, with an almost erotic rapport. Wotan's Farewell and the Magic Fire Music were equally compelling, and the first half ended with a phenomenal ovation.
Lundgren, a youngish bass-baritone, has sung Wotan at Bayreuth and (with Stemme) at Covent Garden. (He's also an accomplished Barak, Scarpia, Iago, and Prospero in Thomas Adès's The Tempest.) He was at his best in the Dutchman's Monologue from Act I of Der fliegender Holländer. Perhaps the Dutchman's tessitura suits him slightly better than Wotan's at this stage in his career; he has also sung the role recently at Stuttgart. This was a galvanic account of the Dutchman's curse. Maestro Letonja might not have sanctioned the applause that followed, but applaud we all did.
Then came Brünnhilde's Immolation, from Act III of Götterdämmerung. Eight years ago, in San Francisco, I thought Stemme gave the best performance I'd ever heard by an opera singer. Here, she was equally impressive, the voice richer than ever, the high notes utterly sure, with a kind of Nilssonian gleam.
Happily, this memorable concert was broadcast, so we have a record of another exhilarating performance from the TSO. Let us hope that Nina Stemme returns to Hobart in the near future. But what about the mainland? The Swedish soprano, at the height of her powers in her mid-fifties, clearly likes visiting Australia, and she must have been impressed by the response: the audience rose to her as they did in 2016. Let's hope the national company presents the world's leading Brünnhilde and Isolde – possibly in a production with Stuart Skelton, that other great Wagnerian?
---
Nina Stemme Returns (TSO) was performed in the Federation Concert Hall, Hobart, on 2 November 2019.