Opera
Peter Grimes
Sydney Symphony Orchestra
Difficult it is to imagine the full impact Benjamin Britten's opera Peter Grimes had on the opening-night audience at Sadler's Wells Theatre on 7 June 1945, just a few weeks after the conclusion of World War II. Little wonder that the audience, possibly expecting something cheerier from the prodigal wunderkind, sat there in silence for minutes after that subtlest of endings. Joan Cross, director of the Sadler's Wells Opera Company and creator of the role of Ellen Orford, said later: 'There was silence at the end and then shouting broke out. The stage crew were stunned: they thought it was a demonstration. Well, it was but fortunately it was of the right kind.'
Hanker though some may for art that is playful or apolitical, it is impossible to think of that war and this opera in isolation. Edmund Wilson, attending one of the first performances, observed: 'This opera could have been written in no other age, and it is one of the very few works of art that have seemed to me, so far, to have spoken for the blind anguish, the hateful rancour and the will to destruction of those horrible years.'
Coincidentally, the Sadler's Wells Theatre had been closed during the war – a home for evacuees, all victims of Hitler's horrors and racial theories. And here was Britten writing about – among the many subjects in this multitudinous opera – intolerance and small-mindedness and casual social ostracism.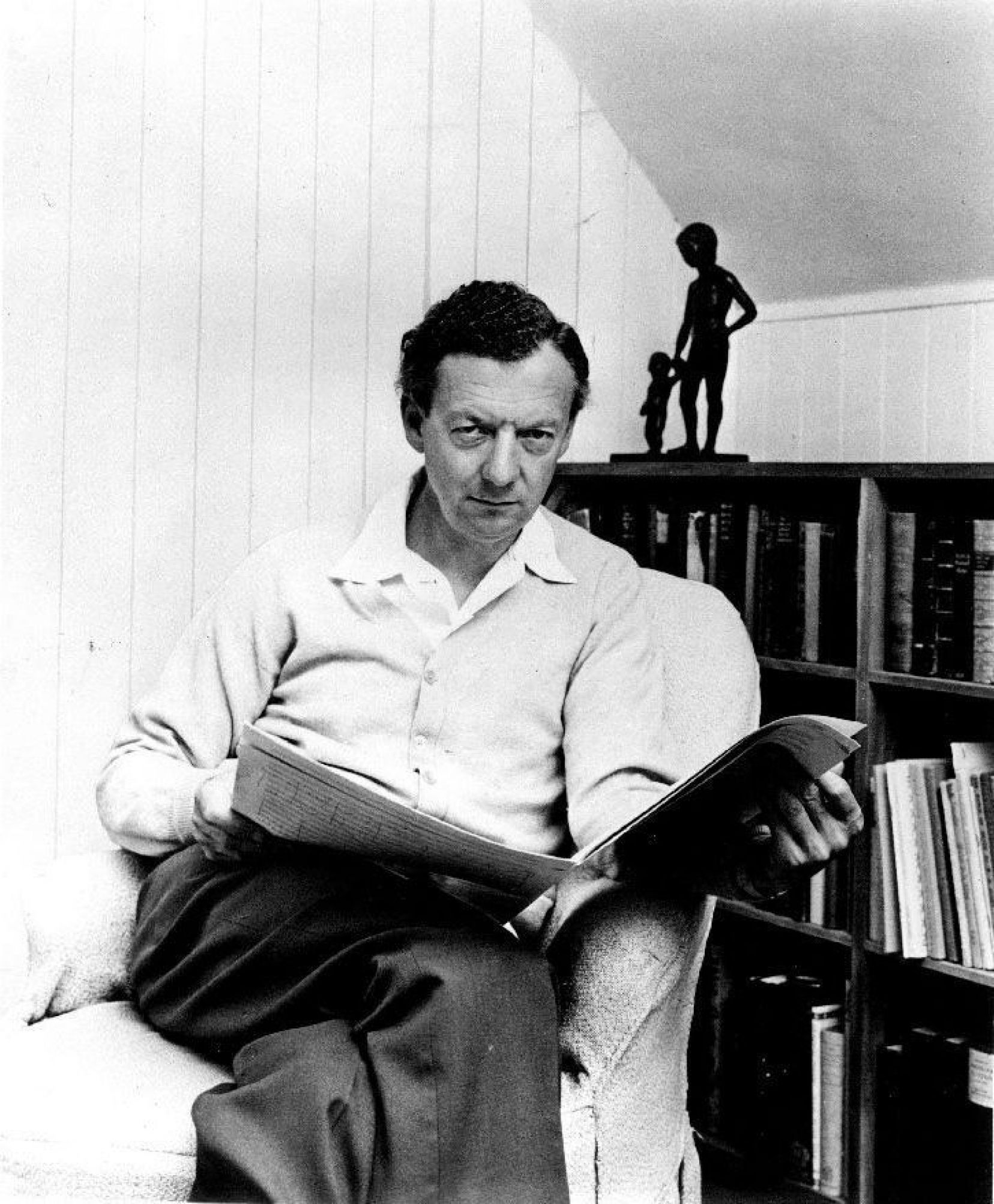 Publicity photograph of British composer Benjamin Britten, 1968 (photograph via Wikimedia Commons)
Britten, though barely thirty, was demonstrably ready to write his first opera, and audiences around the world have been stirred and shattered by his creation ever since, as many of us were last Thursday after this welcome concert version from the Sydney Symphony Orchestra. Almost seventy-five years after the end of the Third Reich, we have enough moral and ethnic wars of our own to keep us bolted to our seats.
Yet the work was conceived far from Europe. In 1941, Britten and his partner Peter Pears were still in the United States, controversial self-exiles from the European war because of their pacifism, their detestation of power and violence. Soon after Britten – a deeply literary composer – read an article by E.M. Forster about the English poet George Crabbe, Pears bought a copy of Crabbe's book-length poem The Borough (1810) in a Los Angeles second-hand bookshop. The Borough – set in an English fishing village that is clearly Aldeburgh, the poet's birthplace – comprises twenty-four poems in heroic couplets. Letter XXII is about Peter Grimes, a character based on a historical fisherman who lived in Aldeburgh in the mid-eighteenth century. (Britten himself would settle there soon after the première.)
Britten and Pears – ambivalent about America, intent on returning to Britain, and resigned to being assessed as conscientious objectors (and possibly imprisoned) – set about devising an opera. At first Britten was unsure how to dramatise Peter Grimes. To him Grimes was just a 'motiveless psychopath – no reasons and not many symptoms'. In one letter, he described the deaths of Grimes's unhappy apprentices as 'murders'.
Meanwhile, Britten and Pears searched for a librettist. W.H. Auden, Britten's old friend and mentor, was out of the question after the failure of their first collaboration, a 'high school operetta' called Paul Bunyan, which was staged at Columbia University in 1941 to a mixed reception. Christopher Isherwood, another member of their circle, declined, indifferent to Crabbe's work. So they turned to Montagu Slater, a highly politicised poet and dramatist for whom Britten had written incidental music for some of his plays.
Paul Kildea, in his excellent biography of Britten, had stated: 'The libretto of Peter Grimes has had to bear a lot of weight over the years.'
Slater updated the action from the latter part of the eighteenth century to 'toward 1830'. Britten and Pear had already shaped the libretto, adding characters from other sections of The Borough (e.g. the widowed schoolmistress Ellen Orford, from Letter XX). Peter Grimes's father was eliminated, and the number of Grimes's apprentices was reduced from three to two.
More fundamentally, though, Slater downplayed the sadism in Crabbe's original. Grimes is an outcast, a kind of anti-hero, a tormented modern soul – too pure for the world in a way (he must go down!). Lord Harewood wrote in Kobbé, 'The character of Peter Grimes is to some extent softened; he is no longer the uncomplicated sadist of Crabbe's poem, but a proud, self-willed misfit, whose uncompromising independence and unwillingness to accept help brings him in the end to disaster.'
And yet, and yet, there is the first of Grimes's drowned apprentices – his victims – and there is the mysterious bruise on the neck of the second apprentice, John, which Grimes dismisses as part of life's hurly-burly. Ellen Orford, spotting the bruise, knows what it portends. 'Well, it's begun,' she sings ruefully. There is also a megalomaniac quality to Grimes, as when he insists on John's working on the Sabbath. 'This is whatever day I say it is,' Grimes thunders.
He knows about the hypocrisies of village life and despises his accusers: 'I don't like interferers.' After the inquest into the death of Grimes's first apprentice, which opens the opera, Grimes declares: '"Stand down" you say. You wash your hands / The case goes on in people's minds / The charges that no court has made / Will be shouted at my head.' Later, hauntingly, he sings, 'The truth – the pity – and the truth.'
Grimes's, to quote Alan Blyth, is 'the message of an outsider, a stranger with unorthodox ideas, battling against the orthodoxies and prejudices of a puritanical and reactional society.' For this critic, it is impossible not to think of other strangers, some close to hand: the outcast, the abandoned, the stigmatised.
This is why – apart from its purely musical qualities – the opera seems so timeless, so necessary; and why, perhaps, it was one of the few operas written after Wozzeck to enter the repertory. (Ironically, Berg's opera, brilliantly presented in Sydney in early 2019, concerns another victim or anti-hero who dies by drowning.)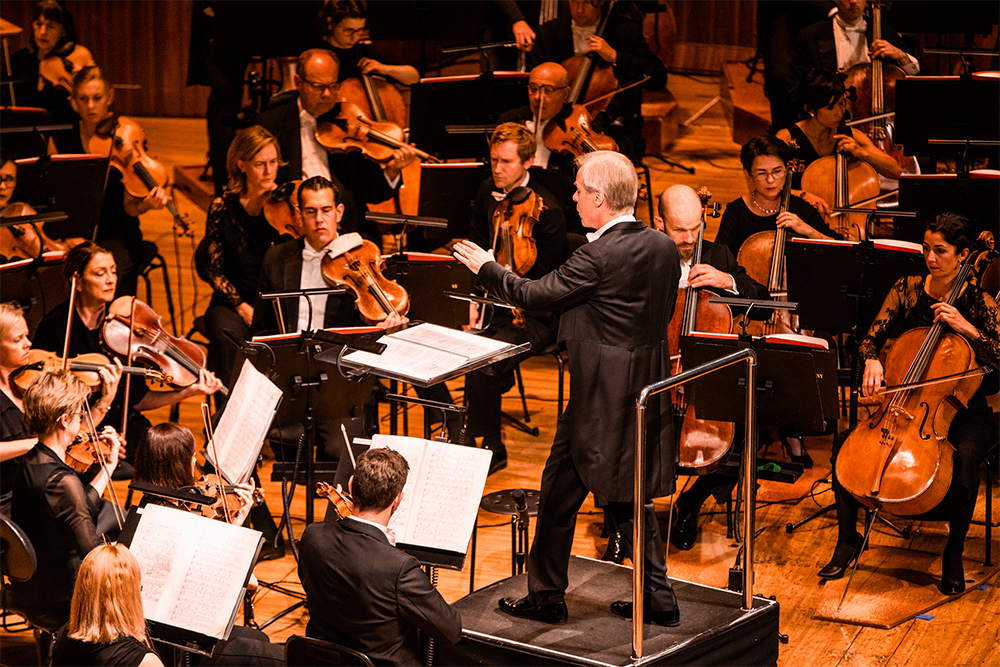 David Robertson conducting the Sydney Symphony Orchestra in Peter Grimes (photograph by Jess Gleeson)
The music at times is almost too much – quite excruciating. There is nothing trivial or facile about this opera. Long though it is (three hours, with one short interval on this occasion), nothing could be removed without injuring the whole.
It is also startlingly pictorial. Young though he was, Britten had been composing for film and stage plays for years; he knew how to write dramatically and succinctly.
We discern hints of Verdi and Tchaikovsky, and others still to come, including Shostakovich and Sondheim. The American sojourn surely influenced some of the Copland-like passages. The settings are memorable. One of Britten's 'chief aims' was to 'restore to the musical setting of the English language a brilliance, freedom, and vitality that has been curiously rare since the death of Purcell'. This is crisp terrain, for 'Peter Grimes is at his exercise'.
The music is unfailingly inventive, and the structure all Britten's own. Each act starts with an Interlude – and orchestral pieces connect the two scenes in each act – six pieces in all. The long Passacaglia in Act II forms the centrepiece of the whole opera. The Sydney Symphony, conducted by David Robertson, did them all justice, notably the glorious Moonlight Interlude in Act III.
The singers here were uniformly fine – a memorable ensemble. This is, of course, Peter Grimes's opera: everything depends on his vocal and dramatic resources. Here, Stuart Skelton repeated the role that he has sung for Opera Australia and around the world. He sang it twice during the 2018 Brisbane Festival, though indisposed for much of the first night. When he rallied for the second, our critic, Gillian Wills, was struck by his 'thrilling singing' and 'soulful, searching performance'.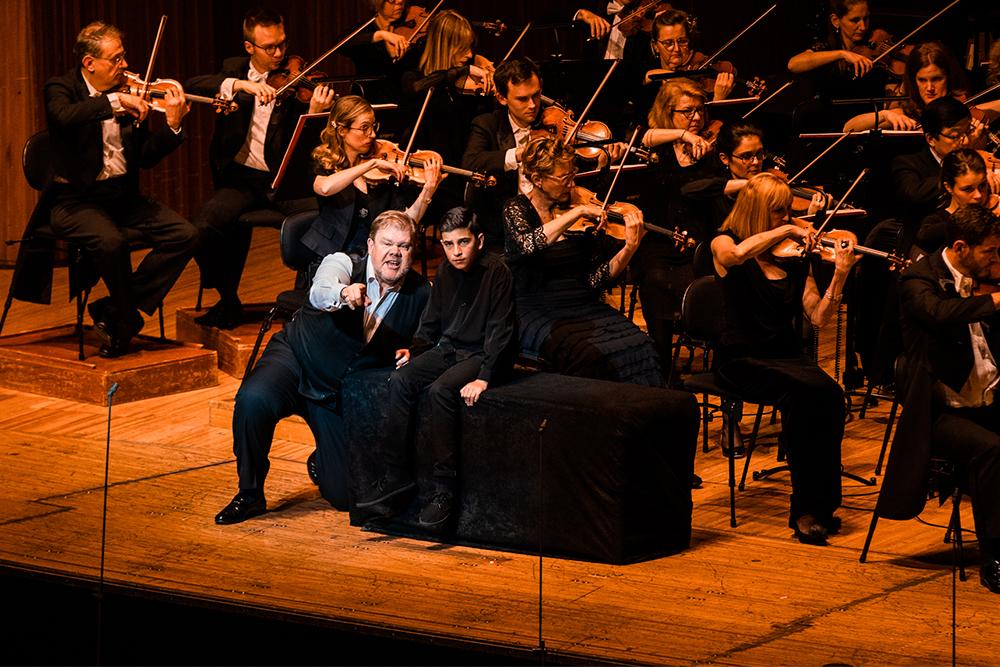 Stuart Skelton and Joshua Scott in Peter Grimes (photograph by Jess Gleeson)
Peter Grimes must rank as one of Skelton's outstanding achievements, rivalling his Tristan and Siegmund. As in Brisbane, the Act-I aria 'Now the Great Bear and Pleiades', with its sustained note E, impressed (to quote Wills again) with Skelton's 'feathery light execution of the first phrase of his aria. His tone stretched and expended and grew into a tremendous sound.' Even when Skelton faltered slightly, during the rigours of Act II, everything was at the service of his art, and the odd uncertain high note suited Grimes's own vulnerability.
Skelton's is a broken, helpless, rather dreamy Grimes – less tempestuous than some perhaps (Jon Vickers is the most famous and galvanic exponent of this role since the original, Peter Pears). At times this Grimes is even tender to the last of his sacrificial apprentices. Uppermost in his mind is the desire to forge a new, conventional life for himself and Ellen Orford ('Buy us a home, buy us respect'). All comes crashing down in Act III, following John's death and the villagers' massed denunciation.
Then comes the mad scene that tests any singer who tackles the role. Here, Skelton (accompanied by the foghorn – really a tuba on E flat) was at his best, utterly plausible in his pathos and enfeeblement

What is home? Calm as deep water.
Where's my home? Deep in calm water.
Water will drink my sorrows dry
And the tide will turn.
Down he goes staggering to the sea, to his extinguishment.
This was a daring, gutsy, uncompromising performance. It was obvious at the end, during the loud standing ovation, what this night meant – what this role has meant – to Stuart Skelton.
Ellen Orford – Grimes's defender and possible bride – has some of the best music in the opera. This was Nicole Car's début in the role. It follows her recent appearance as Donna Elvira at the Paris Opera, opposite her husband, Étienne Dupuis, the Don Giovanni (the pair will give recitals in Sydney and Melbourne in August). Car, looking decidedly more chic than most Mrs Orfords, impressed from the outset, 'Let her among you without fault / Cast the first stone', the first extended solo piece in the opera. There was humanity but great pessimism in her strange scene ('Glitter of waves') with John: 'You liked your workhouse with its grave / Empty look. Perhaps you weren't / So unhappy in your loneliness.' Later she sings: 'Innocent, you've learned how near / Life is to torture.'
Welcome to Aldeburgh, little boy, one was tempted to say.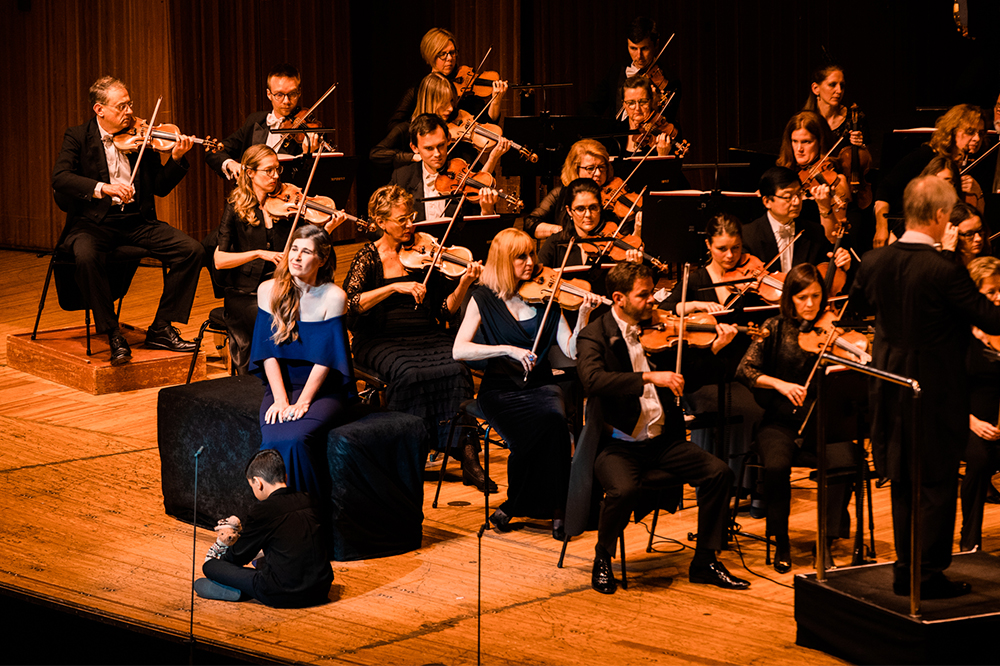 Nicole Car and Joshua Scott in Peter Grimes (photograph by Jess Gleeson)
The Embroidery aria in Act III, the longest aria in the opera, was magnificently sung and revived memories of Joan Carden's performance for the Australian Opera in Sydney and Melbourne (1986 and 1987) – indelible memories from that stellar career. Car, though young to be singing Ellen Orford, was superb throughout. The tone is as lustrous as ever, and the voice has grown noticeably fuller.
The American baritone Alan Held – a celebrated Wotan and Dutchman – is a singing actor of authority and vocal distinction, with excellent diction (a feature of this concert). Held was an entirely credible Balstrode, sorrowing for his friend Grimes but ultimately clear-eyed about his only choice. Grimes was to take his boat out to sea and scuttle it. Here, cleverly, Britten has Balstrode address Grimes in his speaking voice – a thud of reality.
Other highlights in this large cast were many. Deborah Humble was an outstanding Auntie, landlady of The Boar. She made much of the glorious quartet for women in Act II, when Ellen Orford joins the two Nieces (Jacqueline Porter and Cleo Lee-McGowan), who (unusually for them) sing in unison for much of it.
It was good to hear Elizabeth Campbell again, still in fine voice and a perfect Mrs Sedley, ceaseless gossip, fussy, neurotic, malevolent ('Crime which my hobby is sweetens my thinking').
The Sydney Philharmonia Choirs – all in mufti – sang with gusto and precision. Like the singers, they were expected to perform without scores, except at the end, during Grimes's downfall, when they used them to obscure their faces – a brilliant touch. None of us will easily forget the great Act III ensemble 'Him who despises us / We'll destroy', with its fortissimo cries of 'Peter Grimes'.
Truly, the case goes on in people's minds.
Then, Grimes missing, eliminated, a sombre order is restored – such a subtle, ambiguous ending to this angry opera. Reports of a sinking out at sea are dismissed as 'one of those rumours'. To quote Lord Harewood again: 'The Borough has forgotten its manhunt and prepares to get on with another day.'
How disappointing, though, that the Concert Hall (soon to be closed for renovations) was barely half full on Thursday evening. What more do people want? Here we had a first-class symphony orchestra playing an operatic masterpiece with Australia's two finest singers in the lead roles? If no one goes it will be hard for symphony orchestras to justify performing orchestrally rich scores, so many of which blossom in concert versions.
---
Peter Grimes was performed in the Concert Hall, Sydney Opera House, on 25 and 27 July 2019. Performance attended: July 25.