Music
2019 Melbourne International Jazz Festival
In 1959, Miles Davis entered Columbia's 30th Street Studio in New York, with his sextet, and recorded what many consider to be the greatest jazz album of all time: Kind of Blue. It was an inspired idea to program a performance of this music, in celebration of the album's sixtieth anniversary, at the twenty-second Melbourne International Jazz Festival (MIJF). And yet, it begged the question: how do you begin to meddle with perfection?
Ross James Irwin, of Cat Empire fame, was given the unenviable task of musically arranging this performance, cleverly billed as 'Reflections on a Miles Davis Masterpiece'. Rather than tinker at the edges, Irwin's arrangements, scored for an eleven-piece ensemble, radically reinterpreted and reshaped this music. The obvious pitfall would have been to reverently score the album's five songs in the voicings of Gil Evans's masterful arrangements for Miles Davis's Porgy and Bess (1958) and Sketches of Spain (1960); but it was clear, from the opening bass lines of 'So What', that Irwin was striking out for new territory. If anything, he appeared to draw inspiration from Gil Evans's 1970s ensembles, with their rich coloration of electronic sounds. The ensemble's front line of trumpeter Mat Jodrell and saxophonists Phil Noy and Julien Wilson – assuming the original roles of Miles, Cannonball Adderley, and John Coltrane respectively – played brilliantly throughout, particularly on a ferocious reading of 'All Blues'. Perhaps Irwin's masterstroke was his dramatic use of Simon Mavin's otherworldly electronic keyboards, which provided stark contrast with Bill Evans's flawless pianistic minimalism heard on the original recording. Drawing on a rich tonal palette throughout – including tuba, French horn, and flugelhorn – Irwin's bold reimagining of Miles Davis's masterwork, both respectful and audacious, was a triumph in every way.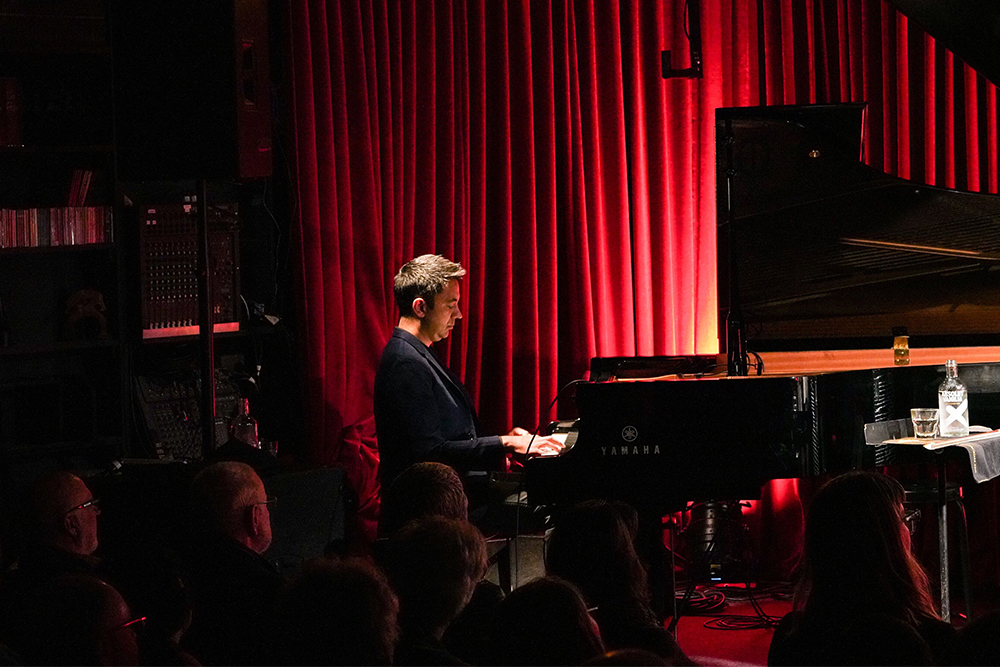 The Vijay Iyer Trio performing at The Jazzlab as part of the 2019 Melbourne International Jazz Festival (photograph by Suraj Jayawickrama)
This year's Festival was bookended by performances by two major American pianists representing very different generations of jazz: Vijay Iyer and Herbie Hancock. On opening night at The Jazzlab, Vijay Iyer played the first of four scheduled concerts with his trio, comprising Stephan Crump on bass and Jeremy Dutton on drums. A restlessly inventive musician, Iyer has recorded, since 1995, over twenty albums under his own name, collaborated with significant avant-garde elders like Wadada Leo Smith and Roscoe Mitchell, and composed music for string quartet and chamber ensembles. His Jazzlab performance was chockful of brio and invention, as the trio unleashed a series of extended improvisations, the first stretching to the thirty-minute mark. There was an unbridled energetic flow to this music, a virtuosic proficiency that allowed the trio to effortlessly segue from dense abstract passages to lyrical ones, or to spontaneously weave in Thelonious Monk's 'Straight No Chaser' or Cyndi Lauper's 'Time After Time'.
Aside from his trio performances, Vijay Iyer also appeared with the Monash Art Ensemble, performing his suite 'Open City', a work written in collaboration with Teju Cole and based on the latter's 2011 novel of the same name. The piece was arranged for the eleven-piece ensemble by Paul Grabowsky, emphasising the individual voicings of its members. Beginning with steady violin drones, the piece gradually picked up speed, with saxophonist Scott McConnachie delivering a blistering solo over an increasing rhythmic backdrop. The use of flute and vibraphone provided rich coloration, over which Paul Williamson's trumpet freely floated. Iyer's composition, which sought to mirror the peregrinations of Cole's character as he wanders New York, provided ample evidence as to the breadth of his musical vision. At the same time, the concert drew attention to the significant role that the Monash Art Ensemble plays in the development and performance of large-scale jazz compositions in this country.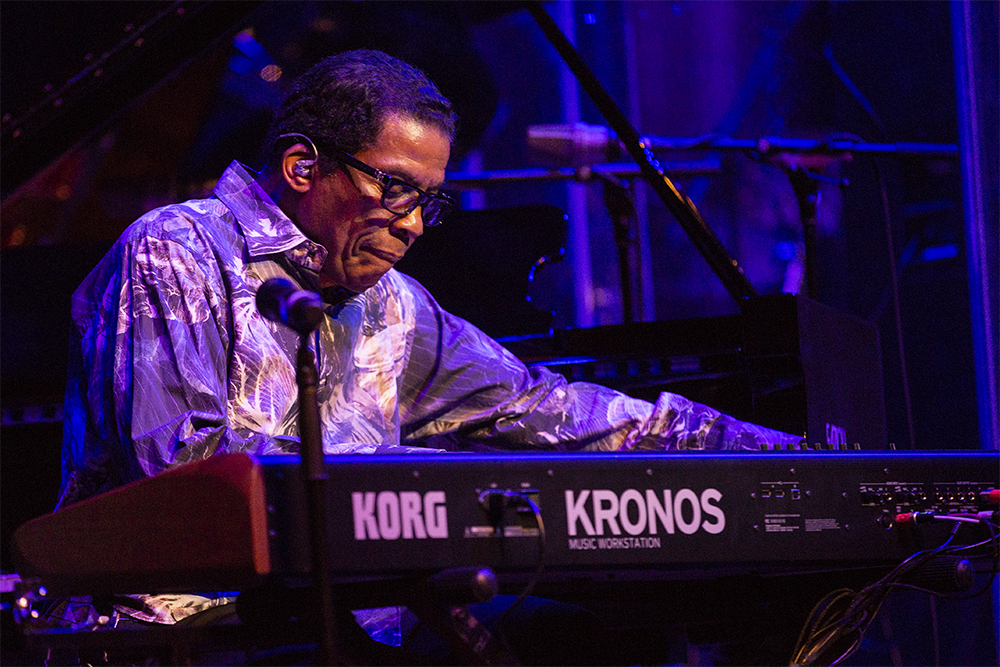 Herbie Hancock at the 2019 Melbourne International Jazz Festival (photography by Anna Madden)
At seventy-nine, with a stellar career behind him, pianist Herbie Hancock has little left to prove. His entrance on to the stage of Hamer Hall on the final weekend was greeted with waves of applause and adulation. Playing like a man half his age, he proceeded to lead his quartet through a ninety-minute set of electronic funk, drawing heavily on his 1970s recordings, most notably his classic 1973 release, Head Hunters. The sheer energy of this performance was palpable, with guitarist Lionel Loueke melding his instrument – sounding more like a Mellotron than a guitar – with Hancock's array of synthesisers and electronic keyboards. Hancock held little back, occasionally singing though his vocoder, delivering remixed versions of crowd pleasers like 'Watermelon Man' and 'Chameleon'. As encore, Hancock strapped on his keytar and launched into an extended version of his monster 1983 hit, 'Rockit', a game-changing track that merged jazz, for the first time, with turntables and hip hop. While his performance flirted with nostalgia, the results were anything but. Nearing octogenarian status, Hancock showed he still has his sights fixed firmly on the future.
The Festival played host to three very distinctive American guitarists who demonstrated very different and personal takes on jazz. Bill Frisell last appeared at the 2017 MIJF, highlighting his then current album, When You Wish Upon a Star, a recording of show tunes featuring violinist and singer Petra Haden. Frisell's 2019 trio performance, with bassist Thomas Morgan and drummer Rudy Royston, was a far more satisfying affair, as Frisell dug into his songbook, mixing his lyrical side with more open-ended improvisations. His languid guitar lines were laden with a deep, emotive quality as he stripped down each melody to its essential core. Using loops and pedals, and emphasising bass tones, his music conjures a weird old-timey Americana, replete with lush soundscapes and rugged beauty. All these strengths came to the fore in his final piece, a moving rendition of the old gospel song 'We Shall Overcome', made famous by Pete Seeger during the Civil Rights era. With its strong historical resonance, it was hard not to hear it as a plea for a better America.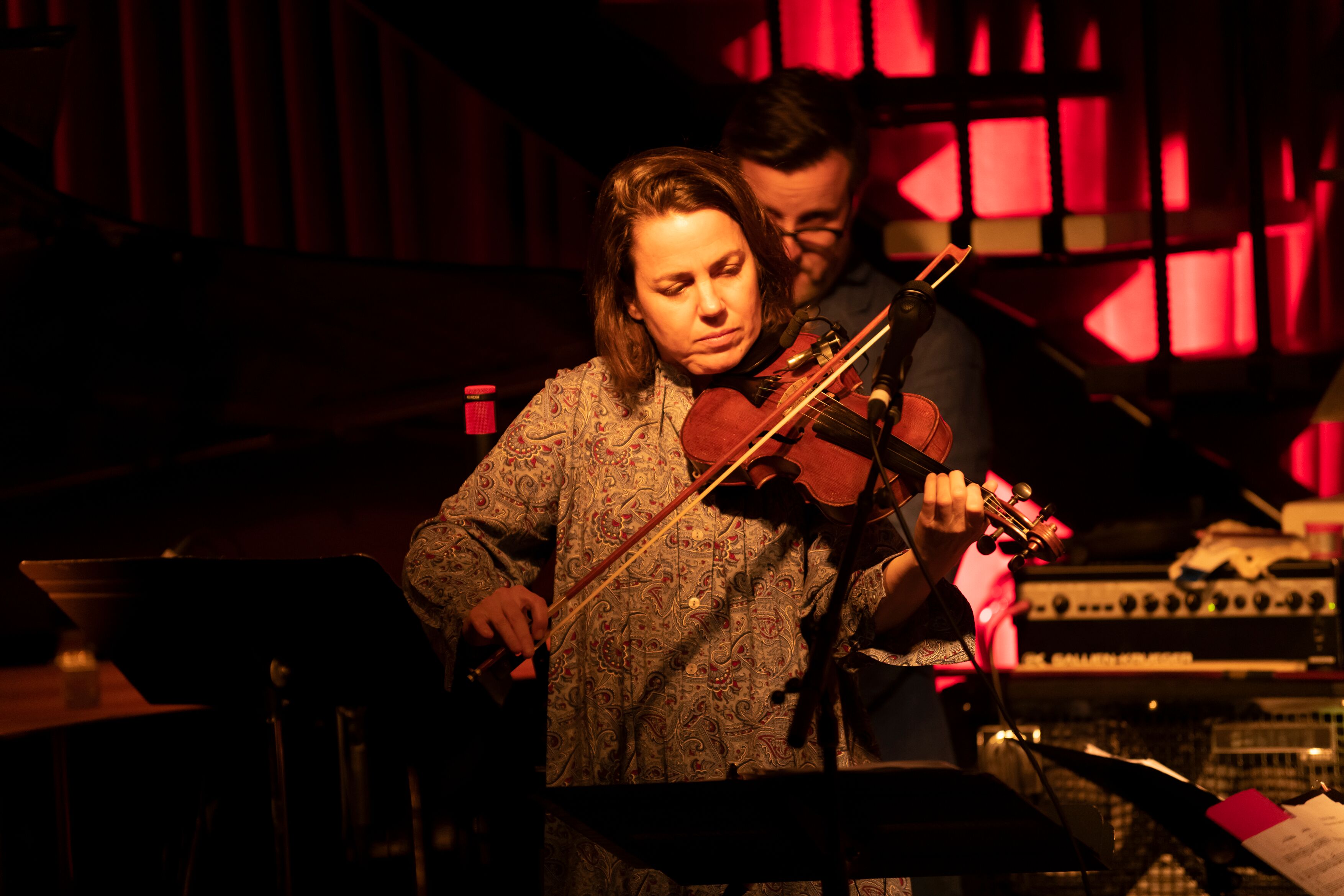 Petra Haden performing at The Jazzlab for the 2019 Melbourne International Jazz Festival (photograph by Stuart Buchanan)
New York guitarist Miles Okazaki's intimate performance at Jazzlab was a surprise highlight of the Festival. A little-known figure, he has garnered recent attention with his 2018 album, Work, a six-CD recording of all seventy of Thelonious Monk's compositions arranged for solo instrument, a feat not previously attempted. Monk's spiky, angular tunes are among the most covered and interpreted in jazz history, and it is a testament to his genius that they can be stretched and turned inside-out and yet still sound like Monk. Okazaki played a dozen or so pieces on acoustic guitar, including 'Locomotion', 'Crepuscule with Nellie', and 'Round Midnight', giving them a delicate, almost classical makeover. His technical prowess, which allowed him to maintain rhythm while soloing on the melody, was exemplary. Most songs were played briefly, except for his final extended take on 'Work'. There was nothing flashy about Okazaki's performance; he was mostly content to improvise on the theme, placing his considerable artistry entirely at the service of Monk's music. The results were mesmerising.
The performance by guitarist Rafiq Bhatia, a fellow New Yorker, was of an entirely different order. Citing his influences as Jimi Hendrix, John Coltrane, and Madlib, Bhatia's heavily electric set blasted through Jazzlab from the get-go. His trio mostly presented music from his recent album, Breaking English (2018), an experimental record exploring ambient textures and sonic landscapes, in the vein of post-rock bands like Tortoise. With its dark energy and thunderous sound, this concert proved easier to admire than like.
While the MIJF spotlights international performers, there were many concerts featuring standout Australian musicians. Saxophonist Jamie Oehlers, currently based in Perth, unveiled his latest project at the launch of his CD Night Music. In a departure from his largely acoustic work, his new quintet stresses electronic sounds, recalling Herbie Hancock's Mwandishi band of the early 1970s. Oehlers's new compositions, such as 'Sleep Thief' and 'Soma', are full of sharp, angular turns, demanding rapid-fire responses by the leader and trumpeter Ricki Mallet. As always, it was a joy to watch Oehlers and long-term compatriot drummer Ben Vanderwal lock into deep grooves, constantly upping the ante. There was nothing particularly innovative about this music, but hearing first-hand Oehler's astonishing proficiency is never less than exhilarating.
The PBS Young Elder of Jazz Award has become an important fixture at MIJF. Awarded to a Victorian musician under the age of thirty-six, and funded via patronage, it fosters the development of a new composition to be premièred at the Festival. Saxophonist Josh Kelly became the seventh recipient, following on from Tamara Murphy, Tim Willis, Tilman Robinson, Gian Slater, Joe O'Connor, Hue Blanes, and Brenton Foster. His new work, Displacement, draws upon his own family's experience of migration and reflects upon contemporary Australia. Scored for a sextet, it is a long and complex composition, full of knotty passages and rhythmic surges. Mary Rapp's cello thrummed a consistent drone, while Aviva Endean's bass clarinet provided a steady pulse throughout, allowing bass and drums to constantly vary the tempo. There was a wave-like momentum to this music, cyclically ebbing and flowing, from gentle to furious and back again, until it finally came to an end with series of plaintive squalls and cries from Kelly's alto and Niran Dasika's trumpet. This was adventurous music, recalling the work of jazz mavericks such as Henry Threadgill and Julius Hemphill. While the piece, at nearly ninety minutes, was a shade too long, it was studded with energy and focus.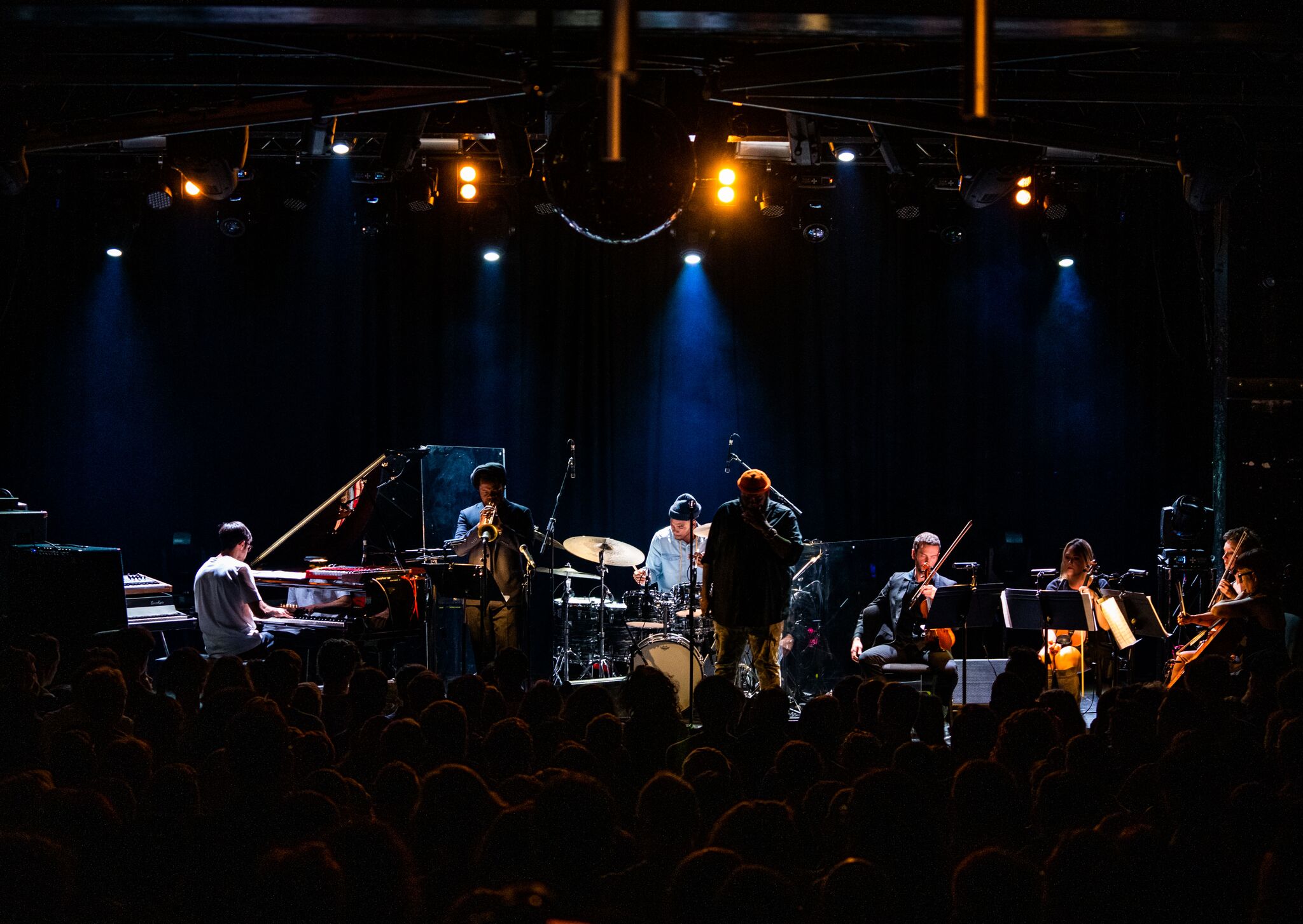 Ambrose Akinmusire (trumpeter), Sam Harris (pianist), Kokayi (rapper), Kweku Sumbry (drummer), and the Silo String Quartet (photograph by Katey Shearer)
Trumpeter Ambrose Akinmusire made his first appearance in Australia in 2009 at the Wangaratta Jazz Festival, playing as sideman in bassist Linda May Han Oh's trio. Since then, both Akinmusire and Oh have gone on to stellar careers, with Oh becoming the bassist of choice for Joe Lovano, Dave Douglas, Pat Metheny, and others, and Akinmusire being picked up by the Blue Note Records label. Both artists brought their new projects to this year's MIJF, though unfortunately timetabling conflicts prevented my catching Oh's Aventurine, performed with Gian Slater's Invenio Singers ensemble and the Flinders Quartet.
Akinmusire's performance at 170 Russell Street venue unveiled his latest work Origami Harvest, an ambitious amalgam of classical string quartet, trumpet trio, rap poetry, and hip hop. Such a disparate mix inevitably made for a dense layering of voices. Throughout, the strings engaged in dissonant passages, while pianist Sam Harris switched between acoustic and electronic keyboards, and Akinmusire's trumpet fluttered somewhere in the mix. Rapper Kokayi spliced up the music with his own rhythms, more street poet than rapper, with lyrics that were political and confronting. Overall, there was an emphasis on group dynamics, with few traditional solos, though Akinmusire did cut loose around the half-way mark, blasting over the drums and keyboards, recalling the Dark Magus phase of Miles Davis's electric period. There were times when it felt like the music had boxed itself in, with too little room for tonal variation. Yet this was an admirable and ambitious genre-hopping performance, set on nudging jazz's boundaries. It represented one important strand that the MIJF should always strive for: risk-taking exercises that challenge and stimulate, encouraging us to reconsider the very definition of this music.
---
The 2019 Melbourne International Jazz Festival ran from 3 May to 9 June 2019.