Art
Monet: Impression Sunrise
National Gallery of Australia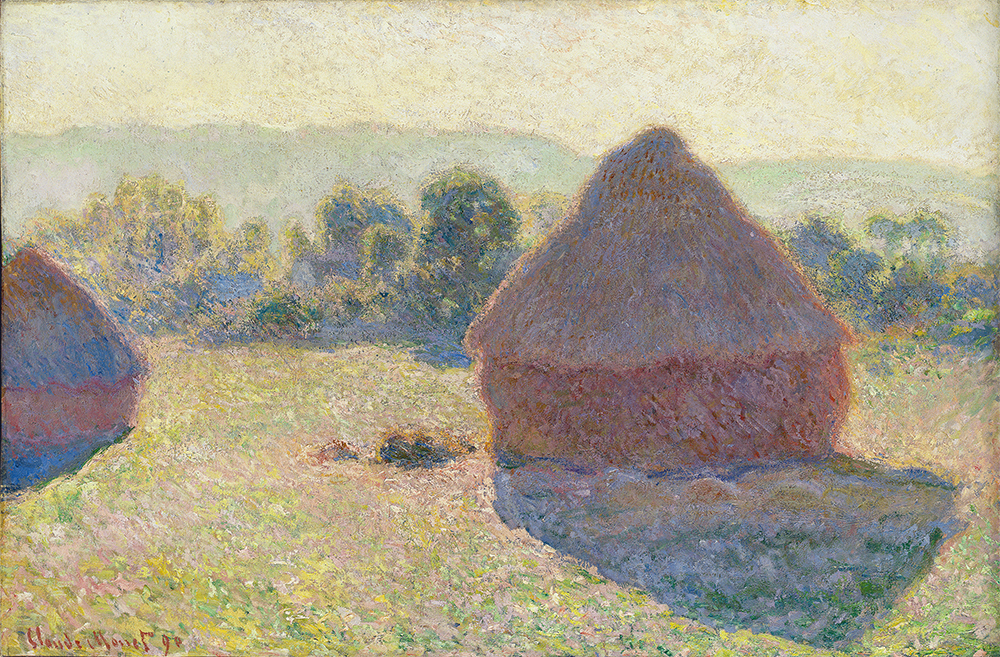 Claude Monet, Haystacks, midday [Meules, milieu du jour], 1890, oil on canvas, 65.6 x 100.6 cm (Purchased 1979 National Gallery of Australia, Canberra)
What makes this Monet exhibition different from any other Monet exhibition? This was the question at the forefront of my mind as I approached the National Gallery of Australia's exhibition Monet: Impression Sunrise. As one would expect, it is an exhibition about painting – colour, brushstroke, the rendering of light and dark by artists who went out into the landscape and sought to capture in paint what they saw and felt. It is undeniable that Claude Monet was an innovative painter whose canvases will continue to enthral audiences. Attractively organised – note how the works in the room featuring Haystacks, midday (1890) are colour coordinated; mauve dominates – Monet: Impression Sunrise is a reminder of the pleasures that come from experiencing Impressionist canvases firsthand.
Monet: Impression, Sunrise is a show in two halves. On first entering the exhibition, one encounters paintings by artists associated with the British School. Works such as J.M.W. Turner's Inverary Pier, Loch Fyne: Morning (c.1845), Whalers (boiling blubber) entangled in flaw ice, endeavouring to extricate themselves (exh.1846), and Stormy sea with dolphins (c.1835–40) anticipate Monet's Impression, sunrise in terms of the rendering of light, flattening out of form, free application of paint, and innovative use of colour.

Subscribe to ABR
for as little as
$10 a month
to read the rest of this article.If you are already a subscriber, click 'Sign In' in the top left-hand corner of the screen. If you require assistance,
contact us
or consult the
Frequently Asked Questions
page.