Opera
Evita (Opera Australia) ★★★
I confess that I do not share the knee-jerk negative view of Andrew Lloyd Webber musicals that many of my colleagues profess. His best works, especially those conceived with librettist Tim Rice, stake a legitimate claim on our attention, if only for their consummate skill in identifying and exploring subject matter for music theatre that captures, and holds, the popular imagination.
Their three early successes – Joseph and the Amazing Technicolor Dreamcoat (1968), Jesus Christ Superstar (1970), and Evita (1976) – have a common theme: the power of fame both to elevate and corrupt those upon whom it is bestowed. To this end, Evita is not really 'a departure from their biblical creations', as the program essay in this revival of Hal Prince's original 1978 production by John Frost and Opera Australia claims. The celebrity status of actress and politician Eva María Duarte Perón (1919–52) was such that she eventually took on something of the character of the Mater Dolorosa, a woman who seemed both to intercede, and – when eventually struck down with cancer – suffer for her beloved 'descamisados'.
Rice and Lloyd Webber clearly relished the opportunity to work with this mythic material and the opportunities for grand theatrical set pieces it presented. Emerging initially as a rock concept album in 1976 (the première followed in London in 1978), Evita is more an interconnected set of musical numbers than a conversation drama. Complex character development is thus not the work's forte. Rice's decision to include a narrator (known in the score as 'Che'), however, provides a vehicle for constant and explicit political commentary, even if the nigh-irresistible association of that character with Ernesto 'Che' Guevara (which Hal Prince emphasises) inevitably weakens the force of this critique because of Guevara's own pop-cultural associations.
In any event, Evita does not claim to present a rigorous historical or political account of Eva Duarte and Peronism. Instead, like nineteenth-century Grand Opera, it is concerned with exploring the theatrical nature of politics itself, an exploration that serendipitously reaches its denouement with the hit song 'Don't Cry for Me, Argentina'. Here, Australian pop icon Tina Arena unquestionably delivers. Her performance of both it, and the later song 'You Must Love Me' that was added for the 1996 film version (directed by Alan Parker), is characterised by both pathos and unforced lyricism.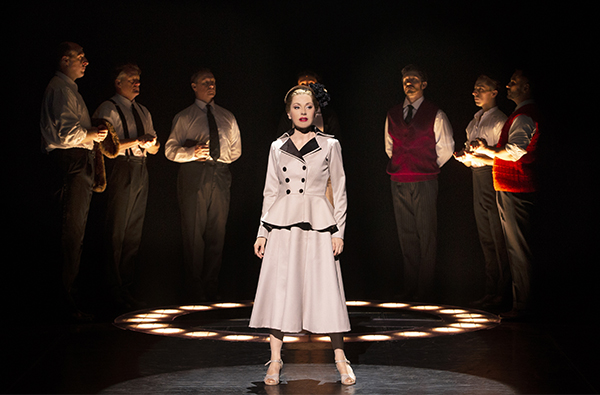 Tina Arena and the cast of Evita, Sydney 2018. (Photo by Jeff Busby)
On opening night, however, Arena's overall performance came across as rather tentative, the reasons for which might lie as much in the sound design as in any possible reticence from Arena herself. The Joan Sutherland Theatre's new sound reinforcement and electro-acoustic enhancement system was prominent during the performance. The challenge for a sound designer is to avoid giving the impression that the action on stage is being mimed to a soundtrack. Here, the acoustic connection between singer and orchestra, and thus between stage and audience, was often lost in in the midst of a blanket of sound. The rhythm section, and bass frequencies more generally, were muffled – thus some of the big set-piece dance numbers lacked the requisite rhythmic drive. David Cullen's arrangements also seem to have played down the seedy Latin nightclub feel of the original score. The twenty-nine-piece orchestra, directed by Guy Simpson, was in any case always going to struggle to match the impact of a score that many audience members will have first encountered in an original cast recording that used the full resources of the London Philharmonic Orchestra, but the issues in amplification only made the contrast all the more obvious.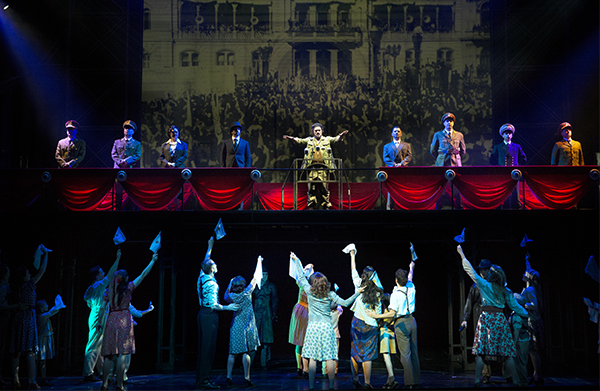 The cast of Evita, Sydney 2018. (Photo by Jeff Busby)
On stage, other issues were apparent. Kurt Kansley's performance of Che's opening number, 'Oh What a Circus, Oh What a Show', was delivered in staccato-like phrases that seemed to suggest a reticence towards sustained vocal production, but he was not helped by the curious (and, in my opinion, unnecessary and distracting) decision to have all the cast sing in Latin-American accents. Brazilian Baritone Paulo Szot, however, demonstrated great vocal and physical presence as Juan Perón, and Alexis van Maanen delivered 'Another Suitcase in Another Hall' with the requisite delicacy and pathos. The chorus work was also uniformly strong; the male ensemble in particular delivering choreographer Larry Fuller's extraordinary projection of the Argentinian army as toy soldiers with relish and aplomb.
Overall, Hal Prince's quasi-Brechtian production remains a model of dramatic clarity and economy. Video projections, too, convey a sense of time and place without being too distracting. It has all stood the test of time well. Likewise, given that we now have a television celebrity as US president, and a fashion model as First Lady, so too (for better or worse) has Evita itself.
Evita, presented by Opera Australia, continues in the Joan Sutherland Theatre, Sydney Opera House until 3 November 2018. It then transfers to Arts Centre Melbourne from 5 December to 10 March 2019. Performance attended: September 18.
ABR Arts is generously supported by The Ian Potter Foundation and the ABR Patrons.