Film
Wonder Wheel 1/2 star
Two-thirds of the way through Woody Allen's new-but-not-really-new film Wonder Wheel, Kate Winslet's nerve-shot, middle-aged tragic heroine, Ginny, turns to her younger lover, Mickey (Justin Timberlake as a living Ken doll), and says forlornly, 'Rescue me'. I could not have composed a sadder, more apt summation of the situation of Allen's women onscreen.
A neurotic, disappointed clam-shack waitress with an oafish husband (Humpty, a carousel operator played solidly, unimaginatively by Jim Belushi) and pyromaniac son (the first Woody surrogate), Ginny finds solace in an affair with Mickey, a lifesaver and aspiring playwright (the second Woody surrogate). This new paramour, listening to her bitterly nostalgic recollections of her better years as a promising actress, offers her a brief paradise of excitement, before turning to Ginny's prettier, girlier, younger stepdaughter (Juno Temple, effective in a terribly utilitarian role) Carolina, who has just returned to the family home from a period of estrangement following an aborted marriage to a mobster. Autobiographical readings can be a lazy, obvious way to interpret the work of an artist, but with its triangular love affairs with stepdaughters and lost women in distress, it is impossible to read Wonder Wheel as anything but the newest manifestation of Allen's brilliantly, barefacedly sexist and self-involved world view.
The setting is 1950s Coney Island – a riff on a much cleverer moment in Allen's ouevre, in Annie Hall (1977), when he swears that his childhood house was nestled beneath a roller coaster. The proceedings of Wonder Wheel are framed as a play written by Mickey, whose meta-narration vanishes half an hour into the film when it is no longer needed. Carolina appears and disappears from the world of the film, which is mainly Ginny and Humpty's apartment, with similar ghostly functional manifestation, while we wait for the mob to catch up with her. Such is the lack of vitality and dramatic rigour of Allen's script.
The characters are barely characters, hardly even archetypes. The plot is almost plotless, the charade plays out like a videotaped play, and the slackness of Allen's vision is evident with the broadness of the film's location in time: 'the 1950s'. The tragedy and irony of the dramatic trajectory arrive dead and hollow, having been dully signposted from the first frame. The film's only lovely resonances come not from Allen but from those responsible for the costuming, lighting, and photography, with lurid sunset and Ferris wheel neons streaming in through the apartment windows, crossing the characters' faces as they flicker from outrage to humiliation and back again (Ginny: 'I've become consumed with jealousy!').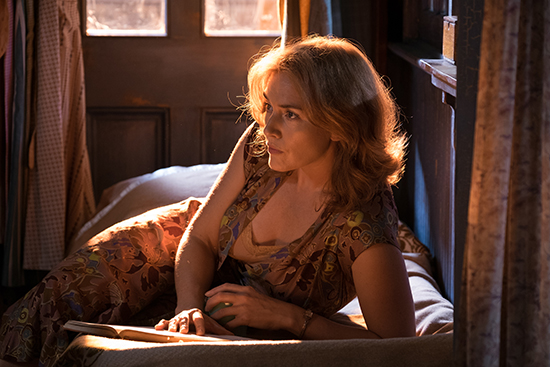 Kate Winslet in Wonder Wheel (Entertainment One)
Many have praised Winslet's performance. She is aiming for the slow unravelling of Cate Blanchett's Blanche du Bois-style anti-heroine in Blue Jasmine (2013), which at least seemed like a fully realised film rather than a first draft shot without second takes. Indeed, at her worst, Winslet's mechanistic and insistently unambiguous acting style makes her perversely suited to an Allen film, and every emotional moment is over-telegraphed, save for a few moments of genuine connection and human-sized pathos.
Last month, Winslet defended working with Allen with the genius defence: 'Having thought it all through, you put it to one side and just work with the person. Woody Allen is an incredible director. So is Roman Polanski. I had an extraordinary working experience with both of those men, and that's the truth.'
But something has shifted: many people are no longer willing to 'put it to one side' when the 'it' is a conspiracy of misogyny and sexist abuse in the film industry, with such ill effects on culture and ideas circulating as a result. A sexist entertainment industry will produce sexist ideas and sexist images, and Wonder Wheel is fresh evidence of that.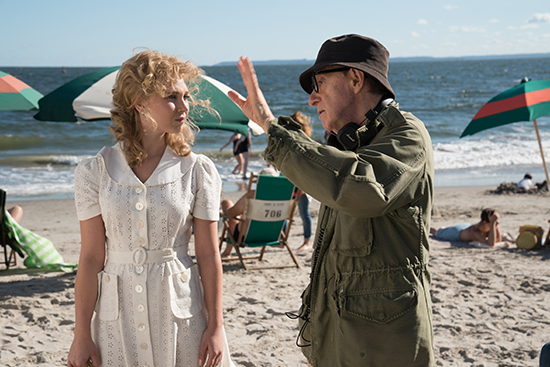 Juno Temple and Woody Allen behind the scenes of Wonder Wheel (Entertainment One)
In Allen's case, it will also produce boring and uncreative films, this one following a stream of under-written, over-designed period pieces (Cafe Society [2016], Magic in the Moonlight [2014]), and slack touristic 'comedies' (Midnight in Paris [2011], To Rome with Love [2012]) that played like advertisements for European holidays for baby boomers. Nobody would fund Allen's newest redundant, self-mythologising fable, were it not made by him. Why tell the same story once a year, especially at the expense of a diversity of untold stories and unheard voices? In that ironic sense, perhaps Wonder Wheel does reinforce something valuable about the stupidity of expending millions of dollars' worth of human time and energy and industry resources on the same old stuff: it is Woody Allen in terminal decline.
Wonder Wheel's timing is brazen enough. It arrives on cinema screens in the midst of Harvey Weinstein's disgrace, Allen's own sideways defence of Weinstein as a 'sad, sick man' at the focus of a 'witchhunt', the collective traumas of the #MeToo outpouring, and the cancelled distribution of Louis CK's I Love You Daddy, modelled on Allen's own black-and-white stylings and themes of wayward daughters with much older men. Meanwhile, as the Weinstein Effect finally trickles down to Australia, we await the results of an ongoing ABC/Fairfax investigation unmasking the local Harveys, and are only just feeling the local arrival of the #Metoo moment.
Amazon Studios, Wonder Wheel's US distributor, knows something is up, having cancelled the film's red-carpet première in October, soon after suspending its own president for sexual harassment allegations.
Allen's monstrosity differs from Weinstein's, CK's, Spacey's and our own Don Burke's, as he has not been convicted of sexual offences, nor has he received an abundance of eerily similar accusations. His monstrosity is moral and aesthetic. Through the brazen, yearly repetition of Allen's story, a fairly distinct and narrow world view comes into focus: Allen's world is a place where men are flooded with the love and affection of two beautiful women at once (Vicky Cristina Barcelona [2008], Hannah and Her Sisters [1986]) or where else predatorily embrace blondes of extreme youth (Manhattan [1980], Whatever Works [2009]). Obsessed with the past, unable to look forward, Allen's films are places of personal fantasy and vanity where his solipsism and impunity can be animated year after year.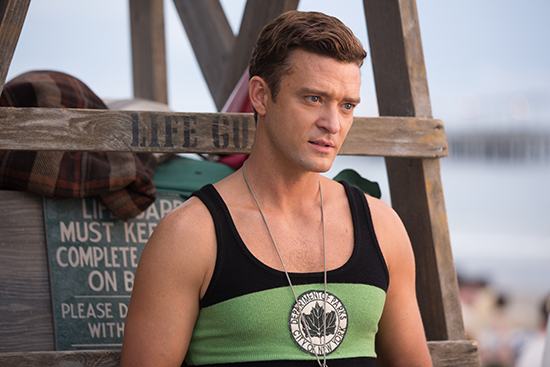 Justin Timberlake in Wonder Wheel (Entertainment One)
Much of the discussion about Wonder Wheel has asked if you can separate a work of art from its artist. But the Weinstein Effect points to questions beyond individual ethics, to the corporate and collective responsibility of the gatekeepers, to how the film industry functions. There are only so many cinema screens and resources for marketing budgets. Why is this useless cultural object being supported with industry infrastructure? For how much longer will distributors like Amazon, in the US, and EOne, in Australia, keep sending the same lazy stories at the expense of more diverse and compelling stories, particularly those told by women and others shut out of the filmmaking architecture for so long? Until, like I Love You, Daddy, it makes for bad business or is legally inadvisable, I suppose.
Had it been released a few months ago, I could have found no good justification to review Wonder Wheel. But film criticism is about providing context rather than just critiquing individual works of art, and the context and culture around this film have finally shifted, though not enough. Allen's next carbon-copy non-film, A Rainy Day in New York, is currently in post-production. Whether it makes it to cinema screens or gets the Louis CK treatment remains to be seen.
Wonder Wheel (Entertainment One), 101 minutes, directed by Woody Allen. In cinemas 7 December 2017.
ABR Arts is generously supported by The Ian Potter Foundation.