Theatre
Scenes from a Marriage (Queensland Theatre) ★★★★
Famous couples from literature – from Romeo and Juliet to Bridget Jones and Mark Darcy – have enacted storylines built around rituals of courtship and the obstacles they face on the way to marrying. While the 'marriage plot' has never gone out of fashion – kept alive, in good part, by Hollywood's penchant for the rom-com – changing times have led to the emergence of the 'divorce plot'. Nora and Torvald from Henrik Ibsen's A Doll's House – which enraged audiences when it premièred in 1879 because of its harsh critique of the 'holy covenant' of marriage – might be seen as the ur-couple of this growing genre.
Igmar Bergman's Scenes from a Marriage – conceived as a television miniseries (1973), then released as a film in 1974, two hours shorter than the 282-minute miniseries – pays homage to Nora and Torvald with his own divorcing couple, Marianne and Johan, who go to see A Doll's House on the evening their marriage disintegrates into a harrowing game of deceit and violence.
On release, Scenes from a Marriage seemed to hit a nerve with audiences questioning their own relationships. It was blamed for almost doubling the divorce rate in Sweden (from 16,000 divorces recorded the year prior to its première to 26,000 in 1973). Undoubtedly, other societal shifts were also at play, but both the miniseries and film have influenced a host of future directors, with Woody Allen's Husbands and Wives (1992) being its most self-conscious adapter.
Joanna Murray-Smith's stage adaptation of the Bergman classic stars real-life couple Marta Dusseldorp and Ben Winspear as the warring spouses. While neither partner ever quite devolves into the depths of murderous fury enacted by Oliver and Barbara Rose in Danny DeVito's War of the Roses (based on the novel of the same name by Warren Adler), there are plenteous moments of rage and psychic devastation when one fears they might come close.
Ben Winspear and Marta Dusseldorp in Queensland Theatre's Scenes from a Marriage (photograph by Rob MacColl)
Designer David Fleischer's setting for the marital breakdown is a white-on-white, contemporary home (and an equally generic university office), fitted with Ikea modular furnishing to give Johan and Marianne's lives an aura of the universal. Winspear plays the academic–poet Johan, a self-described 'stupendously pretentious wank' who delivers his lines as acid blows, all the while maintaining an incongruous posture of relentless boredom.
Unlike A Doll's House, which sees Nora walk out on her marriage, it is Johan who instigates the break-up in Scenes from a Marriage. 'I've made a decision to act like a shit, and it's a relief,' Johan deadpans before informing his wife that he is going to Paris with his mistress.
But the stage belongs to his lawyer-wife, Marianne, whom Dusseldorp manages to depict as both sympathetic and frequently hilarious with her genius for physical comedy that undermines her similarly sarcastic retorts. Dusseldorp's Marianne holds a cathartic mirror to us all with her tragic pursuit of intimacy that is inevitably trounced by her inability to make it. 'How can love last a lifetime', she ponders, 'when a life is so long and there are so many questions?' Marianne's shaky valour in the face of emotional disaster makes Murray-Smith's Scenes from a Marriage – an otherwise unbearable story of marital ruin – a profoundly disturbing but somehow hopeful story for the ages.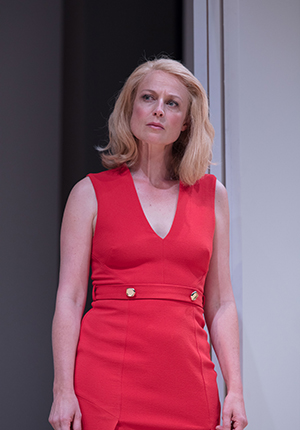 Marta Dusseldorp in Queensland Theatre's Scenes from a Marriage (photograph by Rob MacColl)Queensland Theatre's production of Scenes from a Marriage opened in Brisbane at The Playhouse on 16 November 2017, the day after Australia's historic vote to support marriage equality. In the program notes, director Paige Rattray acknowledges same sex couples in the theatre community who didn't, at the time of her writing, have the right to marry. All of us should own the choice, despite the multitudes of risk, to attempt a pact of love: it's as much a human need as a human right. And yet the fluke of timing requires expertise in mental juggling not to see Joanna Murray-Smith's savage takedown of marriage as a cautionary tale.
'The one thing I am most certain of is that once you love someone', Rattray concludes, 'you are inextricably linked, for better or for worse'. For the future brave who go gently into that good institution, may it be for the better.
Scenes from a Marriage (Queensland Theatre), written by Ingmar Bergman and adapted by Joanna Murray-Smith, is directed by Paige Rattray. It continues at The Playhouse, QPAC, until 3 December 2017. Performance attended: 16 November.
ABR Arts is generously supported by The Ian Potter Foundation.