Advances
The Update - November 8, 2017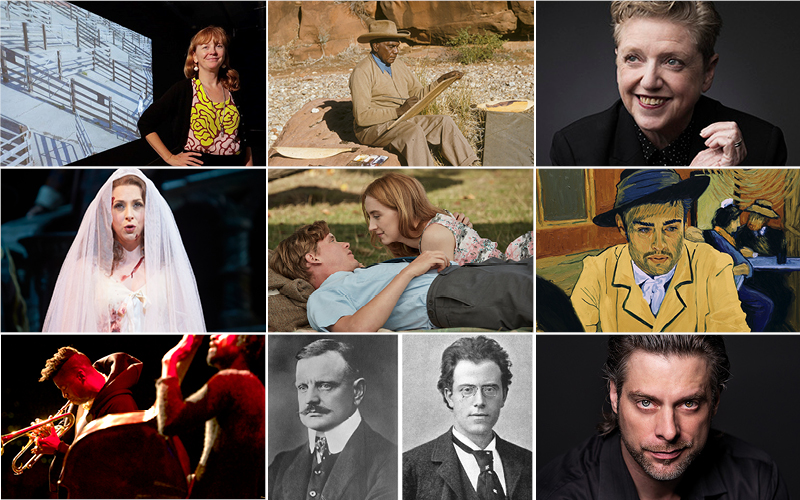 Recent ABR Arts reviews
Que Reste T'il (What Remains?)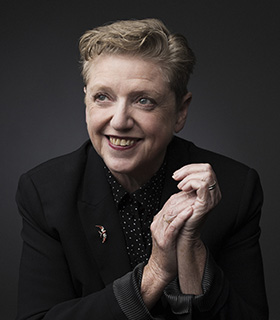 Robyn Archer – legendary performer and an ABR Laureate – will present her cabaret Que Reste T'il at the Arts Centre Melbourne, Playhouse Theatre on 10 and 11 November. The production will see her returning to the origins of cabaret by performing rarely heard works from the 'intimate Parisian nightclubs and smoke-filled cafés of the 1880s', through each decade to the 1970s. Works by artists including Aristide Bruant, Edith Piaf, and Charles Trenet will be sung in English and French. Archer will be accompanied by regular ABR contributor Michael Morley on piano, and George Butrumlis on accordion.
'We have so much joy in performing these songs – the passion, the raucous fun, the biting satire that still rings so true today. It's a great ride, and while there's l'amour aplenty, this presents a Paris very different from the romantic cliché,' said Archer, who won the 2013 Helpmann Award for Best Cabaret Performer for Que Reste T'il. For more information, visit the Arts Centre website.
Bluebeard's Castle
The Sydney Symphony Orchestra, with Chief Conductor David Roberston, will perform Béla Bartók's one-act opera, Bluebeard's Castle at Concert Hall, Sydney Opera House on 29 November, and 1 and 2 December.
When Duke Bluebeard invites his new bride Judith back to his castle, she opens seven doors to his past, each revealing his inner secrets. The opera will be sung in Hungarian with English surtitles. Canadian bass John Relyea will sing the role of Bluebeard, and Michelle deYoung (recently heard as Kundry in Opera Australia's concert version of Parsifal) will sing Judith.
'Bluebeard's Castle looks at the confusing dynamics that exist in male–female relationships ... Bartók traverses the territory of love, fear, idealism, and reality before the opera reaches the final moment of passion and tragedy in a union that was doomed from the start,' said David Robertson, who recently extended his tenure as Chief Conductor of the SSO until the end of 2019.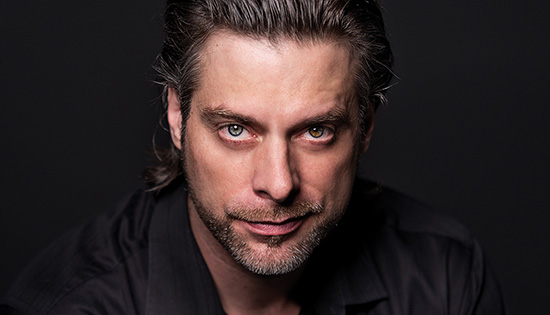 John Relyea
Australian screen actor Don Hany will perform his 'first operatic stage role', speaking the prologue in Hungarian. The concert will also feature Bach's Cantata No. 82, featuring English bass-baritone Andrew Foster-Williams, and Brahms's Alto Rhapsody, sung by Michelle deYoung and the male section of the Opera Australia Chorus.
Thanks to Sydney Symphony Orchestra, two new or renewing subscribers will receive double passes to Bluebeard's Castle: With Bach and Brahms. See our giveaway section below for more details.
black&write! Fellowships
Applications for State Library of Queensland's (SLQ) black&write! Fellowships are now open. Aboriginal and Torres Strait Islanders can submit unpublished manuscript entries in the form of a 'novel, young adult novel, short story collection, poetry collection, or children's book'. In addition to $10,000 in prize money, Fellows will received 'professional manuscript development with SLQ's black&write! editing team and a publication opportunity' from Hachette Australia for their work.
'black&write! Fellowships have been a cornerstone in the career pathways for some of our most exciting new voices in literature who are sharing Aboriginal and Torres Strait Islander stories in diverse and innovative ways,' said Leeane Enoch, Minister for Innovation, Science, and the Digital Economy.
Past recipients of the Fellowship include Ali Cobby Eckermann, who became the first poet to win Yale University's prestigious Windham-Campbell Prize, and 2016 Fellow Claire G. Coleman, who has published her début novel Terra Nulluis with Hachette. Entries for the Fellowship close on 31 January 2018. For more information visit: www.slq.qld.gov.au/whats-on/awards
Geelong: City of Design
The city of Geelong has joined Beijing and Berlin as a UNESCO (United Nations Educational, Scientific and Cultural Organisation) City of Design. Sixty-four international cities were inducted into the UNESCO Creative Cities Network in late October.
Geelong Council's investment and attraction director Brett Luxford told the Geelong Advertiser: '[This] opens up national and international networks and creative opportunities to increase our profile on the world stage.'
Creative Victoria cited a number of key projects in Geelong as reasons for the application's success, including development of 'the Geelong Library and Heritage Centre, the Geelong Performing Arts Centre Redevelopment, the Mountain to Mouth contemporary songline, and Deakin University's virtual reality cave and Centre for Advanced Design in Engineering Training building'. Melbourne was designated a UNESCO City of Literature in 2008.
Van Gogh breaks records
The National Gallery of Victoria's (NGV) Van Gogh and the Seasons (reviewed by Peter Hill for ABR Arts) was the most popular ticketed exhibition in the gallery's history. According to Creative Victoria, the exhibition attracted 464, 262 visitors from between 28 May and 12 June 2017, 17,456 of whom were from overseas. At times, it must be said, it felt as though there were 17,456 people in the exhibition at one time!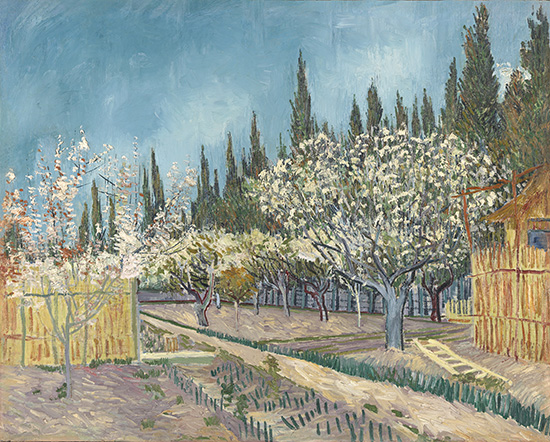 Vincent van Gogh, Orchard bordered by cypresses, 1888, Arles oil on canvas (© Collection Kröller-Müller Museum, Otterlo, the Netherlands)
Interest in all things van Gogh hasn't waned, despite the exhibition being long over. Darius Sepehri recently reviewed Loving Vincent (in cinemas now), the 'world's first fully oil painted film' for ABR Arts, which he described as 'visually stunning'.
A statement from CAST
Following recent allegations and revelations of sexual misconduct by Harvey Weinstein, Kevin Spacey, and a slew of other men in Hollywood, CAST, the Confederation of Australian State Theatres, issued the following statement:
'In response to incidents and allegations in the broader entertainment industry both here and overseas, we stand together to say that sexual harassment and abuse in any form is unacceptable. We offer our unwavering support to the courageous people that have already come forward, and to any victims who have not yet had their stories heard – we are here for you. CAST companies are committed to providing safe theatres and workplaces that are free from harassment and abuse. We are focused on continually improving physical and emotional safety. We feel it is our responsibility to remove the stigma that can be felt by victims, and to encourage them with confidence to initiate formal complaint proceedings, and to seek appropriate counselling services and support. CAST companies are committed to ensuring that our theatres and spaces are safe for everyone. The wellbeing of those who work for us is of utmost importance.'
CAST is made up of Bell Shakespeare, Belvoir St Theatre, Black Swan State Theatre Company, Circus Oz, Malthouse Theatre, Melbourne Theatre Company, Queensland Theatre, State Theatre Company of South Australia, and Sydney Theatre Company.
Zanny Begg
The Australian Centre for the Moving Image (ACMI), together with Artbank, has announced artist and activist Zanny Begg as the recipient of its inaugural $70,000 commission. Her proposed video installation, The Beehive, is inspired by the unsolved murder of publisher and anti-development campaigner Juanita Nielsen in 1975. The film will be 'randomly compiled from a reservoir of scripted fictions, and documentary interviews' to examine themes of 'gentrification, corruption, and non-conformist lifestyles', and will morph and evolve with each viewing.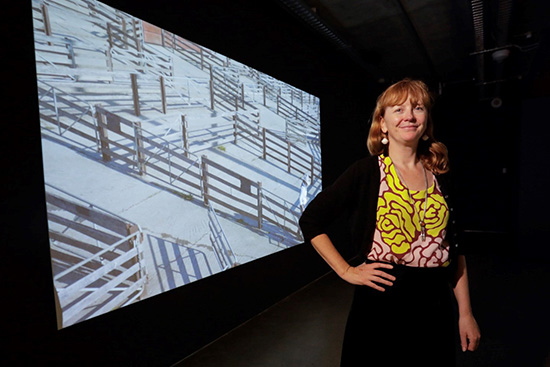 Zanny Begg
'The Beehvive was chosen as a title to reference Juanita's distinctive hairdo, but also a poetic disjunction embedded within the ways we think about the city; it is both an industrious, utilitarian, hierarchical hub and a dark sweet cooperative womb,' said Zanny Begg. The Beehive will be exhibited at ACMI in 2018.
Giveaways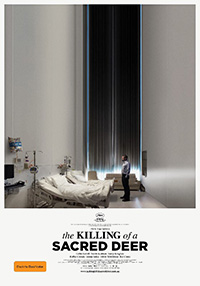 Thanks to Sydney Symphony Orchestra, two new of renewing subscribers to ABR will receive double passes to Bluebeard's Castle: With Bach and Brahms at 8 pm on Saturday 2 December 2017 at the Sydney Opera House.
Thanks to Madman Entertainment, we are giving away ten double passes to The Killing of a Sacred Deer, directed by Yorgos Lanthimos and starring Nicole Kidman and Colin Farrell. In cinemas 16 November 2017.
To be eligible for these giveaways, you must be a current or new paid subscriber to the print edition of ABR or to ABR Online. To be in the running please email Grace Chang at This email address is being protected from spambots. You need JavaScript enabled to view it. with your full name and contact details. Preference is given to subscribers who have not received a giveaway in recent months.