Film
On Chesil Beach ★★★1/2
On Chesil Beach is not Ian McEwan's first screenplay, nor his only adaptation for the screen. The Children Act (2017), directed by Richard Eyre and based on McEwan's 2014 novel, is also due for release in 2018. In an interview he gave at the Toronto International Film Festival, where both films premièred, McEwan said that his challenge was to find cinematic equivalents for literary devices, without resorting to the obvious solution of the voiceover. What he achieves feels like déjà vu. Interior monologues, intertwining thoughts and memories, and McEwan's succinct narratorial commentary, return seemingly verbatim in conversations and extensive flashback scenes. Only the novel's implicit theme, 'the power of words to make the unseen visible', suffers in translation.
It is 1962. The film begins with a wide-shot over neatly parcelled, green countryside. The camera pans slowly down to the coast and Dorset's famous twenty-nine-kilometre shingle beach. The landscape seems desolate, but in the distance, walking along the beach, are two indistinct figures. As the camera moves closer, and the figures resolve into those of a young man and woman, their voices become clearer: the woman speaks with what would once have been called an educated English accent, the man, with a mild country lilt, the first of many dichotomies that signify the fissures in their relationship. Their heads are close. He skips around her, passionately trying to explain the genius of Chuck Berry. It's very bouncy and merry, she says, desperate to appreciate his enthusiasm for rock and roll. He calls her the squarest girl in the world. Does he love her despite her shortcomings? He loves her because of them, or so he insists. And she loves him, but classical music is her passion.
The first sentence of McEwan's novel (published in 2007) baldly states their predicament: 'They were young, educated, and both virgins on this, their wedding night, and they lived in a time when a conversation about sexual difficulties was plainly impossible.' Under Dominic Cooke's direction, watching these two naïve, young people, stymied by the unspoken rules and conventions of the period, is exquisite torture. Both leads – Billy Howle as the self-conscious but defiant Edward Mayhew, and Saoirse Ronan as Florence Ponting, tilting the perfect oval of her face on that swan-like neck – invite us with the smallest gestures, the nervous foot-tapping, hand-clenching, and subtleties of vocal and facial expression into the intimacy of their thoughts.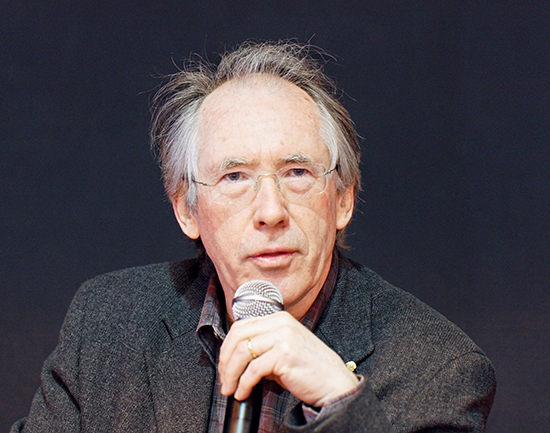 Ian McEwan (Wikimedia Commons)
'I love you,' each declares. They believe themselves to be sincere, but lack the insight to realise that what they adore is the idea of being in love, so eager are they to embark on their own versions of adult life. Both are unprepared for a reality of patience and compromise. 'I love you too,' each replies, as if the word might satisfy Edward's sexual longing and free Florence from her revulsion at the physical act.
But Florence is not only the reticent, compliant creature of Edward's imagination. As lead violinist of the Ennismore Quartet, she is ambitious, demanding to the point of tyranny, and not above behaving dismissively towards her colleagues. Edward admires her straight back and autocratic manner. For him, she promises to play the Mozart String Quintet No. 5 in D major (the one he can hum) at her Wigmore Hall début. He hardly appreciates her music, or the magnitude of her gift, but promises in return to be in seat C9, bellowing 'bravo' when that day comes.
Nuanced performances are not restricted to the leads. Anne-Marie Duff deserves a BAFTA Award for Best Actress in a Supporting Role as Edward's brain-damaged mother, changing within a breath from uninhibited nakedness and taking credit for household tasks she is no longer capable of performing, to speaking lucidly about the great Renaissance artist Paolo Uccello and his painting The Hunt in the Forest. Florence's kindness and gentle banter with Marjorie is one of the film's most poignant scenes, and in stark contrast to her relationship with her own mother. Violet (a matronly Emily Watson) is a controlling bigot and anti-Semite whose academic career takes clear precedence over her daughter's musical ambitions. Florence's father Geoffrey (Samuel West) is a self-loathing bully, if possible even more vile than Violet. In memories triggered by a Rachmaninov piece for piano there are intimations of abuse. Here, music takes the starring role, not as background to action but as plot point, as subtext, as a sublime agent provocateur.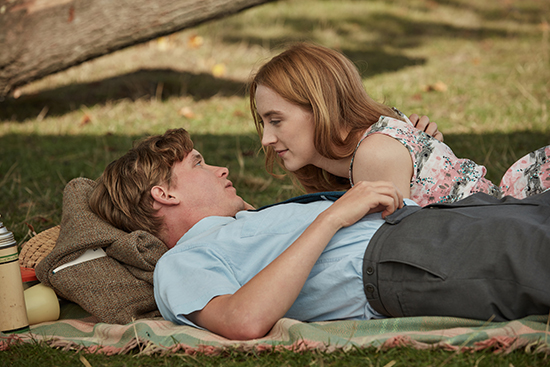 Billy Howle and Saoirse Ronan in On Chesil Beach (British Film Festival / Palace Films)
What could have been cut is the coda, the least successful section of the novel, and worse on film, where the painful consequences of a single act in 1962 are spelled out by youthful actors imperfectly aged for 1975 and 2007. I prefer the ambiguity of the final scene, back on the shingled beach where the film began, with Edward standing silhouetted against the heavy sky, and Florence, by a clever trick of cinematography, apparently seated in an abandoned dinghy. At this moment, with him staring out to sea and her safely planted on land, whether they remain thus divided by a failure of empathy and forgiveness is still open to speculation.
On Chesil Beach, directed by Dominic Cooke, screenplay by Ian McEwan, 110 minutes, BBC & Number 9 Films, is screening around Australia during the British Film Festival (Palace Cinemas) until 15 November 2017.
ABR Arts is generously supported by The Ian Potter Foundation.