Film
Blade Runner 2049 ★★★
The new Blade Runner doesn't surpass the original, contra some breathless early reviews, but what could? Ridley Scott's 1982 classic is a remarkable feat of design, the perfect vehicle for a director who received his training at the Royal College of Art, and a streamlined thriller with existential heft. It features a haunting score from synthesizer maestro Vangelis and a transcendently odd and charismatic performance from Dutchman Rutger Hauer as the heavy. The film's combination of gumshoe-noir and sci-fi felt new, a punk vision of a night-time Los Angeles lit up by flaming oil stacks, with zeppelins overhead blaring infomercials in Chinese. It is the rare piece of speculative futurism that feels ageless.
The sequel, directed by Canadian Denis Villeneuve (Sicario [2015] and Arrival [2016]) might be set in the future, but if feels very much of the now. The film's length – a bladder-testing 146 minutes – and needlessly convoluted plotting reflect the blockbuster moment. The original film's screenwriter, Hampton Fancher, has been joined by Michael Green, of Green Lantern (2011), Logan (2017), and Alien Covenant (2017). The studio's marketing push has been careful to keep a lid on the film's secrets, and the media screening I attended was preceded by a personal message from Villeneuve himself, imploring us to refrain from spoilers. Like so many recent revivals, Blade Runner 2049 is a film whose narrative reversals seem half the point, one which trades on references to a beloved earlier work, only some of which move the new story forward. But 2049 neatly embeds that tension in its story, which is about memory itself – its consolations as well as disappointments.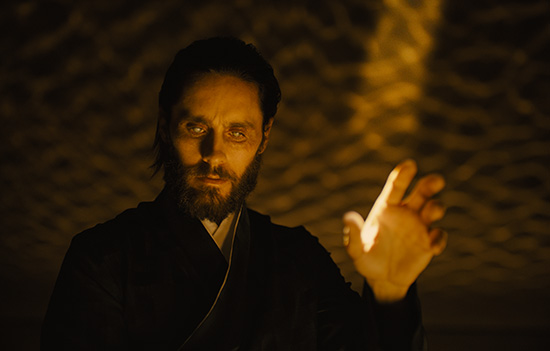 Jared Leto in Blade Runner 2049 (Sony Pictures)
Opening text informs us that the replicants made by the Tyrell Corporation in the original film were outlawed after one too many violent rebellions. The illegal tech was later acquired by a new Creator, Wallace (Jared Leto), recompense for saving the planet from famine. He builds new robots that are stronger than their predecessors, and more obedient. The older models are still at large, however, and still hunted by blade runners. One such is played by Ryan Gosling, with his customary zonked passivity. Visiting a farmer (Dave Bautista) who lives in remote isolation, he makes a discovery that could tip the delicate balance between masters and slaves, and his boss (Robin Wright) tasks him with finding and destroying the evidence.
Villeneuve may be the most consistently dazzling visual stylist currently working in Hollywood, as well as the most humourless. His Blade Runner feels more sparsely populated than the original, gleaming but desiccated. Brutalist buildings tower over empty boulevards, rendered via model work and enormous sets built on location in Budapest. The director and his regular cinematographer Roger Deakins spend much of the bloated running time swooping over the city from above, as Gosling takes his spinner – a hovercraft kitted out with all the bells and whistles – from one meet to the next.
His search – framed more as an investigation than a hunt, per the original – gives Villeneuve the chance to venture beyond the city limits, as far afield as San Diego and even a blighted Las Vegas. It's there, with a glitchy hologram of Elvis backed by sequinned showgirls staggering into life in a long-abandoned hotel, that he runs into Deckard, played once again by Harrison Ford, whose career seems now almost entirely devoted to revisiting the greatest hits. Still, his gravitas makes for a stark contrast with the next-gen leading man he's playing opposite.
What happened to Gosling? In his early career, in films like The Believer (2001) and Half Nelson (2006) and Lars and Real Girl (2007), it felt like he could do anything. But ever since Drive (2011) he's seemed convinced that stoic is what the people want. He's become a personality actor who repeatedly plays the same role: a man without personality. That comatose quality makes sense, at least, to this particular story, in which his character's identity is constantly shifting beneath his feet, even if he eventually emerges as something of a red herring.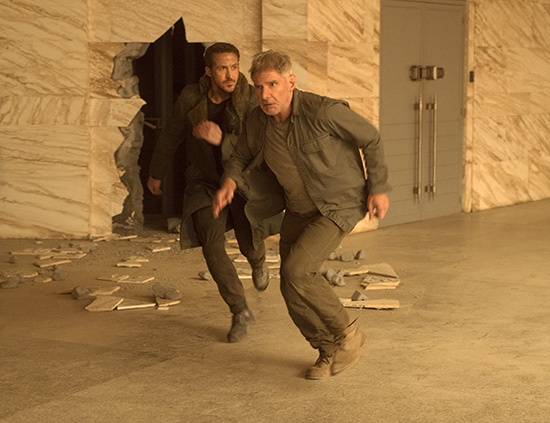 Harrison Ford and Ryan Gosling in Blade Runner 2049 (Sony Pictures)
The adolescent fantasy of being special, predestined for great things, is the bread-and-butter of contemporary franchise-dom, from Harry Potter to Spider-Man to Star Wars, and it's to the film's credit that it subverts it. But how it gets there is a mystery-laden slog, with the narrative simplicity of the first film replaced by a plot designed to expand our knowledge of the characters in the original, rather than make us care about new ones. 2049 rehashes themes instead of deepening them, and makes explicit what once was suggested. Its obligation to set up the dominoes for a future instalment also means that the film's mysteries are only partially resolved by film's end, and it climaxes in a death that can't match the poetic grandeur of Roy Batty's 'tears in rain' soliloquy. Carbon copies have feelings too, but not all are created equal.
Blade Runner 2049 (Sony Pictures), 146 minutes, directed by Denis Villeneuve.
ABR Arts is generously supported by The Ian Potter Foundation.