Björn Runge's The Wife features several claustrophobic and tense scenes that take place in the back of a limousine driving Joan Castleman (Glenn Close) and her novelist husband Joe (Jonathan Pryce) through the snowy streets of Stockholm, where Joe is accepting the Nobel Prize in Literature. In one, Joan says to him, 'Don't thank me in your speech, I don't want to come off as the long-suffering wife.'
Despite her frequent protestations that she is not a victim, Joan's suffering is very much at the heart of this stunningly acted and visually beautiful work, based on a 2003 novel by American author Meg Wolitzer. That suffering – which is complex and mostly met with stoicism and calmness – is etched across Close's face for the entire film as she delivers a performance of such depth that it arguably redefines her as an actor.
The Wife opens with the seemingly happy couple at home in Connecticut receiving the news of Joe's award, an event that triggers receptions and gatherings at home before the pair, along with their son David (Max Irons, son of Jeremy), travel to Sweden for the ceremony. Throughout these formalities, Joan is an affable, sanguine, slightly reserved figure as her husband basks too gleefully in the glow of prestige. She is particularly adept at dealing with the overtures of Joe's would-be biographer, Nathaniel Bone (Christian Slater); indeed, one scene in which Joe is impulsively rude to Bone, while Joan is engaging and polite, illustrates the differences between the Castlemans. These early stages establish Joan, and Close, as the film's moral centre and its poetic heart – and Joe as a pompous, rather vacant creep. Yet a superb showing from Pryce ensures that he, despite his starkly unattractive conceitedness, is worthy of a modicum of sympathy in his insecurity and inadequacy.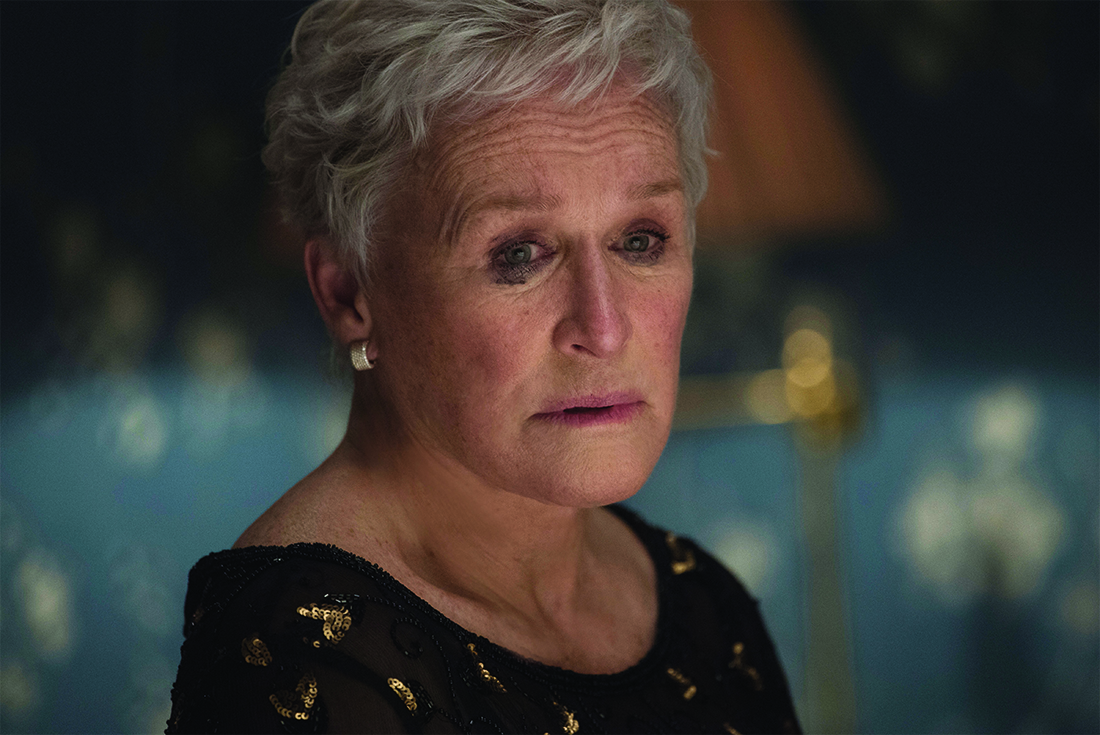 Glenn Close as Joan Castleman in The Wife (Icon Film Distribution)
Joseph's passions include sweet and fatty foods, wine, and attempting to seduce young women by reciting the famous closing sentence of James Joyce's 'The Dead', the final story in Dubliners (1914). The reference is carefully chosen. 'The Dead', of course, tells the story of a literary academic fretting over a speech he must give at a new year's gathering among fawning peers, while his wife endures her own private agonies and regrets amid the superficialities of the function and the vociferous praise directed at her husband from all comers. The parallels with Joan's Stockholm ordeal are obvious (and both narratives offer the solemn motif that is heavy winter snow). One could even go so far as to say that Runge and screenwriter Jane Anderson have adapted Wolitzer's novel so that this film, to a degree, is an attempt to retell 'The Dead' from the wife's perspective.
Through a series of flashbacks (with a young Joan played by Close's own daughter, Annie Starke), we learn that Joan was once an extremely talented writer herself, but that she put her ambitions aside, having quickly learned that she would meet nothing but dead ends as a woman attempting to negotiate the disgracefully prejudiced, patriarchal publishing industry in the United States in the late 1950s and 1960s. It is the revelation of Joan's apparently remarkable literary ability that ultimately leads to the film's later 'twist' – one that, it should be said, can be foreseen somewhat too early in the piece and also stretches the boundaries of plausibility. Another quibble must be that the clunkily written flashbacks tend to halt the momentum and rhythm of the simmering Stockholm storyline, making the narrative drag in these sections.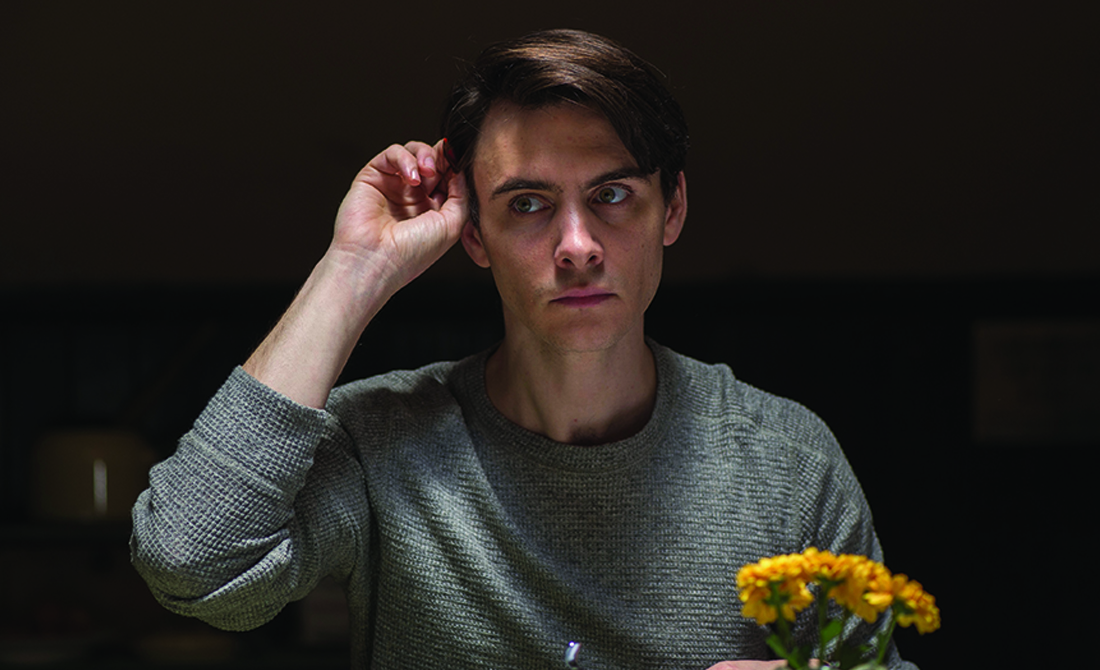 Harry Lloyd as a young Joe Castleman in The Wife (Icon Film Distribution)
The film more than makes up for these weaknesses in other ways, not least the acting. Close and Pryce are aided by an accomplished support cast headlined by Slater as Bone, who is disingenuous, obsequious, and a little slimy as he attempts to gain Joan's trust. The two of them share one of the film's best scenes as they drink together in a small bar, Joan skilfully batting off Bone's measured insinuations about hers and Joe's private life – it is one of her few exchanges with someone of comparable verbal sophistication and subtlety. Bone also tries to ingratiate himself with David, the great author's son, who has literary ambitions himself, despite being subjected to his father's ongoing belittling and indifference. Played by a brooding and charismatic Irons, David is part spoilt child, part abuse victim, and is yet another excellent performance that Runge has coaxed out of his cast.
Another dimension to The Wife emerges from the fact that the film's general release comes mere months after the Swedish Academy opted not to award the Nobel Prize in Literature for 2018 after becoming engulfed by a serious sexual assault scandal. A line could be drawn between recent developments in sexual politics and the #MeToo movement and the indiscretions of the fictional Joe Castleman (and Joan's handling of them), but otherwise the film doesn't pick up on a theme of powerful men abusing their position. The Wife does, however, take aim at the Swedish Academy in other ways, depicting it as a fusty, archaic, deeply patriarchal, and faintly ridiculous institution (even if the film's finest visual flourishes come with the Academy's pomp and ceremony). And there is a certain irony in the fact that a film that lampoons one of the world's élite academies may well go on to receive accolades from another – The Wife is already emerging as a strong Oscars contender, with Close touted as a possible Best Actress.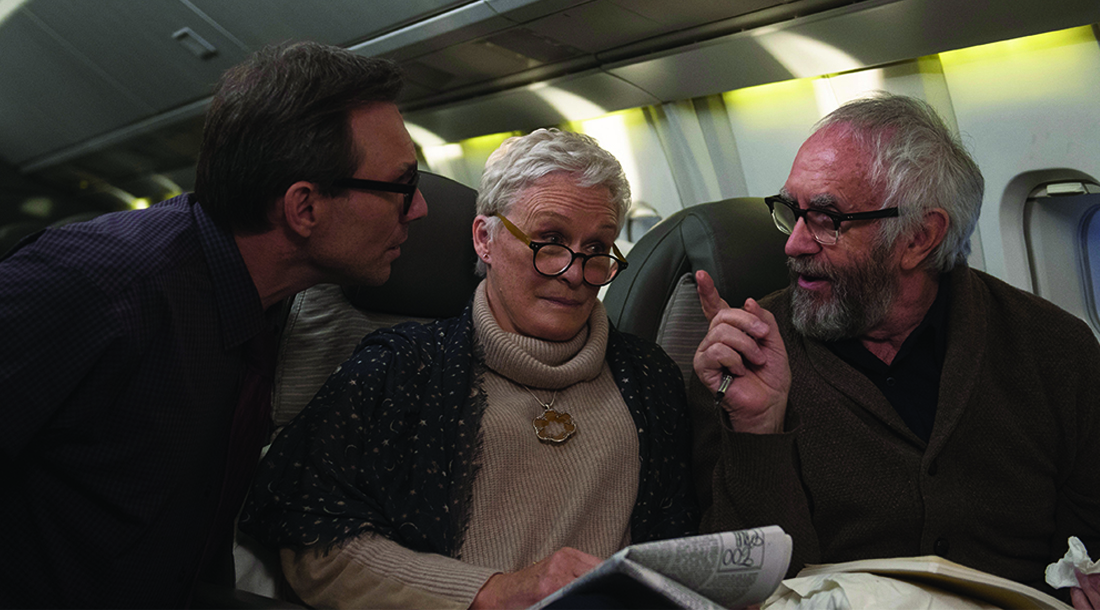 Christian Slater (Nathaniel Bone), Glenn Close (Joan Castleman), and Jonathan Pryce (Joe Castleman) in The Wife (Icon Film Distribution)
While the film ultimately belongs to Close, one also goes away pondering the questions that Runge and Anderson pose regarding literary culture in the Western World. The narcissism, chauvinism, and general unpleasantness of Joe force us to confront the fact that the grand pedestal on which we place a particular breed of curmudgeonly ageing, white male authors is sometimes not warranted. That common cantankerousness and rudeness, sometimes regarded as part of the artist's nature, or an abiding and even endearing eccentricity, perhaps aren't excusable after all. In Joe's petulance and surprising lack of worldliness, The Wife shows us that the revered old white-haired novelist, resting on status and past glories in his dotage, is often a reactionary, decadent, and delusive figure. With this in mind, literature observers may enjoy the sport of trying to identify which authors, if any, may have inspired the character of Joe (other critiques have taken the plunge and offered the likes of Saul Bellow and Phillip Roth).
Too many films about writers choose to mythologise and romanticise the creative process and the writing life. The Wife is therefore refreshing in its depiction of dysfunction and dishonesty, with the character of Joan always on hand to rise above it all.
The Wife (Icon Film Distribution), 100 minutes, is directed by Björn Runge. It is in cinemas 2 August 2018.
ABR Arts is generously supported by The Ian Potter Foundation and the ABR Patrons.