Theatre
Ghosts (Belvoir St Theatre) ★★★1/2
'But I almost believe we're all ghosts. Every one of us. Everything we do has already happened, everything that has happened is already in us. It all returns. Not just what we inherited from our parents. Everything. Dead ideas. Dead beliefs. Dead customs. Lodged in us. We cannot be free of them.'
When this production of Henrik Ibsen's most controversial play was programmed, no one could have guessed how pertinent it would appear in Australia at this moment. On the surface, this account of a bourgeois woman whose attempt to escape from a loveless marriage and a philandering husband is foiled by the Pastor she loved and the conventions of the times, who has to live a lie and finally deal with a beloved son who has inherited syphilis from his father, is of another era. After all, there is now at last understanding and help for those leaving an abusive marriage, and her son's disease would easily be cured. But Ghosts is about more than these afflictions. The protagonist, Mrs Alving's, speech to her nemesis, the hidebound, reactionary Pastor Manders, quoted above, is the core of the play. As Robert Brustein writes, Ibsen's 'underlying purpose was to demonstrate how a series of withered conventions, unthinkingly perpetuated, could result in the annihilation not only of a conventional family but, by extension, the whole modern world'.
As we make our marks on the forms in the present farcical opinion poll, the Pastor Manders of Australia are thundering from the pulpit against marriage equality while the Mrs Alvings, one hopes, are moving towards a yes vote.
Ibsen wrote the play quickly and under some sort of compulsion. Writing to his publisher, Frederik Hegel, in November 1881, Ibsen said of his just-completed play: 'Ghosts will probably cause alarm in some circles; but that can't be helped. If it didn't there would have been no necessity for me to have written it.' In 1898, the year Ibsen turned seventy, at a ceremony honouring him in Stockholm, King Oscar made a slighting remark about the play. After an uncomfortable pause, Ibsen burst out: 'Your Majesty, I had to write Ghosts!'
Ghosts is Ibsen's most classic play, the one that conforms most closely to the dramatic unities of time, place, and action. It takes place on the evening and night before an orphanage, dedicated to Mrs Alving's late husband, is due to be opened. Her son, Oswald, has returned from Paris, ostensibly for the occasion. The dedication speech is due to be given by Pastor Manders, the man Mrs Alving truly loved and to whom she fled for help when her marriage became unbearable. Terrified of scandal, he sent her back and cut off communication with her. Meanwhile, the wily carpenter, Jacob Engstrand, attempts to persuade his supposed daughter, Regina, in service to Mrs Alving, to return to town with him to act as an attraction in his planned, euphemistically called tavern for sailors.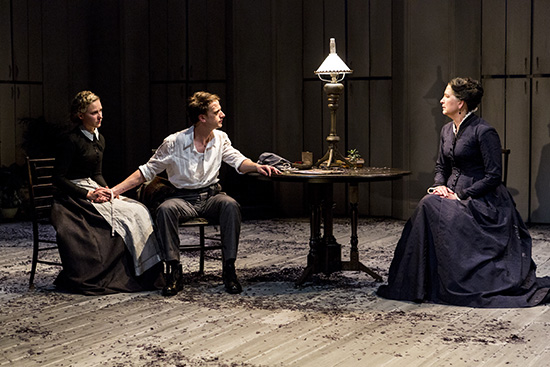 Taylor Ferguson, Tom Conroy, and Pamela Rabe in Ghosts
(Belvoir St Theatre, photograph by Brett Boardman)

Eamon Flack has produced a spare, powerful adaptation which he rightly plays without an interval. He is able to spell out things that, in 1881, Ibsen could only hint at: the syphilis that Oswald carries and the brothel that will be Captain Alving's legacy. Flack has made no attempt to update the play, understanding that its power and relevance need no intervention.
On opening night, there was a slight sense that the performances were still settling in. Pamela Rabe presents an interesting take on Mrs. Alving. Instead of the usual flinty matriarch whose rigid façade crumbles as the play proceeds, her Mrs Alving is a much more vulnerable creature. The scene in which she reveals to the Pastor the truth about her marriage is usually played as an explosion of bitterness and anger. Rabe plays it more as a plea for understanding. As the terrible night unfolds, Rabe shows us a woman finally coming to an understanding of how the constraints of society have warped her life and the lives of everyone around her. Sweeping through the ashes of the destroyed orphanage and her wasted life, and ending the play in an agony of indecision, Rabe's Mrs Alving is a creature both formidable and forlorn. If her performance at the moment lacks the ultimate tragic dimension, that will surely come as she settles into the role.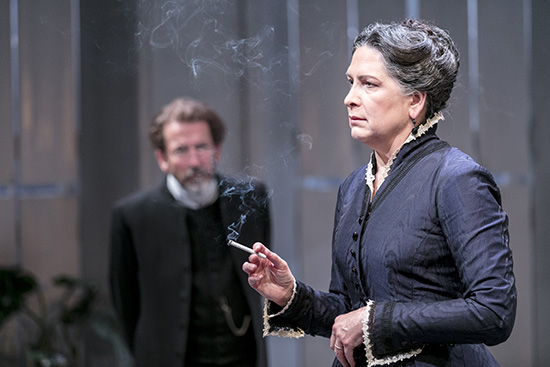 Robert Menzies and Pamela Rabe in Ghosts
(Belvoir St Theatre, photograph by Brett Boardman)
Robert Menzies, several decades ago a febrile Oswald to Julia Blake's Mrs. Alving, has graduated, if that is the correct term, to Pastor Manders. He gets the pastor's unimaginative conservatism and sexual repression, but misses his pompous authority and ultimate hypocrisy. We don't get the sense that this is a man of influence. In his magisterial biography of Ibsen, Michael Meyer warns against making Manders a figure of fun and Flack and Menzies certainly don't make that mistake. However, there should be some humour in the scenes in which Engstrand hoodwinks the obtuse, self-important pastor. But because Colin Moody plays Engstrand straight, virtually as though he believes in what he's saying, and because Menzies' Pastor is almost unassuming, the comedy goes missing. In one puzzling moment, at Engstrand's initial entrance, he crosses himself. Are we to assume that he is in fact a Catholic, something that would probably shock the Evangelical Lutheran Manders more than the brothel Engstrand plans to open.
Tom Conroy is a callow Oswald, which is no criticism. His Oswald is a man young for his years, totally unprepared for what life has dealt him. If his hysterical explosions are pitched a shade too high, he is very good in the quieter moments, confessing his terror. His almost Oedipal rapport with his mother makes for a very powerful last scene.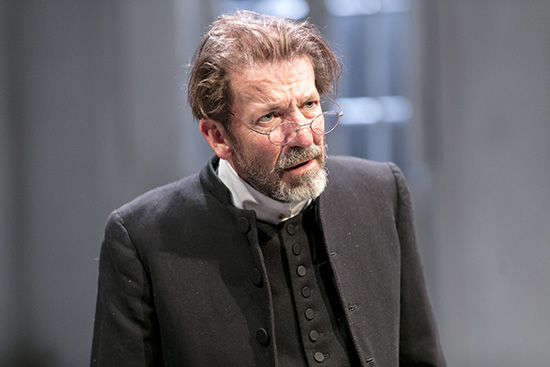 Robert Menzies in Ghosts (Belvoir St Theatre, photograph by Brett Boardman)
Regina is the one character in the play who has yet to be crushed by the society in which she finds herself. Taylor Ferguson ably charts her journey from a naïve girl dreaming of Paris to a practical, hard-bitten woman well aware of her limited options, but determined to use them to her best advantage.
Michael Hankin's gloomy set and Nick Schlieper's crepuscular lighting are perfectly in tune with a production that shows us the relevance of Ibsen's play but, at present, misses out on its ultimate power.
Ghosts (Belvoir St Theatre), written by Henrik Ibsen and directed by Eamon Flack, continues until 22 October 2017. Performance attended: 20 September
ABR Arts is generously supported by The Ian Potter Foundation.