Music
Woyzeck In Winter (Landmark Productions / Galway International Arts Festival) ★★★★
The jukebox musical is a fairly recent phenomenon on theatre stages, but has proven to be a popular, and lucrative, method of stringing together a group of popular songs loosely held together by a sometimes attenuated narrative. Mamma Mia! – the collection of ABBA hits that has been running in London since 1999 – is one of the most successful in this genre, but there are many others which exploit this formula.
Adapting a celebrated dramatic work into a different format or genre is nothing new, but melding two of the most significant artistic products of the nineteenth century, both written within ten years of each other, into a single work seems a particularly daunting challenge. Georg Büchner's Woyzeck (1837) is regarded as a landmark in European theatre. Considered by some to be the first modern drama, it has exerted a profound influence. Left unfinished by the untimely death of its author, it received its first performance in Munich in 1913. The fragmentary nature of the play has given directors much creative licence in their staging, including experimenting with the order and omission of scenes.
It is a bleak depiction of the blighted lives of a soldier, Franz Woyzeck – based on an actual figure who was executed for murder – who undergoes a series of dehumanising medical experiments, and his unwed partner, Marie, with whom he has a child. Central to the drama are the themes of poverty, social pressure, and personal loss and their effect on morality. Büchner wrote: 'I find in human nature a terrifying sameness, in the human condition an inexorable force, granted to all and none'. The play consists of twenty-four short, seemingly disconnected scenes, often couched in expressionistic, poetic, yet starkly direct language.
Franz Schubert's song cycle Winterreise (1827–28) is possibly the supreme achievement in the German Lied repertoire, and certainly the Everest of all song cycles, a genre first given prominence by Beethoven's An die ferne Geliebte (1816), and further refined by Schubert, Schumann, Brahms, and others. While Beethoven's work is through-composed and has a strong musical linking narrative, Winterreise consists of twenty-four separate songs based on a poetry collection by Wilhelm Müller (1823–24). Schubert discovered a first group of twelve poems which he set, and then came upon a further twelve which were later added. The songs were written as Schubert was rapidly declining in health due to syphilis. His final task before he died was correcting the proofs of the second half of the cycle, but the work was left incomplete.
Winterreise does not have a linear narrative, but presents a series of sharply etched vignettes depicting a spurned lover leaving the town where an abortive romance has occurred, and enduring and reflecting on several (often unconnected) incidents and encounters. Like Woyzeck, it is more a psychological exploration of loss and rejection than a story as such, a journey into psychic outer darkness and disintegration: the protagonist meets several characters on the, perhaps metaphorical, journey, most notably the hurdy-gurdy player in the final song; this figure is often interpreted as death and appears to fulfil a strong death wish prominent in several of the songs.
Despite their generic differences, there are several parallels between the two works, not the least being this element of incompletion and fragmentation. All three authors died young, accentuating a sense of loss for what might have been. As with the scenic layout of Woyzeck, there has been experimentation with the order of songs in Winterreise, several of which – particularly 'The Linden Tree' – are often performed as separate items, out of the context of the complete work.
Conall Morrison's adaptation and production for Landmark Productions and Galway International Arts Festival, first staged in Galway, now at London's Barbican Centre, consists of twenty-one scenes which follow the overall dramatic trajectory of the standard versions of Woyzeck, incorporating twenty songs from Winterreise. The songs do not follow the 'traditional' order of concert presentation, but start and end with the final, spine-chilling, 'Hurdy-Gurdy Man', while other songs reflect the emotional context of a particular scene or incident in Büchner's play. Songs are mostly not performed in their entirety; fragments are repeated, often sung by different characters. Piano accompaniment without the voice occasionally underscores passages of dialogue with an almost Wagnerian sense of Leitmotif as fragmentary musical echoes recur.
Rosaleen Linehan in Woyzeck in Winter (Landmark Productions and Galway International Arts Festival, photograph by Colm Hogan)
The late Stephen Clark used Müller's texts, translated into English, but closely linked to their German originals, providing an easily comprehensible, singable, contemporary demotic while retaining much of Müller's poetic intensity. The potently Irish-inflected delivery of the performers adds a new dimension to Büchner's text, transferring it from mittel-Europa to a more contemporary, if undefined, landscape. Musical director, and providing an almost through-composed score adapted from Schubert, is pianist Conor Linehan, dressed in evening wear just as in a conventional Lieder recital, but being as much a protagonist as the singers, without being involved in the action. His playing is colourful and expressive, interspersed with moments of improvisation between songs. He has the ability to provide, when needed, rich sonority for the dramatic moments contrasted with delicacy and transparency. Schubert's spare musical score complements the elliptical dialogue of Büchner's play.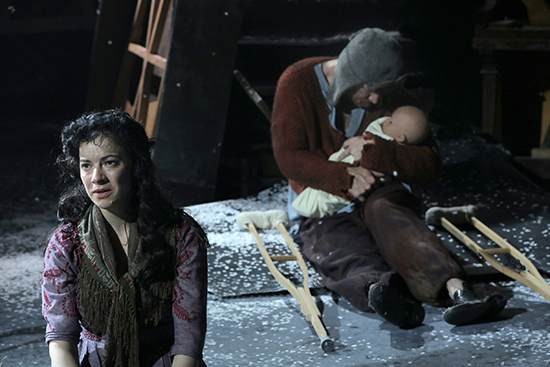 Camille O'Sullivan in Woyzeck in Winter (Landmark Productions and Galway International Arts Festival, photograph by Colm Hogan)
The two central figures in the drama are played by Irish actors Patrick O'Kane and Camille O'Sullivan. They are both powerful and charismatic stage presences, with the vocal wherewithal to carry the songs throughout the nearly two-hour drama, which is performed without a break. O'Kane brilliantly captures the essence of Woyzeck, tracing the character's increasingly tenuous hold on reality, and making the murder of Marie seem a logical conclusion. His wild-eyed, intensely physical performance, is contrasted with a surprisingly sweet singing voice, perhaps most poignant just before the murder, when he sings a verse of 'The Linden Tree', and immediately after the deed with 'On the River'. O'Sullivan, in turn, captures the kaleidoscopic emotions of Marie. Her vulnerability – set against calculatingly hard-edged yet increasingly guilt-ridden cynicism – is expressed through a highly effective and moving schnapps-soaked, cabaret-style vocal delivery: the most potent vocal performance of the evening.
Other characters are played with versatility and panache by Shane O'Reilly, Peter Coonan, Rory Nolan, Stephen Brennan, Barry McGovern, with an unforgettably moving performance as the Hurdy-Gurdy Man by Rosaleen Linehan. The striking set is designed by Jamie Vartan, consisting of mounds of distressed pianos piled upon each other through which the characters weave, symbolising a central aesthetic concept of the fragmented Lieder recital as well as the broken lives of the protagonists. Costumes by Joan O'Clery and lighting by Ben Ormerod fully exploit the wide expanses of the Barbican Theatre stage.
So does the fusion of these two dramas work? Somewhat surprisingly, yes. The deep understanding of both works by Conall Morrison is evident throughout. Particularly in the approach to Winterreise, there is a willingness to use the source work creatively, a refusal to be intimidated by its canonic status. This is most apparent in the singing of all the characters. There is no attempt to imitate the vocal aesthetic of the Lieder singer, but the quality is more that of Brecht and Weill, resolutely character-driven, yet has its own powerful beauty even if one misses the subtlety and refinement of the great Schubert exponents.
The collision of these two works is perhaps not the sum of both; nevertheless, an intriguing blend of genres. Music communicates, but does not articulate: Schubert's genius opens out some of the conflicts of the play, helping to explore the ethical elements of both works through the musical beauty of the songs juxtaposed with the violence of the play. The central image of pianist at the piano, surrounded by a mounds of wrecked pianos through which the characters swirl, is a powerful metaphor of the human mind which, as Linehan observes, is beautiful but fragile, and which easily goes out of tune. Of course, Alban Berg's Wozzeck hovers in the background – the seminal opera of the twentieth century.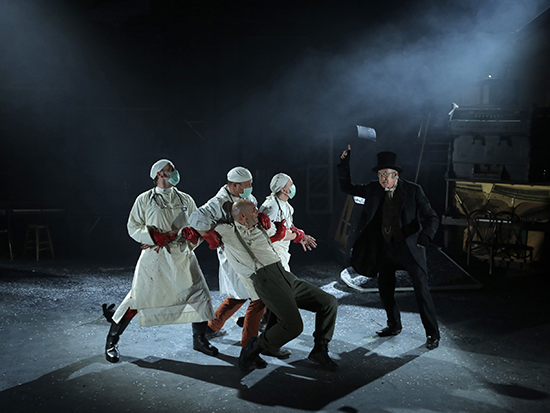 Patrick O'Kane and Barry McGovern in Woyzeck in Winter (Landmark Productions and Galway International Arts Festival, photograph by Colm Hogan)
A brief final word on another current London production which bears striking similarities to Woyzeck in Winter in terms of its structure and use of pre-existing material, and which is proving highly successful: Conor McPherson's Girl from the North Country, a play set in Depression-era America which incorporates twenty Bob Dylan songs, mostly from the more obscure corners of his catalogue. Like Woyzeck in Winter, the songs are not directly linked to this bleak drama set in an impoverished boarding house in Duluth, Minnesota (Dylan's home town), but they spring from a mood or event. Performed by a large, versatile and talented cast, this is also an emotionally searing yet ultimately uplifting drama. Both works are powerful contemporary examples of music theatre, but on another level they emphatically declare that the apparently rather limited jukebox musical format has potential to engage creatively with subjects probably not dreamed of by its original exponents.
Woyzeck In Winter (Landmark Productions and Galway International Arts Festival), directed by Connall Morrision, was performed at the Barbican, London from 13 to 16 September 2017. Performance attended: 15 September
ABR Arts is generously supported by The Ian Potter Foundation.