Film
I Am Not Your Negro ★★★★★
Movie tickets cost five dollars at the Lyric Theatre in Blacksburg, Virginia. It's an old gem – a distinctly American marriage of Art Deco and Spanish Colonial Revival. There are red velvet seats and oak banisters; the walls are lantern-lit, and lined with tapestries from the 1930s. Eight decades of popcorn butter is burned into the air. It's less a theatre than a time machine.
The first time I saw I Am Not Your Negro – Raoul Peck's taut and vital, Oscar-nominated documentary about the writer and civil-rights activist James Baldwin (1924–87) – I sat in my usual seat, front-row-centre on the balcony. The view's not great, but I like the elevated quiet. I have the luxury of choice. During segregation, Black patrons were forced into the recessed dark, hidden from the white audience below. A discreet, brass plaque on the staircase attests to this shameful past, but history can't be screwed to the wall. 'History is not the past,' wrote Baldwin, 'It is the present. We carry our history with us. We are our history.' With brutal clarity, I Am Not Your Negro demonstrates that America's racist history is alive and awake: 'The story of the negro in America is the story of America. It is not a pretty story.'
A black homosexual, perilously confined to the margins of mid-century American life, James Baldwin bore witness to his country's unspoken cruelties: 'I love America more than any other country in the world,' he wrote, 'and, exactly for this reason, I insist on the right to criticise her perpetually.' Criticise her he did – in essays, novels, plays, and public discourse – with words of incendiary beauty.
In this era of insular nativism, Baldwin's words seem to carry the terrible weight of prophecy: 'I'm terrified at the moral apathy, at the death of the heart that is happening in my country,' he lamented more than thirty years ago; he could have been speaking yesterday. After decades of neglect, scholars, writers, educators, and activists are rightly and loudly championing his substantial legacy. I Am Not Your Negro is the most forceful attempt to bring Baldwin's work into the public imagination.
The film draws inspiration, and much of its script, from a manuscript Baldwin left unfinished. Remember This House was to be Baldwin's magnum opus, a piercing critique of white America, anchored by the assassinations of Medgar Evers, Malcolm X, and Martin Luther King Jr (all of whom were murdered within five years of each other). As Baldwin explained in a letter to his literary agent: 'I want these three lives to bang against and reveal each other, as, in truth, they did.'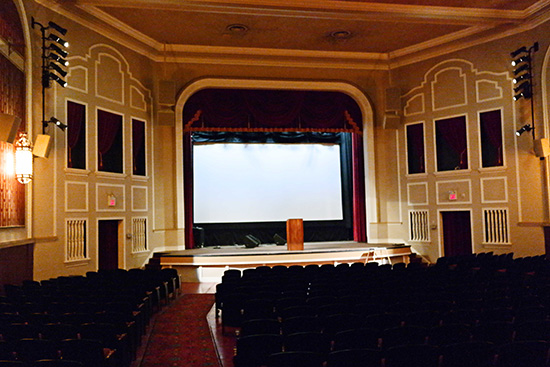 Inside the Lyric Theatre in Blacksburg, Virginia (Wikimedia Commons)

Sadly, Baldwin's progress on the project stalled. When he died of stomach cancer in 1987, he left only thirty pages of notes behind. His youngest sister entrusted these pages to Haitian-born director, Peck. While Baldwin is credited as the film's writer, Peck has masterfully combined sections of Remember This House with excerpts from Baldwin's published works and clips from his television appearances, alongside potent contemporary footage (such as the Ferguson protests), to create a narrative in collage.
Baldwin was also a noted cinéaste. In his book, The Devil Finds Work (1976), he explored Hollywood's long history of reifying racial stereotypes of black menace and white purity: 'Heroes, as far as I could see, were white and not merely because of the movies but because of the land in which I lived, of which movies were simply a reflection.' Interspersed with scenes from iconic American films, Peck's documentary also becomes a damning commentary on the US film industry and its role in nationalist myth-making.
What emerges, is a cinematic essay in which Baldwin functions as both the film's author and subject – a past and future Baldwin in dialogue. As a subject, we join Baldwin in his thirties, as he reluctantly returns to the United States from Paris. The civil rights movement is gaining momentum, and he has come home to pay his political dues. This is Baldwin at the height of his influence: his intelligence and elegant fury on full display. With his slim black suit, skinny tie, and ever-smouldering cigarette, he exudes a kind of aloof, feline grace – a languid, effortless cool.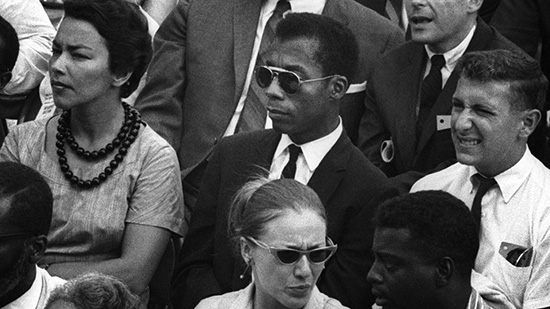 A still from I Am Not Your Negro (Madman Films)
An astonishing 1963 clip from the Dick Cavett Show sees Baldwin at his eloquent best, anger only sharpening his invective: 'When any white man in the world says give me liberty or give me death, the entire white world applauds. When a black man says exactly the same thing, he is judged a criminal and treated like one and everything possible is done to make an example of this bad nigger so there won't be any more like him.'
This was the power of Baldwin, his ability to articulate with peerless clarity the deep-rooted psychology of white America's racial animus – on prime-time TV. You can hear the unmistakable echo of his child-preacher past in his aphorisms and rhetorical flourishes: the laboured sigh, the sceptical eyebrow, the weighted pause.
The Baldwin who narrates Peck's film (voiced with profound tenderness by Samuel L. Jackson) is a different man. This is the late-career Baldwin of Remember this House. He is battle-weary; his comrades are long-dead, and he is being attacked by both the militant left and the hyper-conservative right. After years of poor reviews and dwindling sales, he struggles to publish; and yet he continues to write, and to hope for a future in which his country lives up to its promise. 'What can we do? Well, I am tired. I don't know how it will come about. I know that no matter how it comes about it will be bloody, it will be hard. I still believe we can do with this country something that has not been done before.' I Am Not Your Negro is haunted by the ghost of that dream America and its bloody reality; for every image of past injustice, it is still tragically possible to find a contemporary pair.
Peck's film has been criticised for its silence on the role sexuality played in Baldwin's work and life. Baldwin more than deserves to be the subject of a substantial, biographical film, but I Am Not Your Negro was never aiming to be that film; rather, for ninety-three hypnotic minutes, America's past is lent a single and singular voice in which to speak to its present. Baldwin did not live to see the tiki torches burning in Charlottesville. He did not see Obama take the oath of office, nor Trump. He did not see Rodney King beaten or Trayvon Martin shot. He missed Black Lives Matter, and the grim tally of police shootings ticking ever-upwards – but Baldwin saw it all coming.
James Baldwin and Marlon Brando at the 1963 Civil Rights March in Washington, D.C (National Archives, Wikimedia Commons)

'What white people have to do,' he explained, 'is try to find out in their hearts why it was necessary for them to have a nigger in the first place. Because I am not a nigger. I'm a man. If I'm not the nigger here, and if you invented him ... then you have to find out why. And the future of the country depends on that. Whether or not it is able to ask that question.'
America has shied-away from that question, as I Am Not Your Negro powerfully and painfully shows. There is no film that speaks to this political moment with greater force or fury.
I Am Not Your Negro (Madman Entertainment), 93 minutes, directed by Raoul Peck and narrated by Samuel L. Jackson. In cinemas from 14 September 2017.
ABR Arts is generously supported by The Ian Potter Foundation.