Film
Namatjira Project ★★★★
Aboriginal and Torres Strait Islander readers should be aware that this review contains images or names of people who have since passed away.
On display in the Queensland Art Gallery in Brisbane is a series of thirteen paintings by Vincent Namatjira, great-grandson of Albert, titled Albert's Story. Each painting shows an important moment in the life of the seminal painter, who died in 1959. One shows him painting with his great friend and mentor Rex Battarbee; others show him visiting Sydney and Melbourne, meeting the queen, and, in 1957, becoming one of the first Aborigines to be granted citizenship.
Vincent's series illuminates the degree to which Albert Namatjira's career and his extended family's livelihood depended on the support and sponsorship of the white Australian establishment – an often troubling and unfair relationship that continues to be complex with his family's ongoing struggle to regain the copyright to his paintings from its white owners, as recently covered by Colin Golvan QC for ABR Arts. The Albert's Story series is also one of several important projects in recent times that re-energise Namatjira's legacy and re-tell the often sad fortunes of his life – not to mention emphasise the elegance and intimacy of his famous watercolours.
Two of these projects have come from the Namatjira Project: the two-act stage play Namatjira, which ran between 2010 and 2012; and now a documentary that, according to the promotional spiel, tells the story of the Namatjira family's 'quest for justice' regarding the copyright.
This issue is just one of several narrative threads that director Sera Davies sensitively and skilfully weaves through this compassionate and generally positive film. Chief among these is the preparation and performance of Namatjira in both Sydney and London, complete with enlightening interviews with writer Scott Rankin and the transfixing theatrical talent that is Trevor Jamieson, who is as compelling a physical presence as he is enigmatic an interviewee. The film also relies on a plethora of interviews – including with Battarbee's daughter Gayle Quarmby and a number of Namatjira family members interviewed on-site at Hermannsburg and its surrounds. Such interviews are interspersed with archival black-and-white footage of Namatjira himself during his heyday, ranging from the touching – as when tenderly chatting with his grandchildren as he paints – to the shockingly racist in a repellent newsreel clip in which Namatjira visits Taronga Zoo. The grainy old film brings a startlingly hazy but harsh intensity to the light colours of the desert and is among the visual highlights of the documentary.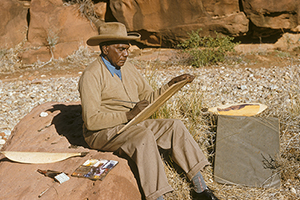 Albert Namatjira
(photograph by Pastor S.O. Gross, courtesy of the Strehlow Research Centre)
Despite not harping on the copyright issue (a wise move), the documentary, like the play and much of the work of the Namatjira Project, exists to raise awareness of this quagmire and generate funds so the Namatjiras can buy back the rights. The background is that in 1957 Namatjira made a deal with John Brackenreg, the owner of art publishers Legend Press, who would pay a 12.5 per cent royalty to Namatjira in exchange for the sole right to reproduce all of his paintings. When the artist died, the management of his assets fell to the Public Trustee, who then sold the copyright outright to Legend Press in 1983, thus ending those meagre royalty payments to Namatjira's family. The copyright does not expire until 2029. To its credit, Davies' film gives a voice to Brackenreg's son Phillip, the current rights holder, in a fairly tense scene in which Namatjira family members listen to Phillip's justification of his father's decisions with silent incredulity.
The Namatjiras winning back the rights could, the film suggests, help fund art galleries and projects in Central Australia and, more importantly, help some of Namatjira's descendants who are living in poverty and deprivation. Namatjira's grandson Kevin, an acclaimed but homeless painter himself, is (along with Jamieson) the star of the documentary. A shy, laconic, and beautifully gentle presence, the fifty-five-year-old speaks with uncluttered poetry of his ancestor's legacy and his own predicament. The most heartbreaking moment of Namatjira Project comes when he and his cousin Lenie are preparing to meet the queen at Buckingham Palace (they are in London for the play's performances on the South Bank), and Kevin considers whether he should ask her for money to help provide shelter for him and his family.
Early on in this excellent documentary, Rankin describes the meeting of black and white culture in his play by saying, 'Between these cultures, the art-making and the journey to depth is the place where we meet, that's what it's about. Rex Battarbee and Albert formed this crossover point, and that is what we're examining.'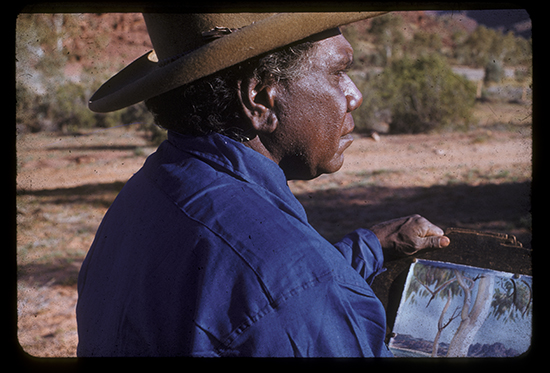 Albert Namatjira
(photograph by Pastor S.O. Gross, courtesy of the Strehlow Research Centre)
For Rankin, art is a meeting point; Namatjira's work found its way into countless suburban homes and enriched white Australia's understanding of the Central Australian landscape. The play has done the same for Namatjira himself, and now this gentle but determined documentary, from white filmmakers, draws our attention towards how his children's children are living today and the absurd situation regarding copyright. Surely it is only right that the collaboration between the Namatjira name and the cosmopolitan world should continue with a fair settlement that returns copyright control of Albert's works to his large family – which, through Vincent, Kevin and many others, is ensuring the art continues.
Namatjira Project, 87 minutes, directed by Sera Davies, was shown at the Brisbane International Film Festival from 18 to 24 August. Distributed in Australia by Umbrella Entertainment. In cinemas from 7 September 2017.
ABR Arts is generously supported by The Ian Potter Foundation.