Music
The Usefulness of Art (fortyfivedownstairs) ★★★★1/2
It seemed apt that Adam Simmons chose to perform his large-scale suite The Usefulness of Art in a space generally devoted to art and theatre, rather than in one of Melbourne's jazz clubs. Incorporating visual design by Christine Crawshaw and Diokno Pasilan – wooden chairs hung from the ceiling amidst billowing clouds, recalling both a Duchamp readymade and a Magritte still life – the concert was imbued with more than a touch of theatricality.
Composer and multi-instrumentalist Simmons is clearly drawn to staging ambitious events. In November 2015, he performed 100 improvised duos with Australian musicians over twenty-five consecutive nights at Conduit Arts in Brunswick, Fitzroy. The Usefulness of Art is part of a cycle of three musical projects being staged in 2017 at fortyfivedownstairs (Concerto for Piano and Toy Band, featuring Michael Kieran Harvey, was performed in March; Travelling Tales is scheduled for December), with a further two planned for 2018. A CD box set, documenting the performances, is in the offing.
Simmons initially recorded The Usefulness of Art with his trio Origami in 2012. Despite having an arsenal of instruments at his disposal – his work regularly features a broad range of saxophones, clarinets, and flutes – both the trio recording and the Ensemble performance feature him solely playing bass clarinet, an instrument notable for its dark and woody textures.
For these four performances, Simmons has created arrangements of the music for large ensemble. On opening night, when the thirteen musicians, dramatically attired in black costume, capes, and – in some cases – surrealist headpieces, filed into the darkened space to take up their instruments, there was a palpable air of expectation, as if we had stumbled into an evening of performance art after all. The brief opener 'Breath' was just that, the beguiling sound of musicians gently breathing through their brass and woodwind instruments. The extended second movement, 'Acceptance', introduced a gradual build-up of colours and textures, as the overarching theme unfolded like a slow-burn fuse. For twenty-minutes, various instruments merged to a point of unison, climaxing with the saxophones wailing and lamenting as a single voice.
The Ensemble's unconventional instrumentation provided a broad palette for Simmons's arrangements: two drummers, two percussionists, vibraphone, guitar, double bass, saxophones, trombone, trumpet, and electronics. In particular, the wide variety of percussive instruments provided a dense and busy underlay, primal and rhythmic, over which the brass and wind instruments danced and soared. While clearly a composed piece, Simmons, true to his jazz roots, ensured there was ample space for Ensemble members to solo and improvise.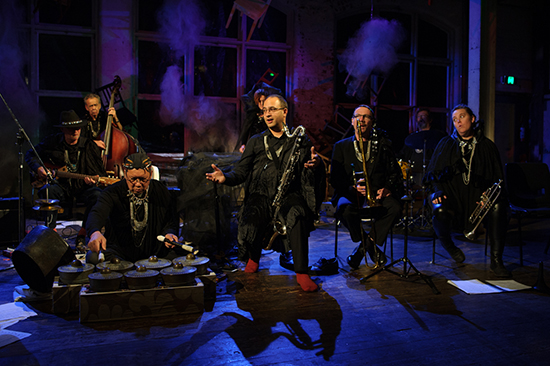 Members of the Adam Simmons Creative Music Ensemble perform The Usefulness of Art at fortyfivedownstairs (photograph by Sarah Walker)
As the concert progressed, the music assumed a majestic quality. There was a spirit of joyfulness in the room. Nearing the finale of the seventy-five-minute performance, individual instruments began dropping away, until the near-silence made way for a choir of voices, exalted and uplifting. With the room now lit up, the musicians directly confronted their audience, entreating us to join them, as if in prayer. As the voices receded, just a single one remained, raised aloft, before the room suddenly plunged into darkness and silence.
This performance was a triumph in every way. While the approach drew upon the pioneering work of Anthony Braxton's Creative Music Orchestra, the resulting music – with titles such as 'Empathy', Compassion', 'Faith' – evoked the spiritual music of John Coltrane, in particular his masterpiece A Love Supreme (1964). Like Coltrane's work, this was music at the service of the human spirit.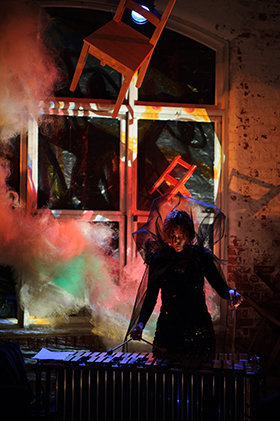 The Usefulness of Art at fortyfivedownstairs
(photograph by Sarah Walker)Adam Simmons has stated that the genesis of the suite derived, in part, from his reading of Auguste Rodin's views on the usefulness of artists. At a time when funding support for art and artists is diminishing, The Usefulness of Art attempts to put forth an alternative scenario. If the composition asks the question of whether art plays a critical role in our culture, our personal lives, these musicians and this performance responded with a resounding affirmation.
The Usefulness of Art was performed by the Adam Simmons Creative Music Ensemble at fortyfivedownstairs, Melbourne, from 24 to 27 August. Performance attended: 24 August.
ABR Arts is generously supported by The Ian Potter Foundation.