Equally welcome was the second opportunity to hear Massenet's opera Thaïs (1894) within a matter of weeks. Once again it was a concert version – a 'mid-season gala' from the Melbourne Symphony Orchestra. ABR Arts wrote about Opera Australia's recent concerts in the Sydney Town Hall and about the glamorous American Sybil Sanderson for whom Massenet conceived the luminous title-role.
The Melbourne cast was completely different – no interstate borrowings. Daniel Sumegi, rarely heard here in French repertoire, was a commanding Palémon. Quinn Kelsey – a major Rigoletto and Count di Luna on world stages – has already sung the role of Athanaël with Andrew Davis, in 2011. Kelsey began well, revealing a handsome timbre, but he seemed to flag throughout this relatively short opera, and one entrance was uncertain. Kelsey was the only singer to rely on his score.
Mexican-born Diego Silva, as Nicias, made a greater impact than did Simon Kim in Sydney. Silva, who recently sang the role of Tybalt at the Met, has a bright, focused tenor and a personable stage manner.
Jacqueline Porter (Crobyle) and Fiona Campbell (Myrtale) – irreverent slaves, highly amused by the warped Athanaël's attempt to convert Thaïs – made much of their ludic music, especially the sultry Act II terzet ('Celle qui vient') that follows the long ballet in the opera, with coloratura ornaments from La Charmeuse (Eva Kong), surely a precursor of the Fairy in Cendrillon (1899). It was good to hear this tuneful passage, which was cut in Sydney. But no one missed the epic ballet, which was skipped in both cities. We might still be there had it been retained.
Erin Wall had a major success in this opera in 2011, and it was not hard to see why. From her dramatic entrance in Act I and the valedictory duet that follows with Nicias, Wall acted the part and sang with great beauty of tone. The pianissimo notes were striking, and the courtesan's frequent high notes were boldly sung. Unlike Nicole Car in Sydney, she did not avoid the high D at the end of 'Dis-moi que je suis belle'. The repeated and ominous 'éternellement' in this aria was fittingly stressed. It was a magnificent performance from this fearless young Canadian singer, and it came as no surprise at the end when she rose to the fiendish, repeated high D in the duet that closes the opera.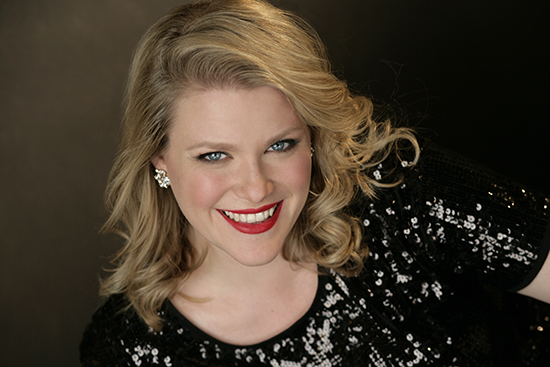 Erin Wall (photograph by Kristin Hoebermann)
Andrew Davis, who clearly loves this opera, drew increasingly fine playing and colourings from his orchestra. The MSO Chorus – not helped by the dull acoustic at the back of the stage – made a modest impression after Opera Australia's magnificent chorus.
Thaïs, by Jules Massenet, was presented in concert by the Melbourne Symphony Orchestra at Hamer Hall, Arts Centre Melbourne on 26 August 2017.
ABR Arts is generously supported by The Ian Potter Foundation.