Theatre
The Father (Sydney Theatre Company and Melbourne Theatre Company) ★★★
Florian Zeller's play The Father (Le Père, 2012) comes to us after acclaimed productions in Paris, London, and New York, where the playwright was hailed as an exciting young talent, and one of France's finest writers. He wrote the play for the French actor Robert Hirsch, who was eighty-eight when he first performed it a few years ago. Australian audiences now have a chance to see the play for themselves, with our own veteran actor John Bell in the title role and an engaging production from the STC (in collaboration with the MTC).
The set is a beautiful old apartment in Paris with wood-panelling, frosted-glass folding doors, bookshelves in the hallway, and sturdy furniture. No Scandinavian modernism here. The elderly André and his daughter, Anne, are in conflict over a familiar situation for anyone with ageing relatives – the question of independence and the need for a carer. He is articulate and witty, if unreasonable about his missing watch and the likelihood of theft. His daughter is concerned and exasperated, though she seems the controlling type and could be overdoing it. Maybe, he is just forgetful and her anxiety has more to do with her guilt about her plans to move to London. The stage goes dark, then suddenly we are not so certain, as new characters arrive: which woman is Anne? Is it Pierre or Antoine? Is it the same flat? What day, what time is it?
Paris flats can be rather similar. Over nearly twenty short scenes, this one is Andre's, or Anne and Pierre's, or just Anne's or somewhere else altogether. Like André, the audience is puzzled by the shifts in time and place, but, unlike him, they will soon work it out. So, Alicia Clements's carefully realistic set is an important anchor for this play; the layout of drawing room, kitchen, hallway, and bedrooms is reliable, even when the furniture disappears and people claim it is not André's home but somewhere else. We are disoriented only for a time, while André remains intimidated by the conspiracies of strangers.
It is wonderful to see John Bell playing a contemporary figure, so rare in his long career of Shakespeare, Brecht, and Ibsen parts. He demonstrates his remarkable control over character, slipping from good humour to anger, from charm to petulance, even managing a soft-shoe shuffle at one point. André's decline is inevitable (one thinks, with sympathy for Bell, of Peter O'Toole's old actor in the 2006 film Venus, who only gets to play the dying or the dead). Bell manages to give the predictable ending a touching, unsentimental drama, so that André represents more than an individual old man declining into confusion. He offers us a vision of our own fears for the future.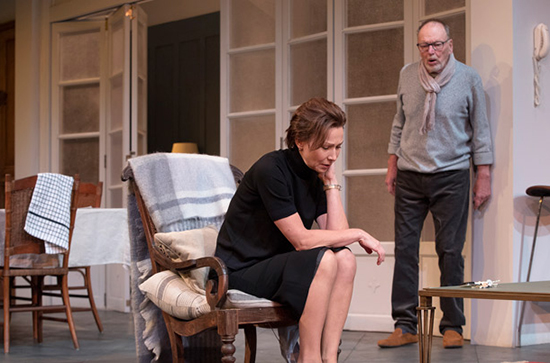 John Bell and Anita Hegh in The Father (Sydney Theatre Company and Melbourne Theatre Company)
There are no villains in the play, no extraordinary events. It is a polite middle-class world where people can afford carers for their ageing parents. Anita Hegh makes the sensible, dutiful daughter loving and kind with just the slight suggestion of bossiness in her manner – her apartment is 'minimalist' with no furniture at all. The contrast between Marco Chiappi's relaxed Pierre and Glen Hazeldine's energetic appearance makes for unsettling moments, and Natasha Herbert appears serene throughout all André's anxieties. Faustina Agolley provides the one touch of youth in a situation where everyone is anxious about mortality – Anne clutching at the chance for love, André persistently hurting her by recalling his missing daughter Elise, 'the one I loved'.
Alongside memories of our familiar Australian version of this scenario, Geoffrey Atherden's brilliant sitcom Mother and Son, this play appears utterly European, elegant, middle-class – a drawing-room play. In interview, Florian Zeller declares the influence of Ionesco and Beckett, and there are moments when Pinter and Bernhard shadow the play, too. These comparisons do no favours to his play, though, when each of those playwrights insists on darker and more complex worlds beyond the stage. These European masters set a high bar, and the rich canon of French film also explores more sinister possibilities in this kind of relationship – think of a film like Tatie Danielle, for one.
Zeller's play not only offers us no future – no children to keep this family going – but its characters have no pasts, either. They exist only inside the play, oblivious to any social or historical context. Christopher Hampton's translation is elegant for the most part, though occasional expressions like 'getting on everyone's tit' jarringly remind us that this is a translation by a certain kind of Englishman.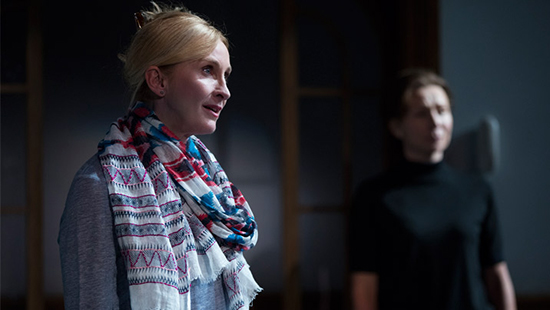 Natasha Herbert in The Father (Sydney Theatre Company and Melbourne Theatre Company)
Like that other widely acclaimed French play, Yasmina Reza's Art (1994), The Father is modest, one might even say slight. It is a vehicle for actors to display their talents, rather than one with much depth to unravel. This is a clever play, well-performed and entertaining for its short length, but, in the end, disappointingly conventional.
---
The Father (Sydney Theatre Company and Melbourne Theatre Company) is written by Florian Zeller and directed by Damien Ryan. The season continues at the Wharf 1 Theatre, Sydney, until 21 October 2017, and then at the Fairfax Studio, Arts Centre, Melbourne from 2 November to 16 December. Performance attended: 24 August.
ABR Arts is generously supported by The Ian Potter Foundation.