Film
God's Own Country ★★★★
It's springtime in Yorkshire, but you'd only know it by the lambs. The earth is stony and the wind is biting. Even the wildflowers struggle to bloom, let alone the romance that forms the central plot of God's Own Country, an accomplished début feature from British writer–director Francis Lee, who was raised, like his film's protagonist, on a farm in the Pennine Hills.
Johnny Saxby (Josh O'Connor) lives with his father Martin (Ian Hart) and his grandmother Deirdre (Gemma Jones) in a modest cottage, which we see clinging to an exposed ridge in the film's establishing shot. An electric light illuminates the pre-dawn gloom: it's Johnny, hunched over the toilet bowl after another night of binge drinking at the local pub. He's miserable, but it's not exactly for want of love or attention. His family is taciturn rather than cold; each member cares for the others but lacks the words to say so. His father is also struggling with the debilitating effects of a stroke. And Johnny is quick to pursue sexual adventure where it can be found – with another young man at a local cattle auction, for instance, in the back of a truck.
You get the sense that Johnny's difficulties stem from a lack of confidence – he's quick to rebuff any kindness – and maturity. He still guzzles milk straight from the fridge, like a grotty teenager. This is one of the film's several precise character details, like Deirdre's habit of carrying a laundry basket everywhere she goes.
Help is needed during the lambing season, and it arrives in the form of Gheorghe (Alec Secareanu), a handsome Romanian who, at twenty-something, is about the same age as Johnny, though much more assured. He has an air of seriousness but isn't angst-ridden. He is also a skilled farmer. Lee had his lead actors work on farms in preparation for the shoot, and his film doesn't fudge the details of labour. Sheep are tagged, drystone walls are rebuilt, calves are stillborn. In one scene, Gheorghe skins a dead lamb and places its coat over another orphaned lamb in order that the ewe which has lost its baby might suckle the orphan. The camera stays close. This is what contemporary English farming looks like – it's difficult work done by migrant labourers. Rural nostalgia is for tourists, and wide shots of the landscape the fallback of less disciplined filmmakers than Lee.
Working side by side, Johnny and Gheorghe begin to fall for each other, though at first their attraction is more like antagonism. An initial sex scene begins almost as a fight, and stretches the bounds of dramatic credibility unless you are willing to read it as a struggle for conquest: Johnny wants to prove that he is really the boss; Gheorge wants to tame a spirit far coarser than his own.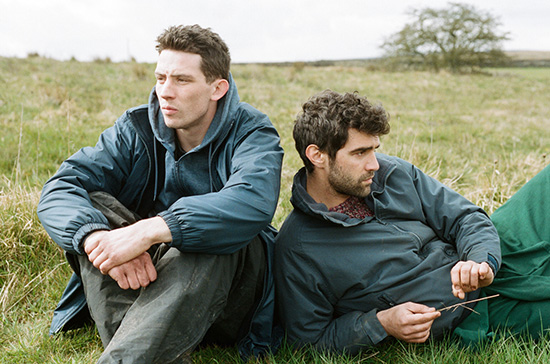 Josh O'Connor and Alec Secareanu in God's Own Country (Rialto Distribution)
God's Own Country isn't a coming out narrative. There are several indications in the script that Johnny's family, and his smattering of friends, know that he is gay. They just don't talk about it. But then, they don't talk about much. And the film quietly subverts any stereotyped expectations that a viewer may bring regarding the attitudes of country people to sexual identity. Homophobia isn't the obstacle for Johnny and Gheorge; of more immediate concern is Johnny's tendency to be, in his own words, 'a fuck up'. There is chemistry between the two leads but their romance is hard-won – like everything else in their lives, it is a matter of work.
Woven in with the vulnerability of new love and the blunt intimacies of animal husbandry is the wary relationship between Johnny and his father, Martin. It's a pleasure to see Hart, who has been acting in films since the 1990s, pop up anywhere, for he brings to his roles dedication and compassion in equal measure. The role of Martin is relatively small, but Hart gives a vivid sense of a man who has spent his whole life working the land, who has been hardened by both material and emotional struggle and then weakened by physical disability, yet retains the capacity to love both the environment and the people around him, albeit expressed in the gruffest terms. A scene in the film where Martin expresses gratitude to Johnny is the most emotionally charged in the whole film.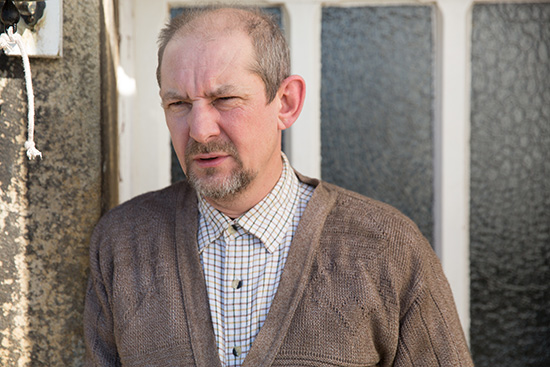 Ian Hart in God's Own Country (Rialto Distribution)
Hart once played the lead role in Ken Loach's moving drama of the Spanish Civil War, Land and Freedom (1995), and Lee, as a director, has followed some of Loach's techniques, including shooting his script in sequence. God's Own Country might be broadly classified as a social realist film, but there is, too, a lyricism in the cinematography (shot by Joshua James Richards), and particularly in the sound design, which evokes the wind and bird song of these remote hills, that suggests Lee is interested in more than the close observation of life as it exists. Loach's own famous Yorkshire film, Kes (1969), ended on a note of crushing bleakness, but Lee allows more optimism into his film, including the suggestion that agriculture itself might still have a future in England.
God's Own Country (Rialto Distribution), 105 minutes, written and directed by Francis Lee. In cinemas from August 31.
ABR Arts is generously supported by The Ian Potter Foundation.