Film
A Monster Calls ★★★★
The career of Spanish filmmaker J.A. Bayona began with The Orphanage (2007), a gothic drama godfathered by Guillermo del Toro (Pan's Labyrinth, 2006) that shared his interest in the imaginative life of children, and in ghosts. In the 2012 survival pic The Impossible and his latest film, A Monster Calls, Bayona has shown himself to be a less florid stylist than his mentor, and The Orphanage's story of parental devotion has become a recurring theme.
The Impossible saw Naomi Watts and Ewan McGregor as tourists caught in Thailand's 2004 tsunami, desperately trying to save their three boys. Bayona's next project was for television, directing the first two episodes of Sky's surprisingly moving Victorian mash-up Penny Dreadful, a show driven by the desperate search of a father (Timothy Dalton) for his missing daughter, and the surrogate one (Eva Green) who aids him.
Penny Dreadful's pilot began with a shot of a child lying in bed, shortly to be bisected by a monster, which comes in through the window. Bayona returns to that show's setting – England – and repeats the opening in A Monster Calls, his adaptation of the Young Adult novel by Patrick Ness, who also wrote the screenplay. Thirteen-year old Conor O'Malley (Lewis MacDougall) is yanked from his bedroom by a yew tree come to life, voiced by a perfectly cast Liam Neeson and rendered by Bayona's team of Barcelona effects gurus with molten gold running through its veins. The tree has three stories for the boy, it tells him, after which Conor will need to tell it one of his own.
Published in 2011, the novel was written by Ness from a story by fellow author Siobhan Dowd, whose death from cancer in 2007 prevented her from writing it herself. Conor's mother is clearly suffering from the same illness, though it is never named. She is played here by Felicity Jones (Rogue One, 2016), wasting away while putting a brave face on it for the sake of her son. She is forced to rely on her unsmiling mother (Sigourney Weaver), a figure remote to Conor, who is entirely friendless here – the single school chum he had in the book is missing from the film adaptation. Conor's father has a new wife, daughter, and career in Los Angeles, and his return only provokes uneasy feelings in the boy, terrified that he has come back to make arrangements for life-after-Mum.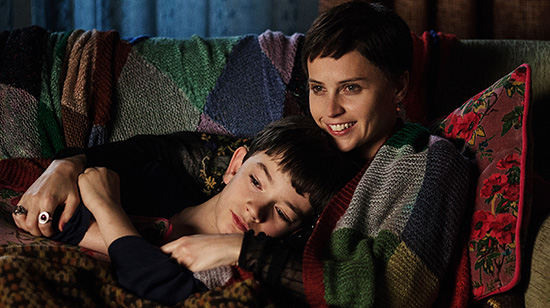 Lewis MacDougall and Felicity Jones in A Monster Calls (Entertainment One)
On top of all that he has to deal with the titular monster. The tree has come, it insists (and contra the film's title) at the behest of Conor, who denies it. Plagued by a guilt-inducing nightmare which the tree seems to know all about, the boy is frightened by his visitor, then perplexed. Indebted to Jim Kay's original illustrations but expanding upon them to dazzling effect, the sequences illustrating the tree's tales are like liquid woodcuttings, fluidly dissolving from one silhouetted tableau to another, with featureless faces and a deftly compressed sense of space and time.
The first story tells of a beloved prince and his wicked stepmother, while the second features a snarling old apothecary and the village parson who preaches against him. It ends by bleeding into the real world: Conor and the tree are merrily destroying the parson's church when the boy wakes up to find that he has smashed his grandmother's living room to smithereens. The encroachment of the fairytale world into the real one reaches its climax in the third story, which ditches the animation altogether. The tree visits Conor in the school cafeteria soon after he endures another round of humiliation from the class bully, and tells him the story of the invisible man who wanted to be invisible no more. Conor rushes at his tormentor, tackles and beats him, crying, 'I'm not invisible!'
The absence of a third, beautifully animated paper-doll interlude left me feeling slightly cheated. That hankering after narrative symmetry is shared by Conor, whose confusion at the stories told him – in which baddies turn out to be good and vice versa – culminates when he is forced to reconcile unpalatable feelings about his mother's illness in a story of his own. Conor is able to absolve himself of guilt by internalising the tree's message: that two things can be true, even if they seem contradictory.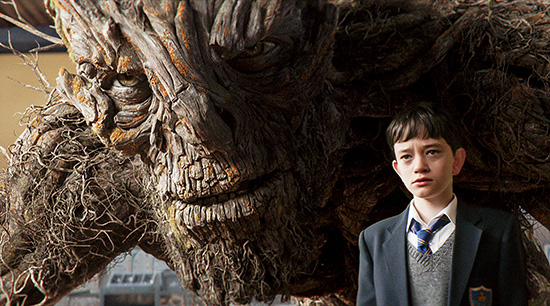 A Monster Calls (Entertainment One)
Bayona has crafted a film that literalises the ability of stories to make sense of our lives. In The Orphanage, the ghosts of murdered children recognise their long-lost friend, now grown. They understand her new, mature form by likening her to Peter Pan's friend Wendy. A Monster Calls shares that film's interest in motherhood, but it adopts the point of view of the child, or children. Like Wendy, Conor's Mum is both mother and child, and the final scene, in which Conor discovers his mother's old sketchbook, touchingly brings the two together.
A Monster Calls (Entertainment One), 108 minutes, directed by J.A. Bayona. In cinemas 27 July 2017.
ABR Arts is generously supported by The Ian Potter Foundation.