Opera
Thaïs (Opera Australia) ★★★★1/2
Few singers make riveting autobiographers, it must be said, but one who should have penned her memoirs was Sybil Sanderson (1864–1903). She seems to have been too busy, on and off the stage. Hers was the kind of short, turbulent life that Puccini might have done something with – 'the golden girl from Sacramento'. Daughter of a chief justice of the Supreme Court of California, trained in Paris under Mathilde Marchesi (Melba's teacher), the young American was only twenty-two when she auditioned for Jules Massenet, composer of Hérodiade (1881) and Manon (1884).
Massenet was smitten. 'What a fantastic voice! It went from low G to top G, three octaves, both at its loudest and softest. I was astonished, stupefied, overwhelmed'. Massenet has discovered his Esclarmonde. Sanderson created the fiendish role in 1889. Then (after Werther in 1892) came Thaïs, which Massenet also wrote for her. The opera had its première at the Paris Opéra on 16 March 1894. Sanderson was a sensation, in the process accidentally exposing her bust (seventy-nine years before Carol Neblett appeared naked, briefly, in this role, opera's first full-frontal nude).
Sanderson was also a celebrated Manon, but neither Covent Garden nor the Metropolitan Opera took to her, and her career soon faltered. In 1897 she married a Cuban millionaire, who died two years later. She was also associated with Tsar Nicholas II, who, as Crown Prince, attended all of her performances in St Petersburg (Esclarmonde, 1892). Prince Baldwin of Flanders killed himself when she refused him. When Sybil Sanderson died in 1903 – 'from the effects of an acute attack of the grip', according to The New York Times – she was engaged to Count Paul Tolstoy, nephew of the novelist. Another exile in the Bois de Boulogne, Sanderson was adrift, alcoholic, thirty-eight.
At least we have a biography: Jack Winsor Hansen's The Sibyl Sanderson Story: Requiem For A Diva (2004).
Thaïs is based on Anatole France's novel (1890), which followed his 1867 poem on the same subject. Massenet's opera is milder and more compassionate than France's bitter anti-clerical satire. Anatole France's nuns recognise a true hypocrite when they one; they denounce Athanaël as a vampire, whereas Massenet's opera ends with the word 'Pitié'.
The libretto, written by Louis Gallet, is one of the earliest unrhymed French operas. Gallet called it a poésie mélique – poetry for singing. Set in and around Alexandria in the fourth century CE, it opens in a Cenobite establishment on the banks of the Nile. Palémon tries to discourage Athanaël from returning to Alexandria, but the young monk is determined to rescue Thaïs – courtesan and priestess of Venus – from vice and to convert her to Christianity. Athanaël has rejected his privileged life in Alexandria and adopted a life of self-abnegation, prompted by an early glimpse of the voluptuous Thaïs.
The courtesan, spurred on by her devotees, resists and mocks the handsome young ascetic ('The only truth is love / stretch out your arms to love!). But then, in a dizzying volte-face, she rejects pleasure and elects to join a nunnery. Athanaël, increasingly troubled, gradually succumbs to her beauty.
Massenet's renown was at its peak in 1894. Thaïs was performed 100 times at the Paris Opéra in its first fifteen years – 500 times by 1931. By then, though, Massenet's stocks had begun to plummet. After World War II only Manon was performed outside France. For decades it was de rigueur to slight the French composer, whom Vincent d'Indy had criticised for his 'discreet and semi-religious eroticism'. Rodney Milnes, writing in 1983, said: 'Thaïs is an opera with an undeserved reputation as hokum, a reputation that dies hard.'
Debussy, ever ironic, wrote about Massenet in 1901 when his popularity was beginning to wane:
... it is well-known how his music is vibrant with fleeting sensations, little bursts of feeling and embraces that we wish would last forever. The harmonies are like arms, the melodies like the napes of necks ... All this success has meant that for a time it was considered a good thing to copy the idiosyncrasies of Massenet. But then all of a sudden those who had so quietly cribbed from him began to treat him with disdain.
Milnes again: 'Massenet is his own worst enemy. The surface of Thaïs is so brilliant, the tunes so seductive in every sense, that you can understand people not bothering to discover what lurks underneath. There is plenty there, not all of it comfortable in its dissection of the human condition, and that, combined with the opera's obvious and immediate attractions, accounts for its special fascination.'
In recent decades there have been many successful productions of Massenet operas, including Thaïs, Cendrillon, Le Cid, and Werther. Richard Bonynge and Joan Sutherland were important figures in the Massenet recital, with major productions of Le Roi de Lahore and Esclarmonde, neither of them seen in Australia, but both recorded by Decca.
This was a rare opportunity to see Thaïs in Australia – a concert performance at the Sydney Town Hall during Opera Australia's decampment from the Sydney Opera House. The Town Hall's warm and resonant acoustic suited Massenet's highly melodic music. The Opera Australia Orchestra always plays well for conductor Guillaume Tourniaire, and it was in excellent form on Saturday. A good example was the Wagnerian prelude to Act Three, which was superbly played. (Mercifully, the long ballet – a contractual requirement when Massenet was forced to switch Thaïs to the Paris Opéra – was cut.)
Concertmaster Jun Yi Ma made much of the famous Méditation without resorting to the wonted mawkishness or schmaltz. This melody informs all the music that follows and dominates the ecstatic duet that closes the opera, when Thaïs dies in a religious trance, unaware of Athanaël's hedonic conversion. The Méditation – Massenet's most famous tune – exemplifies his technique. Andrew Porter, as always, is acute on the subject
Massenet's method of working was to memorize the text of a scene, plant it like a seed in his imagination, and set nothing down on paper until fronds of melody, apt motifs, began to take shape ... Each scene of Thaïs has its distinctive motif or motifs, evocative both of atmosphere and of emotions. Usually they are presented by the orchestra, while in the vocal parts Louis Gallet's poésie mélique flows in unforced lyrical periods.
The role of Athanaël – the lunatic monk obsessed with Thaïs and his perpetual cilice – dominates the opera and gives ample room for a robust baritone to excel. (Sherrill Milnes was justly lauded in the role). Here, the young Montreal-born Étienne Dupuis did not disappoint. ABR Arts first heard Dupuis in Berlin three weeks ago. His Posa in Don Carlos – passionately acted and ringingly sung – was sensational. Athanaël, presumably a new role from the young Canadian, suits his ample baritone. From his first aria, 'Hélas, enfant encore', with its powerful conclusion on 'à Dieu! À Dieu!', Dupuis was not remotely intimidated by the role's massive demands. Then comes the great aria 'Voilà donc la terrible cité': 'So there it lies, the dreadful city! / Alexandria! Alexandria! / Where I was born in sin; / the sparkling air where I breathed / the foul perfume of lust!'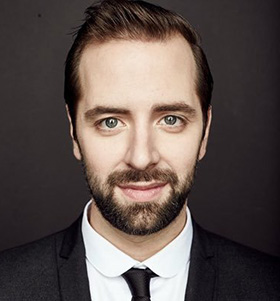 Etienne Dupuis (image courtesy of Opera Australia)We do not meet Thaïs until halfway through the second scene in Act One. Orchestrally and chorally, much is made of the courtesan's entrance, and it is followed by an exquisite, daring duet when Thaïs, ignoring the young monk with the fierce gaze, farewells Nicias, who has had her, bought her, for a week. 'Tomorrow I shall only be a name to you,' she sings.
Thaïs, though utterly assured and charismatic, is no longer young. In the great Act Two aria 'Dis-moi que je suis belle', she reminds us of the Marschallin in Der Rosenkavalier as she contemplates herself in the mirror and worries about getting old – 'Tell me that I am fair, / and that I shall be fair / for ever! For ever.' We also think of Violetta, and other fated heroines.
Nicole Car, returning to the company, has possibly never sung more beautifully – which is saying something given this exceptional young singer's many outstanding performances here – including Faust, Eugene Onegin, Don Giovanni, Luisa Miller, and Cosí fan tutte.
Car has recorded 'Dis-moi que je suis belle'. Here it was sung with the same poise and containment that characterised her singing all night. This is Car's first Thaïs. She seemed intent on exploring the role and eschewing the vocal histrionics and flamboyant tenuti that have brought some Thaïses undone. Car's Thaïs is no sluttish canary. The high notes were accurate and carrying, never forced or overly extended. Car brought dignity and an effulgent tone to the role, reminding us of Andrew Porter's observations about Thaïs: 'her charm is innate, not the product of artifice. There is no dishonesty in her. In all her actions she is touched by grace.'
Act Three has two fine duets, the first being when Athanaël drives Thaïs across the desert, in a scene so reminiscent of Manon. Athanaël , one of the great prigs in French opera, is remorseless ('Walk on! / Shatter your body, destroy the flesh!'). Then he sees the blood on Thaïs's feet soaking into the sand, and wilts. The yielding duet that follows, 'Baigne d'eau mes mains' – ardent in his case, submissive in hers – is the subtlest thing in the opera. (Remarkably, this pivotal Oasis scene was only added after the first season, in 1897.) Car and Dupuis (who married recently) sang it with considerable refinement.
The soaring duet that ends the opera, 'C'est toi, mon père', melodised by the persistent Méditation, was thrillingly sung, and Maestro Tourniaire rightly insisted on a long silence before the inevitable Bravos.
None of the other roles has much singing. Simon Kim hit all of Nicias's high notes without entirely convincing. Richard Anderson (Palémon) and Sian Pendry (Albine) sang well.
There is one more opportunity to hear this French rarity from Opera Australia (Monday, 24 July), and it should not be missed if you are in Sydney.
Thaïs, by Jules Massenet, is presented in concert by Opera Australia at the Sydney Town Hall on 22 and 24 July 2017. Performance attended: 22 July.
ABR Arts is generously supported by The Ian Potter Foundation.