Theatre
Cloud Nine (Sydney Theatre Company) ★★★★
Clive, a splendid chappie, has taken up the white man's burden in darkest Africa and is attempting to bring some British order to the lesser breeds without the law, even though the ungrateful blighters are getting a bit restless. He's accompanied by that jolly good stick of a wife of his, Betty, their little nippers, Edward and Victoria, his mother-in-law, Maud, a bit of a dragon if you ask me but a good person to have in a tight corner, and the children's governess, a tasty bit of crumpet called Ellen. But hold on a minute, folks. On closer inspection there appears to be something decidedly rum about the whole affair. If Betty is a good stick, she seems to be a very long one with rather large hands and feet, while their servant, Joshua, is decidedly pale for a native and carries on like a sinister Jeeves, and one might call Edward a bit of a nancy boy except for the fact that he is actually a she. Yes, Caryl Churchill's fantasia on gender, race, sexuality, and power, Cloud Nine, has returned to the Australian stage.
Written in collaboration with the Joint Stock Company and first performed in 1979 with a mouth-watering cast that included Anthony Sher, Julie Covington, and Miriam Margoyles, Churchill's play explores in her words, 'the parallel between colonial and sexual oppression'. So the first act is set in a British colony in Africa in the nineteenth century where a colonial administrator, his family, and a couple of blow-ins celebrate, in a manner of speaking, both Christmas and a rather sudden wedding. In the second act, Churchill moves the play forward to what was then present-day London and presents us with several of the characters from the first act who have ignored the ravages of time and aged only twenty-five years. In this way, she is able to explore not merely how attitudes to sexuality and the patriarchal structure have changed over the years, but also how much of the old ways of thinking remain, how difficult it is to break free from them and once one has what does one put in their place.
Forty years on, one would think that the play might have lost its relevance, and indeed there is now a much greater understanding of the amorphous nature of sexuality which, in the first act, breaks through Victorian repression to hilarious effect and which the characters are beginning openly to explore in the second. But the optimism of the late 1970s withered under the ravages of AIDS and the resurgence of conservative values in the 1980s which continue to this day. In a recent interview in the The New York Times, Noam Chomsky, discussing the American election, talks about 'the factors of white supremacy – deeply rooted in the United States – racism and sexism', attitudes that are by no means unique to that country.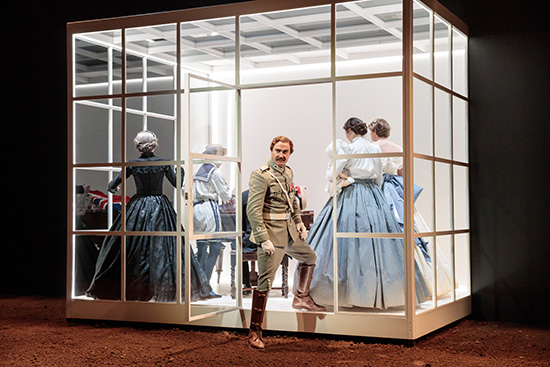 Josh McConville and the cast of Sydney Theatre Company's Cloud Nine (photograph by Daniel Boud)
Following on from his excellent production of Love and Information (2015), it is clear that Kip Williams has an affinity for Caryl Churchill's work. On a stage empty except for a glass box into which the women are occasionally confined, he conjures up a hilarious first act. The performance style is as farcically broad as it is possible to be, but Williams and his magnificent cast still manage to put across moments of genuine anguish as they struggle to repress their natural, or what then would have been called unnatural, urges and conform to the dictates of Victorian morality. The two actors who have the most opportunity to perform this double act are the two who are cross gender cast. Harry Greenwood, all flailing arms and flouncing skirts, comes over as a combination of a pantomime dame and Celia Johnson in Brief Encounter mode. He makes Betty's attempts to be the perfect wifely little woman while struggling with her desire for the explorer Harry hilarious but also strangely touching. Heather Mitchell's Edward, bewildered by emotions and sexual urges that don't conform to the masculine ideal, also finds poignancy amidst the humour. But all the others have their moments, especially Josh McConville, whose Clive, the one character who perfectly fits into the society in which he finds himself, is baffled by the chaos which surrounds him. Interestingly, Williams makes a slight but important change to the ending of the first act.
It must be admitted that the second act is less successful than the first and in many ways more difficult to bring off. After the manic energy and anarchic humour of the first act, the second can seem a bit mundane, and the myriad plays of the last decades that have covered the efforts of Western urbanites to make meaningful lives for themselves have lessened its effectiveness. But Williams and his cast still manage to keep our interest. Here, Anita Hegh as an adult Victoria, Kate Box as her lover Lin, and Matthew Backer as Edward's lover Gerry come into their own. Fine though McConville is as Cathy, to this reviewer Churchill's decision to cast a man as a little girl is a miscalculation which undercuts rather than accentuates the points she is trying to make. But it is Heather Mitchell's elderly Betty, finally taking charge of her life and discovering fulfilment of sorts whose journey is most exhilarating and William's staging of the play's final moments bring Cloud Nine to an affecting and effective conclusion.
Now please, can we have Caryl Churchill's massive and magnificent Light Shining in Buckinghamshire?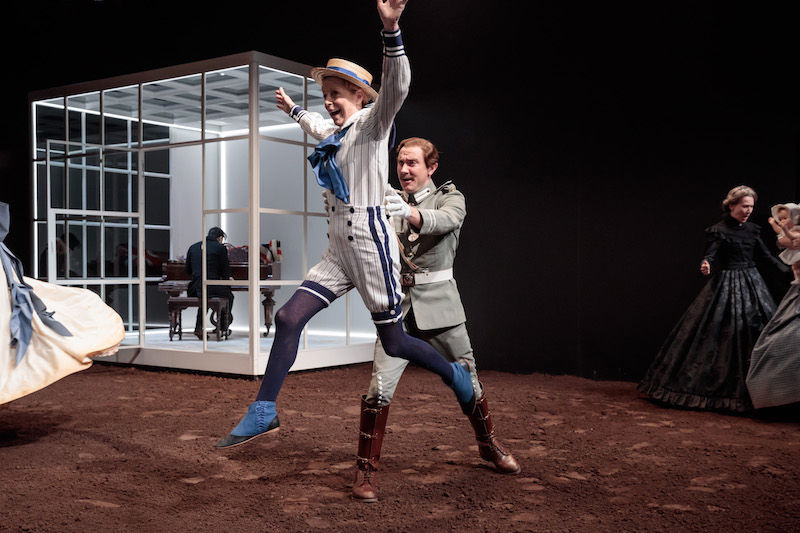 Heather Mitchell and Josh McConville in Sydney Theatre Company's Cloud Nine (photograph by Daniel Boud)
Cloud Nine (Sydney Theatre Company), written by Caryl Churchill and directed by Kip Williams, continues at Wharf Theatre 1 until 12 August 2017. Performance attended: 6 July.
ABR Arts is generously supported by The Ian Potter Foundation.