Dance
Woolf Works ★★★★ and The Winter's Tale ★★★★★ (The Royal Ballet)
Britain's illustrious Royal Ballet has brought extraordinary gifts to QPAC audiences in Brisbane this year: two huge, exciting ballets which, in different ways, are game-changers in the creation of full-length narrative ballets. They are Woolf Works (★★★★) by the company's resident choreographer, Wayne McGregor, and The Winter's Tale (★★★★★), by his predecessor and company associate, Christopher Wheeldon. No wonder the nation's 'ballet mafia' and fans came to see them; neither ballet been seen live outside the Royal Opera House.
The company has been first among firsts in its dedication to literature, new music, and experimental design since Ninette de Valois founded it in 1931. That its dancers perform into their mature years is a given, so this company is infused with theatrical craft and wisdom throughout its ranks. It actively nurtures choreographers, including Liam Scarlett, whose A Midsummer Night's Dream was presented by Queensland Ballet last year.
Christopher Wheeldon re-imagined Shakespeare's The Winter's Tale, in 2014, as a clear, three-act narrative on a grand scale, with convincing characters who, to this viewer, seem to sing Shakespeare's words through their bodies. Most of the original cast have performed in Brisbane, and delivered the ballet as if new. Edward Watson, who dances King Leontes of Sicilia, gives a performance of a lifetime each time he appears in it. His transition from the adoring, charismatic husband and friend who descends bodily into jealous tortures is dreadful to observe. When he accuses his pregnant queen, Hermione (Lauren Cuthbertson), and friend the Bohemian King Polixenes (Federico Bonelli) of adultery, he eradicates all the joyous dancing and colourful music in his court. Further enraged, he turns an elegant arabesque, one hand reaching to the heavens, into an image of an avenging male swan, symbolising his determination to destroy his wife, and later her baby, Perdita. Only when his young son dies of fright – he has watched Leontes' hysteria and abuses while descending a vertiginous staircase – does Leontes crumble, hammered by the sibylline courtier Paulina (Zenaida Janowsky), who then cradles him. Like Watson, Cuthbertson and Yanowsky are prodigiously gifted actors, and physically as compelling as Watson and Steven McRae, who plays Florizel, Prince of Bohemia, in Act Two.
Florizel spends most of the time flying through the air amidst wave upon wave of spectacular, exotic peasant dances. His inamorata, the teenaged Princess Perdita (Francesca Hayward), who has not perished after being abandoned on a beach, also dazzles. This act is so pretty, so happy and rippling with a bounty of musical textures, that it can stand alone as pure, life-affirming dance. When the Florizel's father disrupts the festivities and tries to drag Florizel back to court, the lovers escape to Sicilia and Leontes' palace, where reunion, redemption, marriage, and the revelation that Paulina has kept Hermione alive, restore love and order to their lives.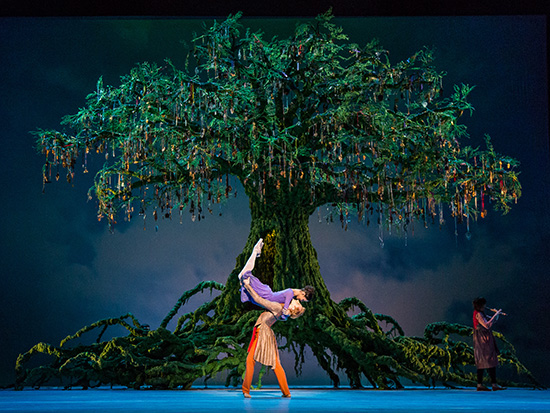 Francesca Hayward and Steven McRae in The Royal Ballet's The Winter's Tale (photograph by Stewart Tyrell)
Design is central to this ballet, no gothic or baroque reproduction, but a classy, flexible melange. Projections (by Daniel Brodie) on screens and flying silks (Basil Twist), bits of ships, floating statues and pillars, and multiple light shadings (Natasha Katz) and saturated colours (Bob Crowley) all come together in a way that is purely British, with hints of Hollywood and contemporary opera. The problem statue of the queen come to life is handled simply: Paulina asks the grieving king to observe the sculpture closely. Instead of marble is his wife holding their sculpted son. Shakespeare's bear designed to threaten baby Perdita was wisely excised. Joby Talbot's musical score is a ripper, appropriately funny and grave, frightening and inventive. Only one flaw stands out: at times the music overstated itself, and drew one's focus away from the dance. Ultimately, Wheeldon and Talbot's scenario, the defining use of gesture and absolutely fluid dance, are the secure pillars of The Winter's Tale.
Woolf Works (subtitled A Triptych), created by the company's resident choreographer Wayne McGregor in 2015, was inspired by the choreographer's deep respect for Virginia Woolf, her works, and the idea that her stream-of-consciousness writing style was like the cumulative nature of choreography. He traces Woolf's life, work, and death by abstracting episodes from her novels Mrs Dalloway, Orlando, and The Waves. Here, too, most of the Brisbane performances were danced almost entirely by original casts, a rare luxury in a genre dominated by the classics.
Internationally lauded Italian prima ballerina Alessandra Ferri plays Clarissa Dalloway and Virginia in what, at heart, is an impressionistic ballet. As the curtain rises on the first act titled 'I now, I then', we hear Woolf's lilting voice reading from a lecture; the projected words of the text morph into columns, then snow. Cast in sepia tones, alone on stage, Ferri's dignity, and the emotional integrity of her acting, are essential to what follows. A sublime dancer still at fifty-two, Ferri holds the stage as Clarissa encounters a younger self (Francesca Hayward), the first girl she kissed (Beatriz Stix-Brunel), the man she might have married (Gary Travis), her bloodless husband (Bonelli), and the tragic, war-damaged Septimus Smith (Watson), whose raw emotions, spurred on by hideous memories, stun and stilt his body. In a sharp, staccato duet with his exquisite Italian wife (Akane Takada), the latter splits herself open and turns on waves of terror and frustration.
Such range and volatility are husbanded by tender music by Max Richter, enormous wooden frames that block and swerve into new settings for liquid dancing; by projections of London's parks, sounds of Big Ben, and much that Woolf adored about London. The dances are elliptical and serpentine, McGregor's hyper-kinetic contemporary style softened by ballet's grace. This quality blows apart in one shocking duet: Septimus is distracted by the circling image, like a rocket, of his friend Evans, already shot dead. Septimus takes him into a lover's grasp then watches him fall, shot once again, like Christ to the floor.
'Tuesday', the last act, brings Virginia to a beach, as a recorded actor reads Virginia's famous suicide letter to her husband, Leonard Woolf. In front of a slow-motion monochrome film of waves, lines of dancers move rhythmically to swelling music, then break away in all directions. Virginia encounters her sister, Vanessa, while the latter's children play with ropes around her body. A dark chaconne rises, hinting towards a denouement, which is only briefly put off as Leonard (Bonelli) comes to dance with her, holding her like a dolphin slipping and from his arms. Then he too leaves Virginia and the curtain falls on her profound anguish.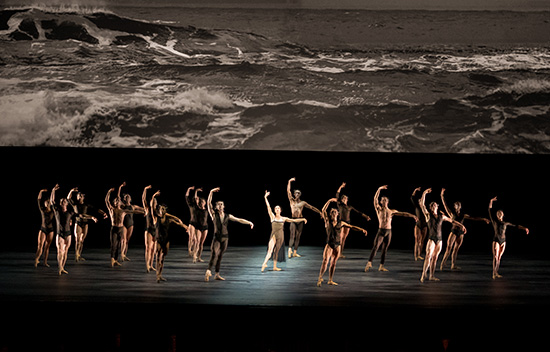 'The Waves' from Woolf Works (The Royal Ballet)
Dramaturg Uzma Hameed has helped McGregor to synthesise life and stories in these acts, but the potential for further insights, notably around the novel's inspiration, Woolf's lover Vita Sackville-West, fails to deliver in Act Two, 'Becomings', from Orlando. Instead, there is a phantasmagoria of glittering bodies, Elizabethan and contemporary gear, brilliant laser images, cat's cradles light shows, and a marathon of fabulous, dangerous dancing sliding between genders, one of the principal themes of the novel, by way of costume and gesture. Only a brilliant, rubbery duet, in which Russian star Natalia Osipova wraps herself around Watson, makes a clear, sexual point, as she peels herself off his muscular body to suggest the libidinous excesses of Orlando's riotous travels over five centuries. This act can stand alone as an abstract ballet, but there is little defence for Richter's addiction to hyping sound to ridiculous heights inside a theatre.
Woolf Works was performed by the Royal Ballet at the Lyric Theatre, QPAC, Brisbane, from 29 June to 2 July 2017. Performance attended: 29 June.
The Winter's Tale was performed by the Royal Ballet at the Lyric Theatre, QPAC, Brisbane from 5 to 9 July 2017. Performance attended: 5 July.
ABR Arts is supported by The Ian Potter Foundation.
---