Advances
The Update - July 4, 2017

Recent ABR Arts reviews
Peter Rose writes from Berlin
Thursday (29 June) brought torrential rain (three months' worth in a day) and an unexpected Australian presence at Deutsche Oper's production of Don Carlo. Siobhan Stagg – a regular with the company – stepped in as the Celestial Voice and sang with great beauty in this tiny, moving role. Unusually, the Celestial Voice even appeared on stage, babe in arms. Stagg told ABR Arts she is much looking forward to appearing as Pamina at the Royal Opera House in September, her début at Covent Garden. There were several vocal highlights in Marco Arturo Marelli's striking (if audibly creaky) 2011 production of Verdi's masterpiece: Jamie Barton's Eboli, Giacomo Prestia's Philip II. Etienne Dupuis – sounding like a young Sherrill Milnes – was a sensational Rodrigo. Dupuis – a French Canadian – has just married Australian soprano Nicole Car, who makes her début as Mimi at Covent Garden in September. This month Car and Dupuis will sing in Opera Australia's concert version of Massenet's Thaïs at the Sydney Town Hall. Dupuis's presence caps what promises to a magnificent night of singing.
Martha Argerich
Famed Argentinian pianist Martha Argerich cancelled her appearances in Sydney on 29 June, 30 June, and 1 July, much to the disappointment of her fans, citing ill health. Argerich was scheduled to perform Beethoven's Piano Concerto No.1 in honour of conductor Charles Dutoit's forty-year collaboration with the Sydney Symphony Orchestra.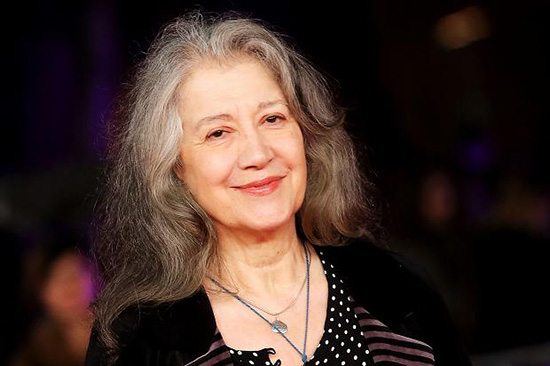 Martha Argerich (Wikimedia Commons)
'I am unable to travel and play,' wrote Argerich, '... [I] feel very weak, exhausted ... I ask for you forgiveness, to Charles Dutoit, to the orchestra and you.'
Argerich has since cancelled her July 15 concert in Athens. However unlike The Athens State Orchestra (with the Athens and Epidaurus Festival), which cancelled the event altogether, SSO replaced Argerich with Chinese classical pianist Yuja Wang, whose performance was reviewed by Zoltán Szabó for ABR Arts.
Turangalîla-Symphonie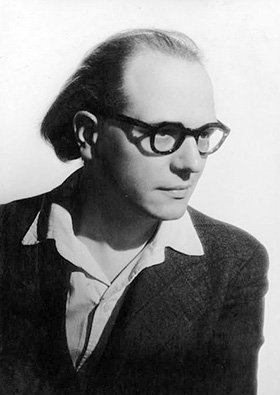 Olivier Messiaen
(Wikimedia Commons)Conductor Simone Young will lead musicians from the Australian World Orchestra (AWO) and the Australian National Academy of Music (ANAM) for a recital of Olivier Messiaen's 'epic love song', Turangalîla-Symphonie, on Saturday 29 July at Hamer Hall, Melbourne. The ensemble will comprise of fifty-six 'emerging musical talents' from ANAM and forty-eight Australian musicians from various world-leading orchestras and Australian state-based orchestras.
Thanks to AWO, we will be giving away a double pass to Turangalîla-Symphonie in Melbourne. For more information, see our giveaways section below.
La Mama turns fifty!
Our friends at La Mama Theatre in Melbourne will be celebrating their Golden Jubilee year with a 'Mini-Fest', a book launch, and a birthday party.
Artistic Director Liz Jones has invited a number of La Mama artists, including Susie Dee and Patricia Cornelius, Lloyd Jones, and Sofia Chapman, to present 'short seasons' of their work for the Mini-Fest (10 July –13 August 2017), a 'snapshot' of the theatre company's history and a 'celebration of their future'.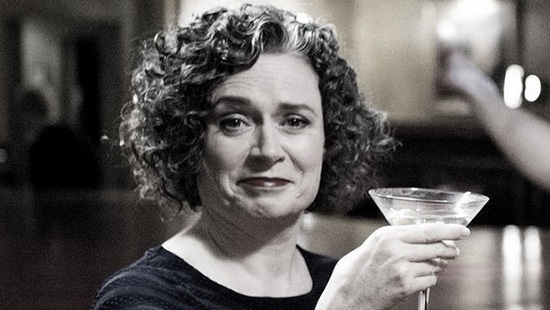 Judith Lucy
La Mama's birthday party (12 August) will be compèred by former La Mama house manager Judith Lucy, with music and performances, a raffle, and the launch of La Mama (Miegunyah Press) by Adam Cass, a 'visual and oral' history of the theatre company, which will go on sale from 14 August.
SAFC partners with Umbrella Entertainment
The South Australian Film Corporation (SAFC) has joined forces with film distribution company Umbrella Entertainment to relaunch a number of 'iconic 1970s, 80s, and 90s' South Australian film and television productions for worldwide audiences, across multiple platforms.
'These iconic films ... represent a golden period in the Australian film landscape and are punctuated by remarkable performances from young actors who are now legends in the industry', said Annabelle Sheehan, CEO of SAFC. The films include Sunday Too Far Away (1975), Breaker Morant (1979), and Storm Boy (1976).
ATYP at Griffin Theatre
Griffin Theatre Company will be the host venue for the Australian Theatre for Young People's 2018 performance season in Sydney. The residency will take place across three weeks in January and February, three weeks in May, and two weeks in October.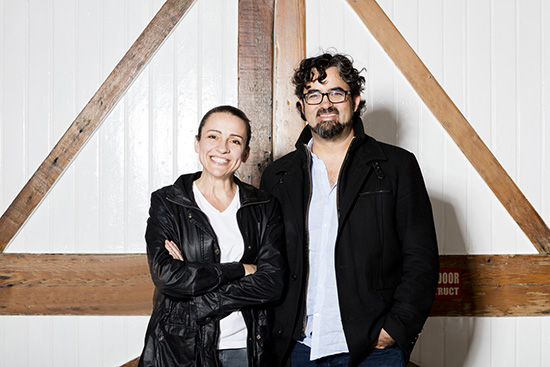 Griffin Theatre Company's Artistic Director Lee Lewis and ATYP's Artistic Director Fraser Corfield
The move has come about due to the redevelopment of the Walsh Bay Arts precinct, which will give ATYP a new 'state-of the-art' venue on Pier 2/3 in 2019.
'This new collaboration ensures that we continue to nurture the next generation of Australian voices while providing these artists with the opportunity to present work in a professional environment,' said Griffin's artistic director, Lee Lewis.
Griffin will release details of its 2018 season on 28 August.
Australian Festival of Chamber Music
Townsville will host the twenty-seventh Australian Festival of Chamber Music, the final for their Artistic Director Piers Lane AO. The lineup this year will consist of forty-two artists, including local ensembles the Goldner String Quartet, Orava Quartet, and Nexus Quartet, and thirteen international artists, including Poul Høxbro (Flutes and Percussion, Denmark), Francesca Dego (Violin, Italy), and Henk Neven (Baritone, Netherlands). The festival runs from 28 July – 5 August 2017.
AGNSW's Sydney Modern Project
The New South Wales Government has granted $244 million to The Art Gallery of New South Wales to expand its exhibition space as part of the Sydney Modern Project. Once completed, AGNSW expects the expansion to attract 'two million visitors' annually, while injecting '$1 billion into NSW economy over the next twenty-five years', leading to the creation of up to '242 full-time jobs' in NSW.
Pritzker Prize-winning architects SANAA has been working with AGNSW for the past two years to deliver an 'architectural landmark' for the Gallery.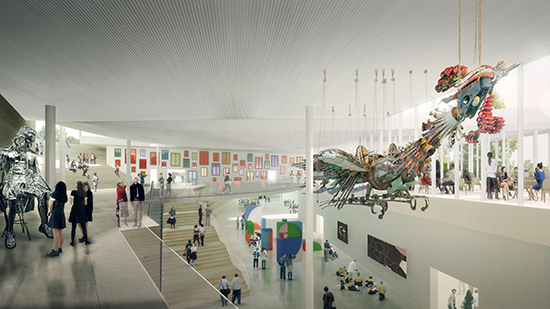 In progress image of Sydney Modern Project, atrium as produced by Kazuyo Sejima and Ryue Nishizawa / SANAA (image courtesy of The Art Gallery of New South Wales)
In addition to the government funding, AGNSW aims to raise a further $100 million in philanthropic support. Of the $70 million already pledged to date, it was announced that the Susan and Isaac Wakil Foundation gifted $20 million towards the fund, 'the largest monetary gift in the Gallery's 146-year history'.
The Sydney Modern Project will commence in 2019, and be completed by 2021 – to mark 'the 150th anniversary of the Gallery's founding'.
Alina Ibragimova
Russian-born violinist Alina Ibragimova will make her début with the Sydney Symphony Orchestra for a performance of Béla Bartók's Violin Concerto No. 2 on 13–15 July. At the age of thirty-one, Ibragimova has already received numerous accolades, including the Royal Philharmonic Society Young Artist Award in 2010 and an MBE in 2016.
Lohengrin
Melbourne Opera will stage a new production of Lohengrin, Richard Wagner's romantic opera in three acts. Lohengrin features some of Wagner's most well-known arias and ensembles, including the Bridal Chorus, Prelude to Act 3, and 'In Fernem Land'.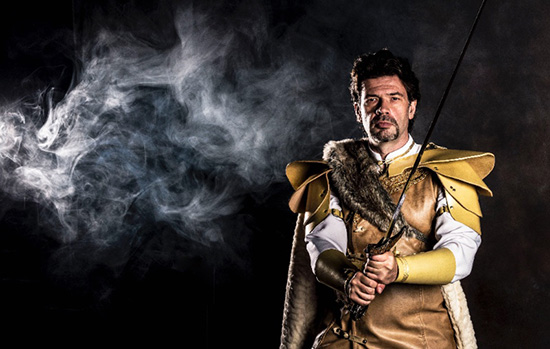 Lohengrin (image courtesy of Melbourne Opera)
'Inspiration for his production is drawn from the sense of fragility and the ephemeral,' said Lohengrin's Director Suzanne Chaundy, who also directed Melbourne Opera's Tannhäuser (reviewed in ABR Arts) last year, '[in Lohengrin], set at a time of enormous change in Germany ... we see how, in the blink of an eye, the fate of a person and a whole nation can change.'
Marius Vlad will perform the title role, with Australian soprano Helena Dix as Elsa von Brabant.
Lohengrin will be performed on 7, 10, and 12 August at the Regent Theatre, and on 19 August at Monash University's Robert Blackwood Hall.
Short Film Fellowships
Four emerging filmmakers were announced as recipients of the 2017 Lexus Australia Short Film Fellowships at the Sydney Film Festival, which wrapped up on Sunday 18 June. Emily Avila, Lara Kose, Goran Stolevski, and Thomas Baricevic each received $50,000 grants – the 'largest cash fellowships for short film in Australia' – to produce a film for screening at the 2018 festival.
The Fellows were chosen by a jury comprised of actor David Wenham, Sydney Film Festival Director Nashen Moodley, Lexus representative Vin Naidoo, and Australian producers Kath Shelper and Sandra Levy AO, from a shortlist of twenty emerging filmmakers.
Due West: Immersive Arts Festival
Artistic initiatives have been flourishing in Melbourne's rapidly gentrifying inner western suburbs thanks in no small part to organisations such as the Footscray Community Arts Centre and The Substation. To further bolster this growth, the City of Maribyrnong has launched Due West (10–27 August), a new 'immersive arts festival' that will invite festivalgoers to participate in 'performances, workshops, visual arts, music, and dance'.
The Victorian government pledged $85,000 in funding for Due West, to match the City of Maribyrnong's investment. Mayor Catherine Cumming hopes that investment in the festival will allow it to 'continue to support the arts community', and lead it to becoming 'a permanent fixture'. The full program will be announced soon.
Badu Gili – Water Light
On 28 June, Sydney Opera House launched Badu Gili, a new light projection celebrating Australia's First Nations culture, on its eastern Bennelong sail.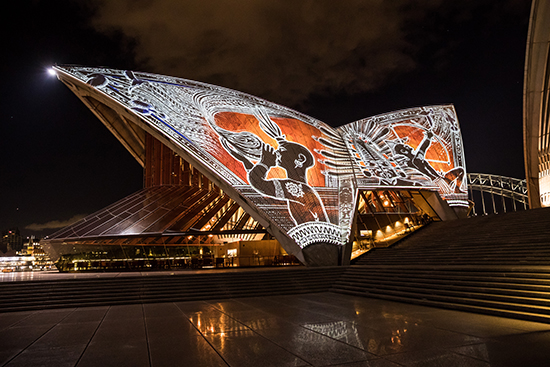 Badu Gili at the Sydney Opera House (photograph by Daniel Boud)
Badu Gili, meaning 'water light' in the language of the Gadigal people, will 'explore ancient stories' in seven-minute animations at sunset and 7 pm, all year round. The installation includes the works of five First Nations artist from across Australia and the Torres Strait islands: Jenuarrie (Judith Warrie), Frances Belle Parker, Alick Tipoti, and the late Lin Onus and Minnie Pwerle.
Badu Gili has been launched 'to coincide with the fiftieth anniversary year of the 1967 Referendum on the eve of NAIDOC Week (2–9 July 2017).
The Antidote
The Sydney Opera House's Festival of Dangerous Ideas has been replaced by Antidote, a two-day festival of progressive 'ideas, art, and action'. The lineup will include author and transgender rights activist Janet Mock, stories and songs from Uncle Jack Charles and Archie Roach, and the writers behind satirical news website The Onion.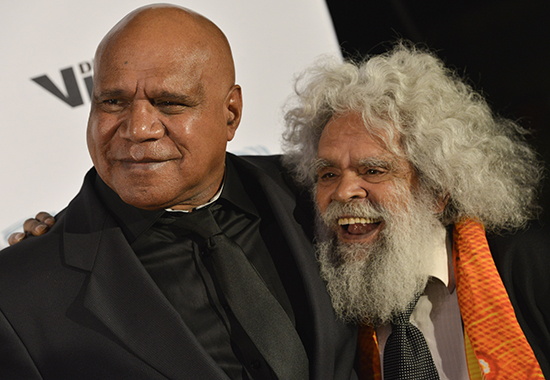 Archie Roach and Uncle Jack Charles (photograph by Amanda James)
'In a world rife with anger and anxiety, Antidote is all about hope,' said Danielle Harvey, curator of the festival, '... it is my privilege as a curator to take a magnifying glass to the world that we live in and to find the right people to help us understand and respond to the issues that surround us.'
Antidote will run from 2–3 September 2017.
The Power Within
The Queensland Music Festival will present a free outdoor music event, uniting more than 250 locals, including 'schools, town choirs, singers, dancers, and horse riders', to 'celebrate the resilience of Central Queensland's agricultural and coal mining Isaac region'.
The Power Within (28–29 July) is a large-scale performance that tells the story of 'an abundant supply of music' being found underground, and small town being built to mine the resource.
'The event addresses important social and economic themes,' said QMF Artistic Director Katie Noonan, 'such as mental health, agricultural heartache, and the complicated nature of mining.'
The Queensland Music Festival will take place from 7–30 July across the state.
Art on the page
The University of Melbourne will host Art on the Page, an exhibition showcasing 'little-known' book illustrations – including 'woodcuts, lithographs, etchings, tableaux, and engravings' – by forty twentieth-century European and Australian artists.
Livres d'artistes or 'artist books' were the result of creative mergers between the works of visual artists such as Pablo Picasso, Henri Matisse, and David Hockney, and authors such as James Joyce, Oscar Wilde, and Emily Brontë.
The Art on the Page exhibition will take place at the Noel Shaw Gallery, Baillieu Library, University of Melbourne, from 3 August 2017–14 January 2018.
Giveaways
Thanks to Australian World Orchestra, ABR will be giving away a double pass to Turangalîla-Symphonie in Melbourne on Saturday 29 July, 2017.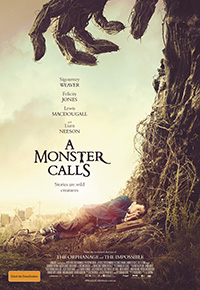 Thanks to Entertainment One, ten new or renewing subscribers will also win double passes to A Monster Calls, directed by Antonio Bayona, and based on the 2011 novel of the same name by Patrick Ness.
To be eligible for these giveaways, you must be a current or new paid subscriber to the print edition of ABR or to ABR Online. To be in the running please email Grace Chang at This email address is being protected from spambots. You need JavaScript enabled to view it. with your full name and contact details. Preference is given to subscribers who have not received a giveaway in recent months.