Music
Pelléas et Mélisande (Sydney Symphony Orchestra) ★★★★
As one of the jewels in this year's program by the Sydney Symphony Orchestra, Claude Debussy's Pelléas et Mélisande, rarely performed in Australia, has finally returned to the Sydney Opera House. This is not the first time that the SSO has ventured into opera. Judiciously, though, it never competes directly with the national company, selecting repertoire neglected by OA. In 2014, it performed Elektra by Richard Strauss, to critical acclaim, followed by Richard Wagner's Tristan und Isolde a year later. Later this season, Béla Bartók's Bluebeard's Castle will be on the programme.
Pelléas was last heard in Sydney in 1998, when John Fiore conducted Patrick Nolan's beautiful production for Opera Australia, which was never revived. Is this fundamental opera of the twentieth century really so obscure or difficult? Hardly. Opéra-Comique in Paris performed it fourteen times during its initial run in 1902, and within a decade the opera had been presented more than a hundred times. Our theatres present much more daring repertoire, often to packed houses. I cannot agree with the notion that Australian audiences will not warm to the unique perfume of a symbolist drama by Maurice Maeterlinck, paired with the classic splendour of Debussy's music.
The SSO invited one of the best proponents of the opera to lead the mostly native French-speaking cast. Charles Dutoit's well-known affinity with French music (and his recording of the opera, made almost thirty years ago) guaranteed a stylish and heartfelt production. The octogenarian Swiss maestro shows little sign of slowing down. His attention to detail was all-encompassing, his leadership clear, his conducting utterly musical. Like some other great conductors of his generation, he is less interested in demonstrating a precise beating technique, and more in showing the direction of every musical line. Debussy's short phrases and long lines are carefully drawn under Dutoit's direction, though textbook-type beats can seldom be seen. The orchestra had no problem following his eloquent gestures. His movements were economical in the most positive sense, and always to the point. It was also interesting to note that in certain places, as a rare example of ambidexterity among conductors, he elected to conduct with only his left hand.
The singing was dependably of a high quality all evening. I was most impressed by the sensitive interpretation of Elliot Madore's Pelléas. His is the perfect baritone-martin voice (a type of light baritone, mostly seen in French repertoire), youthful and enthused, nimble and light, and always in tune with the musical texture. The occasional uncomfortably high notes (for example, in Pelléas's final scene with Mélisande) did not cause him any difficulties. Above all, he did not merely sing Pelléas; he personified him in a thoroughly convincing performance, despite an environment where acting was not a possiblilty.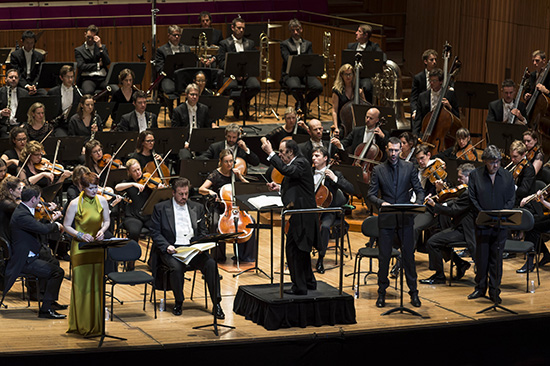 Pelléas et Mélisande (Sydney Symphony Orchestra, photograph by Darren Leigh Roberts)
Michaela Selinger was a late replacement for the originally advertised mezzo soprano in the role of Mélisande. Selinger has considerable experience singing this part, and her Australian début was a rousing success. Her voice is a more mature one than that of Madore's, perhaps even stronger, and in this work less can be more. Nevertheless, Selinger was more than capable of registering the many subtle changes in her character: her almost vibrato-free expression was truly convincing in its ease in the first scene of Act III, only to turn masterfully coquettish at the appearance of Pelléas. Selinger carried the burden of Mélisande's naïve innocence with regal grace. This is crucial, for Mélisande is the true protagonist of this opera; her beauty, her long hair, her lost crown and (later) ring, her unfinished sentences and seeming inability to answer questions waiting to be answered, turn heads and hearts and, unwillingly, cause tragedies.
Marc Barrard, in the role of Golaud, Pelléas's jealous brother, presented not so much a menacing figure as a more hapless one. This is a plausible, if less dramatic, reading of the part. Barrad's sonorous voice offered memorable colours, but not the uncontrollable anger with which Golaud responds to the news of Mélisande's lost ring in Act II, or the insane rage when he drags Mélisande by her hair in Act IV, an action which lost much of its brutal effect through the absence of staging. Golaud's father, Arkel, was sung by Jérôme Varnier. It is not an easy task to present this 'latter-day Amfortas' credibly. Arkel sees everything but is incapable of altering the course of events. Varnier's singing was faultless, but he responded to the old patriarch's anguish with a tone oddly lacking in expression and notable phrasing. The part of Golaud's young son, Yniold, also presents difficulties. It is meant to be sung by a boy soprano – recordings by Kubelik, Boulez, and others attest to the merits of this – but here it was sung by Julie Mathevet. The famously tense scene in Act III, when Golaud employs physical and emotional violence to force Yniold to spy on the eponymous couple, was truly frightening. The effect of Mathevet's excellent singing was somewhat diminished by the careless click-clacking of her heels as she repeatedly entered and exited the stage, while the music proceeded.
Of the Australian singers, Anna Dowsley sang the part of Geneviève. Her lovely timbre exudes youthful energy; it is not her fault that this type of voice is hardly suitable to portraying a much older woman, who is the mother of the princes Golaud and Pelléas. Daniel Sumegi's resonant bass would have been ideal for the role of the Doctor, had an excessive vibrato not endangered both the pitch and pronunciation of his part. Simon Lobelson appeared as the Shepherd.
The opera was not staged, and there was no visible interaction between the singers. This caused confusion more than once, as several essential turns of the story, for example in Act IV, when Pelléas is being killed by his brother, are not expressed at all by the text. The audience may not have understood what was taking place, particularly as the murderous Golaud was not even on stage and his victim stood steadfastly next to Mélisande until the last notes of the scene.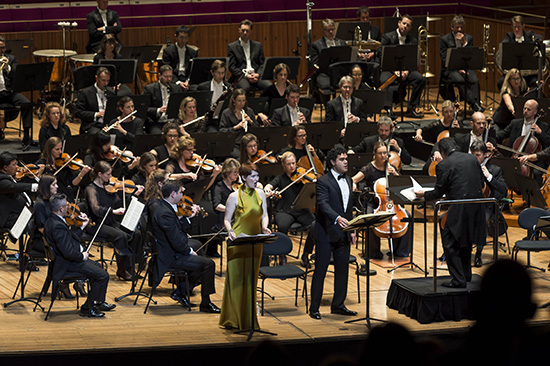 Pelléas et Mélisande (Sydney Symphony Orchestra, photograph by Darren Leigh Roberts)
One of the greatest challenges of this opera is the question of balance between the singers and the orchestra, particularly when the orchestra is not hidden in the pit but is seated behind the protagonists. Debussy's voice lines are far less operatic and robust than, say, those in Wagner's music dramas. There are no arias in the opera and (apart from a brief instance, just before Pelléas's death) no ensembles. The prosody of the lines follow Maeterlinck's atmospheric French text, and the singing is often speech-like, resembling a recitativo of earlier times. Debussy, however, allows his singers to be audible at all times by writing an amazingly detailed orchestral score with delicate textures and few orchestral tuttis. Remarkably, the first orchestral fortissimo does not take place until the terrifying end of the Golaud–Yniold scene. Dutoit, this wise magician of sonic balance, made sure that none of the singers had to project louder than necessary. He directed the famous orchestral interludes with infinite finesse and his musicians responded eagerly, providing moments of astonishing beauty. No musical nuance was lost, even in the softest pianissimos, of which there were many. They reminded me of the words of Pelléas: On entendrait dormir l'eau ... or One can hear the water sleeping.
Pelléas et Mélisande (Sydney Symphony Orchestra) was performed in a concert version at the Sydney Opera House on 23, 24, and 28 June, 2017. Performance attended: 23 June.
ABR Arts is generously supported by The Ian Potter Foundation.