Advances
The Update - May 23, 2017
Recent ABR Arts reviews
2017 NSW Premier's Literary Awards
Michelle Cahill won the UTS Glenda Adams Award for New Writing for her book Letter to Pessoa (Giramondo Publishing)The winners of the 2017 NSW Premier's Literary Awards were announced, with a total of $300,000 across thirteen prizes.
Winners this year include The Drover's Wife by Leah Purcell (Book of the Year, Currency Press and Belvoir in association with Oombarra Productions); The Museum of Modern Love by Heather Rose (Christina Stead Prize for Fiction, Allen & Unwin); The Hate Race by Maxine Beneba Clarke (Multicultural NSW Award, Hachette); Letter to Pessoa by Michelle Cahill (UTS Glenda Adams Award for New Writing, Giramondo Publishing); and Ghostspeaking by Peter Boyle (Kenneth Slessor Prize for Poetry, Vagabond Press).
'The diversity of tonight's winner is impressive, both in terms of the writers' backgrounds and the subject matter of the works,' said NSW Premier Gladys Berejiklian, 'It reflects the outstanding and continuous achievements of the Australian literary community'. A full list of winners can be found on the State Library of NSW website.
ABC partners with AFTRS
The Australian Film, Television, and Radio School (AFTRS) has partnered with the ABC to showcase the works of its past and present students on the streaming platform ABC iView. 'It's a great avenue for us to curate classic early films and interviews from alumni who have gone on to recognition as some of Australia's foremost filmmakers,' said Neil Peplow, CEO of AFTRS.
Early films by Gillian Armstong (My Brilliant Career [1979], Oscar and Lucinda [1997]), Ivan Sen (Mystery Road [2013]), and Cate Shortland (Berlin Syndrome [2017]), among others, are available for viewing.
Red Room Poetry Fellowship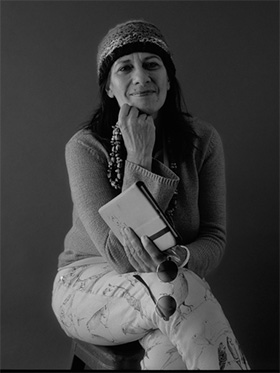 Ali Cobby EckermannAli Cobby Eckermann, winner of the 2017 Windham–Campbell Literary Prize, has been awarded the inaugural Red Room Poetry Fellowship.
Eckermann will receive a 'no-strings' stipend of $5,000, 'a residency at the Bundanon Trust', the opportunity to deliver a number of paid workshops, and 'present a public address during the year-long Fellowship'.
'I'm at that time in my career where actual writing time is essential and I'm grateful for the opportunities this residency will bring', said Eckermann, who was selected from 'a formidable pool of Australian poets', which included Kent McCarter, Elizabeth Allen, and Stuart Cooke. In a generous move, Red Room will also award commissions to the other nine shortlisted poets, due to the high calibre of submissions received.
Two major appointments at The Sydney Opera House
Sydney's iconic Opera House is going through a period of 'renewal' with the seven-month closure of its busiest venue, the Joan Sutherland Theatre, as part of $273 million renovations, and the appointments of two key senior personnel: Kate Dundas as Executive Director of Performing Arts and Edwina Throsby as Head of Talks and Ideas.
Kate Dundas is a former Deputy Secretary NSW Government Arts and Culture, and Director of ABC Radio, where she was responsible for the broadcaster's successful 'expansion into digital radio and streaming'. Dundas will lead the Opera House's 'event operations and production teams and services', and 'support the delivery of the word of its seven flagship Resident Companies'.
Edwina Throsby is an award-winning documentary filmmaker, and is the former Head of Curation of TEDxSydney. She was the founder and producer of ABC's Big Ideas program, hosted by Tony Jones. Her remit at the Sydney Opera House will be to curate 'engaging, relevant, and inspiring' content for programming.
'Renewal is all about ensuring it continues to live up to the expectations of twenty-first century artists and audiences,' said Louise Herron AM, CEO of the Sydney Opera House.
Kate Dundas will commence her role in July 2017 and Edwina Throsby will commence her role in August 2017.
2017 Sidney Myer Fund Ceramic Award
The Shepparton Art Museum (SAM)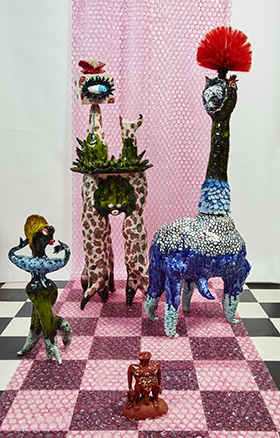 Works by ceramics artist Jenny Orchard (photograph by Jenni Carter) will announce the winner of its prestigious $50,000 2017 Sidney Myer Fund Australian Ceramic Award (SMFACA) at the opening of its prize exhibition on Saturday 17 June. The five shortlisted artists are Glenn Barkley, Karen Black, Laith McGregor, Jenny Orchard, and Yasmin Smith, each of whom have spent the past four months developing their works for the SMFACA exhibition.
'Inspiration comes from the past and present,' said Dr Rebecca Coates, Director of SAM, 'from archaeology and anthropology to arboretums and apple orchards – these are just some of the ideas that will make us think of ceramics in completely new ways.'
The SMFACA exhibition will run from 17 June – 13 August 2017.
Corranderk national tour
The national tour of ILBIJERRI Theatre and Belvoir St Theatre's Coranderrk will arrive in Melbourne for National Sorry Day on 26 May, before heading to Footscray, Kyneton, and Geelong for National Reconciliation Week (27 May – 3 June).
Coranderrk, starring Trevor Jamieson, re-enacts the story of the men and women of the Coranderrk Aboriginal Reserve who went up against the Aboriginal Protection Board and white farmers in 1881 through 'the power of the written word' to be allowed 'to continue the self-sustaining farming community' left to them in 1863.
'One of the decisions we made for this production was to have an all Indigenous cast', said ILBIJERRI's Artistic Director, Rachael Maza, 'This is our story and we're going to tell it from our perspective.'
Coranderrk will continue to ACT, New South Wales, Queensland, and the Northern Territory after its Victorian tour concludes on 3 June.
Tidelands
Supernatural crime dramas appear to be in vogue once more, with the launch of the long awaited third season of David Lynch's cult US series Twin Peaks earlier this week, and the second series of the wildly popular Stranger Things set to arrive later this year. Not to be outdone, Australia will see its first ever Netflix original series Tidelands go into production in Queensland in 2018.
Netflix's very first Australian original series. #Tidelands pic.twitter.com/fMaxgTFBtc

— Netflix ANZ (@NetflixANZ) May 15, 2017
Tidelands follows 'a former criminal as she returns home to the small fishing village of Orphelin Bay. When the body of a local fisherman washes ashore, she must uncover the town's secrets while investigating its strange inhabitants, a group of dangerous half-Sirens, half-humans called "Tidelanders."'
'This story is one that has been itching to be told,' said Tracey Robertson, co-creator and co-producer of the series, 'The primeval landscapes of Queensland are a perfect setting to tell the story of betrayal, small town secrets, ancient mythology, and family'.
The ten-episode first season will be produced by Hoodlum Entertainment and written by co-creator Stephen M Irwin.
Noises Off
Queensland Theatre's Artistic Director Sam Strong has 'marshalled a comedic ensemble' including Simon Burke, Libby Munro, and Hugh Parker, for a new co-production (with Melbourne Theatre Company) of Noises Off.
Playwright Michael Frayn's classic 'meta-farce' was conceived in 1970, whilst sitting in the wings of a performance of his play The Two of Us, starring Richard Briers and Lynn Redgrave, and observing the goings-on backstage. 'It was funnier from behind than in front', he remarked, 'and I thought that one day I must write a farce from behind.'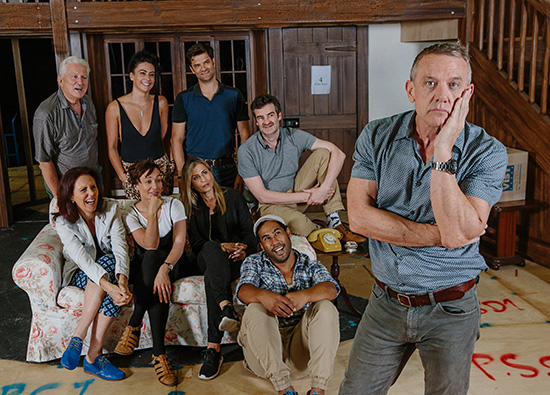 The cast of Queensland Theatre and Melbourne Theatre Company's Noises Off
Noises Off follows the 'pompous' director Lloyd Dallas and his company of actors as they attempt to put on a bedroom farce called Nothing On, which ultimately descends into 'a whirl of missed cues, dropped lines, love triangles, and trampled egos.'
'It spins comedy gold out of the gap between the grandness of peoples' ambitions and the very ordinariness of their execution,' said Sam Strong, who described Noises Off as a 'Swiss-watch of comic construction – a perfect machine.'
Noises Off will be playing at the Playhouse QPAC, Brisbane from 3 June to 25 July, and at the Playhouse, Arts Centre Melbourne from 8 July to 12 August. Thanks to Queensland Theatre, ABR is giving away three double passes to the Brisbane show on Wednesday 14 June. See our giveaways section for more details.
Coraline, the opera
The Victorian Opera has announced its first co-production in Europe with The Royal Opera House (UK), Opéra de Lille (France), and Theater Frieberg (Germany). Mark-Anthony Turange will compose an opera based on Neil Gaiman's 2002 children's novella Coraline, which was adapted into an Academy Award winning film in 2009.
'Coraline reflects Victorian Opera's commitment to staging new works', said Andrew Snell, its Managing Director, 'Drawing from Neil Gaiman's vibrant story and boasting one of the world's most talented composers at the helm, this opera promises to be a very exciting new work.'
Coraline will be staged in 2018 at the Barbican Theatre, London, ahead of appearing in Victorian Opera's 2019 season.
Giveaways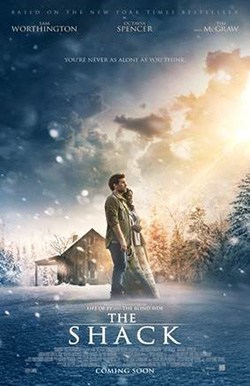 Thanks to Queensland Theatre, three new or renewing subscribers will receive double passes to Noises Off at the Playhouse, Queensland Performing Arts Centre, Brisbane on 14 June at 7.30 pm.
Thanks to StudioCanal, eight new or renewing subscribers will receive double passes to the film The Shack, Directed by Stuart Hazeldine, based on the 2007 novel by William P. Young.
To be eligible for these giveaways you must be a current or new paid subscriber to the print edition of ABR or to ABR Online. To be in the running please email Grace Chang at This email address is being protected from spambots. You need JavaScript enabled to view it. with your full name and contact details. Preference is given to subscribers who have not received a giveaway in recent months.