Theatre
Minnie & Liraz (Melbourne Theatre Company) ★★★★
With unrelenting cheerfulness, bright orange lights shine on a simple set: a row of straight-backed chairs, a tall flower display, and a painting of an elderly woman, prominently displayed. Are we about to witness a funeral? Indeed we are. Slowly, painfully, the ambulant residents of Autumn Road Retirement Village, Caulfield, edge their way on to the stage. The chairs are now occupied. From the door into the corridor appears a wheel, then a hand fumbling for the entrance, heralding the arrival of the fifth resident, who whizzes triumphantly onstage in her electric buggy. Liraz (Sue Jones) has arrived.
So begins Minnie & Liraz, Lally Katz's latest play. There is no doubt we are watching a comedy. The garish lighting and slow-motion procession of characters cue the laughter that ripples around the audience. Sue Jones's pernickety parking settles the matter. If the residents are lacking in enthusiasm, both for the deceased and for life itself, Norma (Georgina Naidu) conducts the 'life celebration' with lashings of joie de vivre. She conjures up the rich events of a little life, while, sotto voce, Minnie (Nancye Hayes) corrects her. Her bridge partner may be dead, but she is giving her short shrift.
Bridge, a strategic game popular with the elderly, is central to the plot of Minnie & Liraz. Katz draws on her experience of living in the south-eastern suburbs of Melbourne, as well as on her relationship with her beloved Jewish grandparents in their retirement village in New Jersey, to draw a picture of people in the closing stages of their life. Some can't wait to die and others battle on, their energy and ambition undiminished. As in her 2011 play Neighbourhood Watch, Katz steals the details of petty lives, banal conversations, regrets and worries, to lift the lid on the darker elements of human nature: in this case, ambition and the bridge tournament that sparks it.
Katz has the ability to make everything funny: death, suicide, infertility, hip replacements. The play unfolds as the forthcoming contest for the Australian National Seniors' Bridge Cup approaches and all the cards are slowly revealed.
Sue Jones's electric performance demonstrates how comedy is made: each sentence released with perfect timing and burning intensity, elaborated with gestures and facial expressions and toots on her mobility scooter. The other actors, particularly those playing more sober characters, could have made more use of timing and pauses to raise the comedic temperature.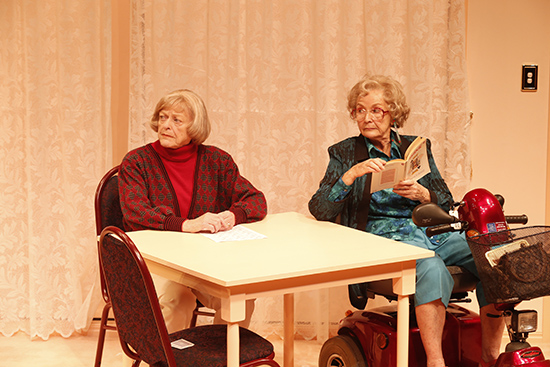 Nancye Hayes and Sue Jones in Melbourne Theatre Company's Minnie & Liraz (photograph by Jeff Busby)
Virginia Gay as Rachel, Minnie's granddaughter, succeeds in embodying the twisted emotions of a professional woman without a partner or children. Peter Paltos as Ichabod, Liraz's dutiful grandson, portrays his painful self-consciousness with a noble rigidity. Rhys McConnochie as Minnie's morose husband, Morris Cohen, provides a fine foil to his wife, with his bleak comments supplying a relentless negativity to any possibility of hope or romance or success. The story of his wartime experience, which he relates in the memoir group, is the one poignant note in the play, but we are left wondering if he was telling the truth.
Nancy Hayes, as Minnie, is sane and businesslike, a little pale beside her glittering friend Liraz, unable to let down her guard. When her granddaughter Rachel arrives, we begin to see Minnie's weak spots – her misgivings and regrets about her estranged son, obsessing about the whale-watching trip she refused him, forcing him to watch her play yet another bridge match. There are so may regrets in these little lives, so many reparations to be made. Matchmaking could help, and bribery. Or worse.
Director Anne-Louise Sarks and set designer Mel Page bring a light, imaginative touch to the performance, aided by dramatic music and lighting. A revolving stage switches the action between the various spaces of the retirement village, from the 'life celebration' room to the dining room to the pool's changing room. Between the two halves of the stage is a corridor with a glass wall, where characters let off emotions, pursue each other, or die. This in-between place is a brilliant theatrical device, a space for darker selves to emerge.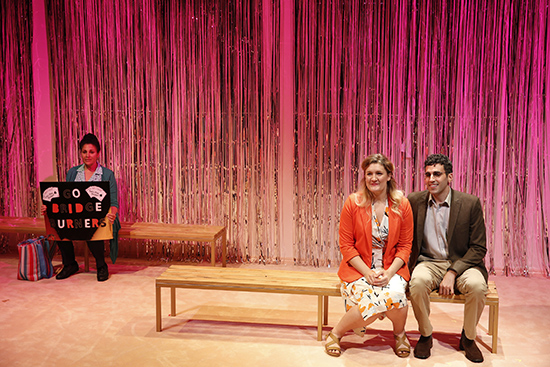 Georgina Naidu, Virginia Gay, and Peter Paltos in Melbourne Theatre Company's Minnie & Liraz (photograph by Jeff Busby)
Georgina Naidu, as Norma, celebrant, nurse, bridge game convenor, life writing tutor, and general dogsbody at the village, orchestrates the lives of her charges and the play itself. In a versatile and lively performance, she responds to the humour of the play and the appreciative audience with increasing liberation and élan. Her indomitable spirit remains buoyant to the end. Life must go on, however many dark thoughts and darker deeds have taken place, and will always, when looked at through the lens of comedy, be funny. Lally Katz's burgeoning career ensures it will, and this Melbourne play, in its world première, puts us centre stage in contemporary comedy.
Minnie & Liraz (Melbourne Theatre Company), written by Lally Katz and directed by Anne-Louise Sarks, continues at Fairfax Studio, Arts Centre Melbourne until 24 June 2017. Performance attended: 18 May.
ABR Arts is generously supported by The Ian Potter Foundation.