Opera
Cavalleria Rusticana ★★★★ and Pagliacci ★★★★ (Opera Australia)
Such was the international success of this double bill that both works were performed together at the Princess Theatre in Melbourne in September 1893 – Pagliacci less than sixteen months after its world première in Milan. Impresario George Musgrove even secured the original Canio, tenor Fiorello Giraud, who had been chosen for the part by Ruggero Leoncavallo himself. The two works (known for generations as Cav-and-Pag) have been presented many times since that illustrious Melbourne season and, with few exceptions, have been box-office hits. They are so compatible that on the rare occasions when one of the operas is paired with a different work I feel rather cheated.
This latest Opera Australia production is actually an Olivier Award-winning co-production with the Royal Opera House, Covent Garden, and it does not disappoint. Director Damiano Michieletto cleverly blends the plots of both operas into one village, making full use of the revolving stage. The works are set in the late twentieth century, with Alfio making his first appearance in an Alfa Romeo. The eternal emotions of lust, betrayal, jealousy, and death are just as relevant today as in the 1890s when the works exemplified the verismo style of opera which was then emerging, and which predated by half a century a similar trend in Italian cinema by the likes of Visconti, Fellini, and de Sica.
Pietro Mascagni loathed the term verismo and initially denied that Cavalleria Rusticana, first performed in 1890 and based on a drama by Giovanni Verga, was any such thing. In later years Mascagni had to admit that his most successful work relied on passion expressed with an impetus and fire which exactly matched the Sicilian temperament. Leoncavallo, the son of a judge, based Pagliacci on a true case over which his father presided. The young composer vividly recalled the trial of an actor who, in a fit of jealous rage, murdered his wife at the end of a performance. Until his dying days, Leoncavallo recalled the man's voice ringing out through the court. Thus was born the model for Canio.
Each opera has its own sets. Cavalleria Rusticana (★★★★) takes place in a bakery and the village square, against the backdrop of Easter preparations, whilst Pagliacci (★★★★) is played out (both onstage and off) in a village hall with a backstage. The two works were further linked by the Pagliacci posters advertising the coming play in the square during Cavalleria Rusticana. I would have preferred a more attractive setting for the village square – perhaps a few tubs of colourful blooms. A blue Italian sky never goes amiss and would have been a contrast to the tragic events which unfold in both works. Still, the updating works well and is never distracting or irrelevant to the action on stage.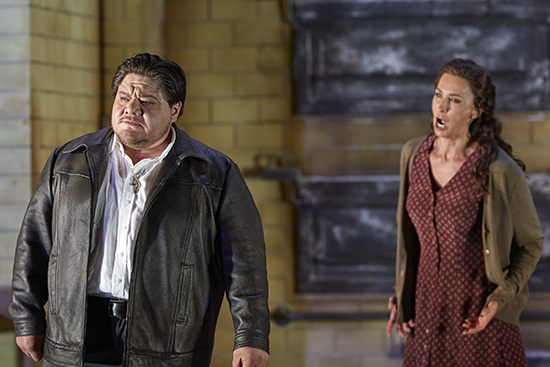 Diego Torre as Turiddu and Dragana Radakovic as Santuzza in Opera Australia's Cavalleria Rusticana (photograph by Keith Saunders)
Making her Melbourne début Serbian soprano Dragana Radakovic (Turandot in the 2016 Handa Opera in Sydney) was a convincing Santuzza, both vocally and dramatically. She played the betrayed lover with great passion and sorrow before vengeance took its toll. She was well matched with tenor Diego Torre as Turiddu, the man who has deserted her. Torre has become a familiar figure to Opera Australia audiences. His voice is ideally suited to the Italian repertoire from Verdi to Puccini, and he was compelling as the simple and caddish villager besotted by a former lover who has since married.
José Carbó and Sian Pendry were splendid as Alfio and the unfaithful Lola, whilst Mamma Lucia was sung and acted with great pathos by Domenica Matthews. The tense exchange between Alfio and Mamma Lucia when discussing Turiddu's supposed excursion to buy wine was chillingly dramatic, as was Alfio spilling his wine as a prelude to the challenge. Lola was a perfect seductress with a voice to match. The piety of the Easter Hymn and Santuzza's poignant 'Voi lo sapete' were especially moving, as was Turiddu's touching farewell to his mother ('Mamma, quel vino è generoso').
Conductor Andrea Licata always gets the best from Orchestra Victoria, and the riches of Mascagni's score were a highlight of the evening. Only once, in the Turiddu–Santuzza duet, did the sound somewhat overshadow the singers. Licata's tempi were perfect; he brought out every subtlety in the lush orchestration, especially in the Intermezzo. His conducting of Pagliacci was just as impressive.
Pagliacci featured several of the same singers and was cleverly presented, making use of doubles and enabling the crazy Canio to visualise his wife and her lover, Beppe, on the village hall stage, even though both were on (our real) stage and performing independently.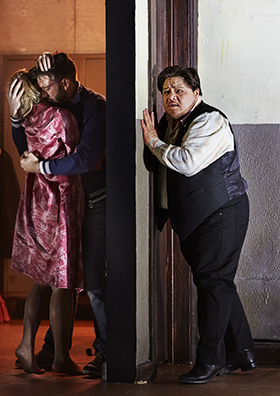 Anna Princeva as Nedda, Samuel Dundas as Silvio, and Diego Torre as Canio in Opera Australia's Pagliacci (photograph by Keith Saunders)Diego Torre was, if anything, even better as the increasingly manic Canio. His 'Vesti la giubba' predictably brought the house down, and he was ably partnered by the young Russian soprano Anna Princeva as Nedda. Her aria 'Stridono lassù' was exquisitely sung. José Carbó shone in the Prologue and showed yet again what a fine and reliable baritone he has become. Samuel Dundas and John Longmuir were excellent in the supporting roles of Silvio and Beppe. The Opera Australia Chorus (under Anthony Hunt) and the Children's Chorus (under Michael Curtain) sang and acted well in both works, and were especially effective as the horrified audience in Pagliacci as the play progressed to its tragic finale.
There are many excellent versions of these operas on disc. Among the finest are Herbert von Karajan conducting the La Scala Orchestra and Chorus in Cavalleria Rusticana, featuring Fiorenza Cossotto and Carlo Bergonzi. His Pagliacci featured Bergonzi with Joan Carlyle (a perfect Nedda), again with the La Scala Orchestra and Chorus (both on Deutsche Grammophon and recorded in the 1960s). A classic EMI set from the early 1950's featured Maria Callas (at her best) and Giuseppe Di Stefano with Tulio Serafin conducting the Orchestra and Chorus of La Scala (with Tito Gobbi an outstanding Tonio). A set on Chandos in English (1997) featured Dennis O'Neill and Nelly Miricioiu with David Parry conducting the London Philharmonic Orchestra.
Cavalleria Rusticana / Pagliacci (Opera Australia) is being performed at the Arts Centre Melbourne until 20 May 2017. Performance attended: 10 May 2017
ABR Arts is generously supported by The Ian Potter Foundation.