Theatre
The Realistic Joneses (Red Stitch Actors' Theatre) ★★★★1/2
Ah, Will Eno. The poet of the people, chronicler of twenty-first century angst, humorist, satirist, famously labelled 'a Samuel Beckett for the Jon Stewart generation', is back in dazzling form. The Realistic Joneses showcases Eno to the power of ten as he holds up a mirror to Middle America and makes us laugh and cry (often simultaneously). Readers, skip this review if you will – just book your tickets and immerse yourself in Eno's quirky world.
The play's début on Broadway in 2014 starred Toni Collette, and the Australian connection continues. Julian Meyrick, who directs this Red Stitch première, is a friend of Eno's. He directed Thom Pain Based on Nothing for the Melbourne Theatre Company in 2007, and is obviously attuned to Eno's singular way of looking at the world. The results are exhilarating.
As in Middletown, which Red Stitch produced two years ago, we are in a small American town, 'near the mountains.' Bob (Neil Pigot) and Jennifer Jones (Sarah Sutherland), an ordinary middle-aged couple, have sought this quiet retreat because Bob is suffering from a debilitating and swift-moving illness and the only doctor who can treat it lives nearby. They spend a lot of time on the porch gazing at the stars – it's easier than conversing. Within a few minutes, their strained relationship is exposed.
'It just seems like we don't talk,' says Jennifer.
'What are we doing right now, math?'
'No, we're ... sort of throwing words at each other.'
Soon they are joined by a younger couple, who wander into their backyard to introduce themselves, bringing a bottle of wine. John (Justin Hoskin) and Pony (Ella Caldwell) are renting next door and are also called Jones. On the surface, their marriage looks rock solid, but it is gradually revealed that John is suffering from the same illness as Bob and that Pony is not coping. Secret alliances between Bob and Pony and Jennifer and John threaten to destabilise both couples. Underpinning all this is the smell of mortality. Both men are sick, their relationships with their spouses even sicker, and woodland creatures are dying all around them – John and Bob dispose of squirrel corpses in plastic bags, speculate on whether city pollution has reached their inner sanctum. Is there anywhere that can be called truly safe? Can anyone be trusted?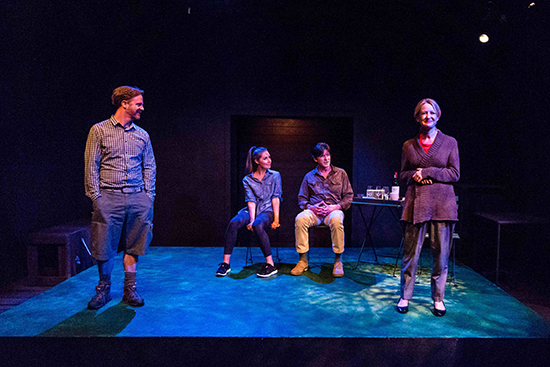 Justin Hosking, Ella Caldwell, Neil Pigot, and Sarah Sutherland in The Realistic Joneses (photograph by Teresa Noble)
The play may be called The Realistic Joneses, but Eno's dialogue, whilst crackling and fizzing with wit and pathos, is often surreal, taking the audience up dead-ends, non-sequiturs, and ambiguous paths. In some scenes this is clearly deliberate. Early on, Jennifer confides that the illness builds up copper in the brain, particularly in the area devoted to language. Bob and John's sentences become more and more jumbled, staccato sharp, confused, and irrational as their disease progresses.
At the same time, Eno hints at the inadequacy of words as tools for communication. The four characters neither say what they mean nor mean what they say. Language separates us from beasts, observes John, but the play primarily concerns itself with what remains unsaid and the gulfs this uncovers. Bob refuses to discuss his illness, John won't even acknowledge that he is unwell. Gestures of warmth, like hugs or the physical closeness of a sympathetic human being, are more telling and longer-lasting than words. It is this sense of connectedness, Eno seems to be saying, that in times of uncertainty makes us truly human.
This is probably one of Eno's most accessible works; his usual existential gymnastics are kept under fairly tight rein here, and though the play drags on for fifteen minutes longer than it should, the 100 minutes of its duration are immensely entertaining.
The play unfolds as a series of short scenes, occasionally separated by black-outs, which can often make a piece feel disjointed but not in Brownyn Pringle's hands. Her atmospheric lighting plays a key role, throwing the characters into relief, drawing weird, sinister shadows on the walls, keeping the ever-changing mood of the play centred.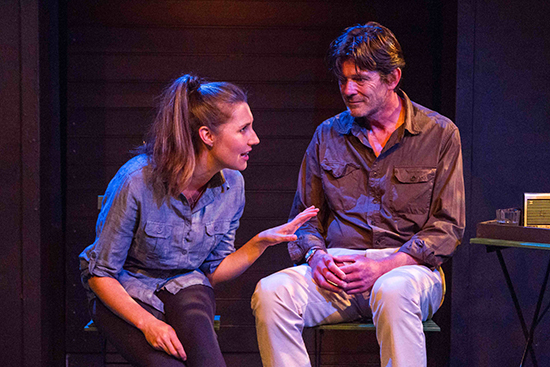 Ella Caldwell and Neil Pigot in The Realistic Joneses (photograph by Teresa Noble)
The interpretations are pitch perfect. Pigot's sullen, laconic Bob contrasts brilliantly with Sutherland's stoic, steadfast Jennifer. Ella Caldwell is a delightfully ditzy and vulnerable Pony. As for Justin Hoskin, he frequently steals the show, with a performance that slow burns then blazes like a firecracker. All credit to Julian Meyrick for felicitous casting and a deft touch that magics Eno's script to life, squeezing out both the poetry and the pity. Simply splendid.
The Realistic Joneses (Red Stitch Actors' Theatre), written by Will Eno and directed by Julian Meyrick, runs until 28 May. Performance attended: 29 April 2017.
ABR Arts is generously supported by The Ian Potter Foundation.