Nathalie Chazeaux (Isabelle Huppert) is a married professor of philosophy, with two adult children, a sunny, book-lined Parisian apartment, and several published works to her name. Success has granted her self-assurance, at least in public. Early in Things to Come (or L'Avenir, to give the film's French title), we watch her cross a student picket line without compunction, the arguments of the young protestors seeming to bounce off her. At home, over a family lunch, her husband, Heinz (André Marcon), also a philosopher, teases her about the gradual retreat of her youthful ideals. 'Okay, I was a communist,' she says defensively. 'No shame.' Who changes, and why, and how one lives with it – these knotty questions underpin a film that nevertheless proceeds with subtlety and wit.
Things to Come is a portrait of a woman who loses nearly everything that she thought she could rely on, but it isn't a tragedy, much less a melodrama. In the lead role as Nathalie – and she appears in nearly every scene – Huppert is resolutely unsentimental, and often funny. Nathalie is competent but also a bit fretful, understandably so, given that she is pressed upon not only by her husband and students, but also by her publisher, and especially by her histrionic mother, Yvette (a perfectly formed performance from Édith Scob), who threatens to kill herself every few days. With all these demands upon her time and attention, Nathalie is almost always in a rush, and sometimes the camera follows her in a flurry.
And then it all begins to fall away. Heinz, who has been having an affair, decides to leave her. 'I thought you'd love me forever,' Nathalie says to him, crestfallen. ('What an idiot', she admonishes herself.) Yvette becomes unmanageable and is moved into a care home. Nathalie's prestigious publisher falls sway to a new marketing team, which decides to repackage her backlist in lurid colours. 'This looks like an ad for M&Ms,' she scoffs, glancing at one mock-up. For Nathalie, this particular change is not only unwelcome but unnecessary, and therefore insulting; she reacts similarly when, returning home one afternoon, she discovers that Heinz has reclaimed his portion of their shared library. 'My Levinas, with all my notes!' she exclaims, more affronted by that small but visible forfeiture than by larger, less tangible losses.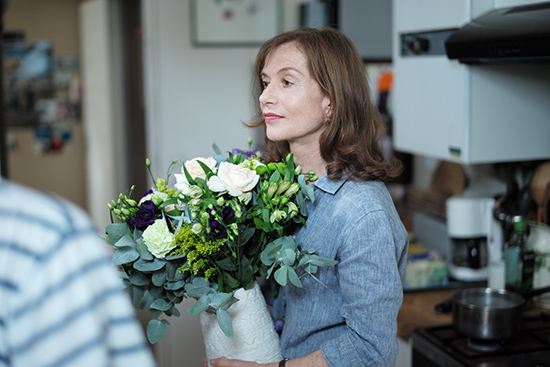 Isabelle Huppert as Nathalie (photograph by Ludovic Bergery, courtesy of Palace Films)
Nathalie's commitment to philosophy, and her acute sense of life's absurdities – which she expresses with a short, sharp laugh – are bulwarks against her emotional dissolution. Things to Come is a rare and welcome film for not suggesting that a woman is unnatural or unfeeling to care for her work as much as for her family. Nor is Huppert, as a performer, the ice queen that she is often lazily described as being. She brings restraint to the character, but she is never controlling; as the film goes on, she allows Nathalie to crumple when no one is looking. For all Nathalie's exasperation at the various demands placed upon her, she wants to be needed, and she is most vulnerable when she feels that she has been forgotten. At one point, she seems to have been abandoned even by her mother's cat, Pandora; when the cat returns, Nathalie's delight is real.
A cat is not the only brightness in her life. As a counterpoint to Heinz's desertion, there exists the intriguing prospect of Fabien (Roman Kolinka), a handsome former student. Sexual and political tensions run between them. Fabien, an anarchist, leaves Paris for a commune in the countryside; when Nathalie visits, he criticises her for never putting philosophy into action, and for being too willing to accept the material comforts of bourgeois life. 'I've changed', she admits to one of Fabien's comrades. 'But the world hasn't', comes the impatient reply. It is an open question as to who, if anyone, is correct in this tussle: perhaps Nathalie's life contains hypocrisies, as most of our lives do, but she is also unsettled by her protégé's moral certainty, which she believes might make him cruel.
The film's ease with political questions and texts feels very French – Rousseau crops up more than once. It must also be, in part, a reflection of director Mia Hansen- Løve's own milieu; both her parents were philosophy teachers. At thirty-six, Hansen- Løve has made five feature films, and these dramas have mostly been about the lives of Parisian artists and intellectuals. The Father of My Children (Le père de mes enfants, 2009) told the story of an indebted film producer who kills himself, and of the family he leaves behind; the central character was partially based on the real-life figure of Humbert Balsan, who died in similar circumstances. Eden (2014) had a more youthful cast, and centred on music DJs; it too was partly inspired by a real person, in the form of the director's brother, also a DJ. Hansen-Løve handles her material deftly: she has a clear sense of narrative structure, but allows each story to unfold without it seeming forced or hurried. Her actors clearly trust her, and she keeps the camera at a mostly unobtrusive distance from them, observing but not prying. Things to Come deservedly won Hansen-Løve the Silver Bear for Best Director at the 2016 Berlin Film Festival.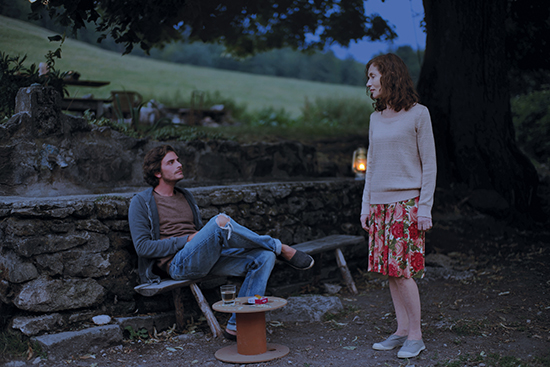 Roman Kolinka as Fabian and Isabelle Huppert as Nathalie (photograph by Ludovic Bergery, courtesy of Palace Films)
As the certainties that regulated Nathalie's life disappear, she discovers a new freedom, not of the kind that she might once have expected as a young radical. There is no triumph here, no glorious new dawn; the future is still entangled with the past. Nathalie is marked by loss, but not destroyed by it. 'Woe to him who has nothing to desire', she tells her students, quoting Rousseau. So she keeps on.
---
Things to Come (L'Avenir), 102 minutes, written and directed by Mia Hansen-Løve. Distributed in Australia by Palace Films. In cinemas from 27 April 2017.
ABR Arts is generously supported by The Ian Potter Foundation.