The opening scene is a stunner. David Irving (Timothy Spall), top of the pile of Holocaust deniers, is giving a lecture. He is framed by darkness, we do not see the audience. 'I say to you quite tastelessly,' he says, 'that more women died on the back seat of Senator Edward Kennedy's car at Chappaquiddick than ever died in a gas chamber at Auschwitz.' Irving speaks earnestly and with authority; the camera, perched low, frames his torso and head from that same half side-on angle that Hitler's photographers favoured. This is no skinhead speaking, no foul-mouthed, leather-clad neo-Nazi, this is a man straight out of British Establishment central casting, a courteous man who, even when saying the most appalling things, knows how to prepare the ground: I say to you quite tastelessly ...
David Irving, Holocaust denier, Hitler apologist, and at one time a respected historian, has been around for decades touting his abhorrent beliefs, long before 1993, when Deborah Lipstadt (Rachel Weisz), Professor of Modern Jewish and Holocaust Studies at Emory University in Atlanta, published Denying the Holocaust: The growing assault on truth and memory. In 1996, after the book was published in the United Kingdom, Irving filed a case in the English High Court against Penguin books (Lipstadt's UK publishers) and Lipstadt herself. He accused her of writing about him in such a way that misrepresented his beliefs and undermined his reputation as an historian. Specifically, she had accused him of being racist and anti-Semitic, and had deliberately falsified evidence to support his thesis that there were no gas chambers, no Holocaust, and indeed no campaign to exterminate the Jews of Europe.
Lipstadt decided to take him on; to win, the burden was on her to prove that what she had written was true. Her British legal team was led by Anthony Julius (Andrew Scott) who represented Diana, Princess of Wales in her divorce. The barrister was the hard-drinking, heavy-smoking, impeccably tailored, and utterly brilliant Richard Rampton (Tom Wilkinson). Both Wilkinson and Scott are superb: restrained, witty, eloquent, and always compelling. They have the best lines in David Hare's excellent script.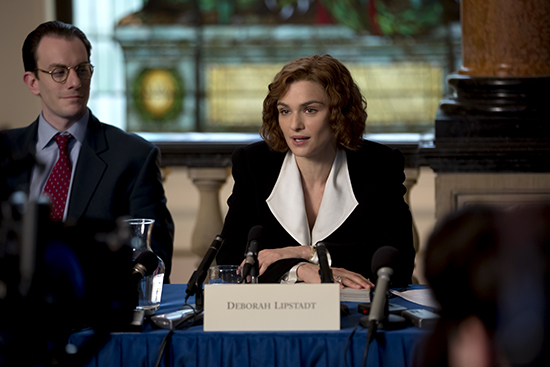 Rachel Weisz as Deborah Lipstadt in Denial (Entertainment One)
Lipstadt seems to have more difficulty understanding the British legal system and British mores and manners than she does Mr Irving. She seems so very American: out-spoken, opinionated, loud, and so emotional; indeed, this film is as much about the difference between the Brits and the Americans as it is about the case. 'What feels best,' Rampton, the barrister says to her later in the film, 'doesn't necessarily work best.'
Lipstadt's legal team, to her horror, tell her they will not be calling any survivors to the stand. 'But they are the proof,' she says. Irving will be representing himself, they explain, and he will ridicule any survivors in cross-examination. Also, they add, no one's memory is complete: it will not be difficult for Irving to trip these people up on small, even irrelevant details. She remains unconvinced until they show her a film clip of Irving with a survivor. It is a distressing scene, but they make their point. And they won't be putting her – the expert and the accused – on the stand either. It is her case, but she's not allowed to speak. She disagrees with their approach, but retains them nonetheless.
This is a thoroughly absorbing film about the intricacies of the law and the differences between opinion and belief on the one hand, truth and facts on the other. It shows, convincingly, that fake facts and alternative facts are deliberate lies, and if such are used to support a thesis, that thesis is false. It is a film that also demonstrates that all opinions are not equal, and along the way it shows the importance of an independent judiciary. In short, Denial, about events that happened nearly twenty years ago (the case went to court in 2000), a film finished before Donald Trump won the Republican nomination, is extremely relevant today.
Timothy Spall portrays a truly convincing Irving. Even when everyone says he is wrong, he knows he is right; he doesn't even need to speak, his facial expression speaks for him. It is testimony to Spall's brilliance that he evokes Irving so well – a man with a physical presence and bearing that Spall in no way approximates. Spall's Irving is terrifying, beguiling, likeable, hateful – all at once.
Weisz has a harder task with the overly emotional Dr Lipstadt. The character is neither as complex as Irving nor as interesting as the lawyers and their strategies. Weisz provides a creditable performance given the limitations of the role.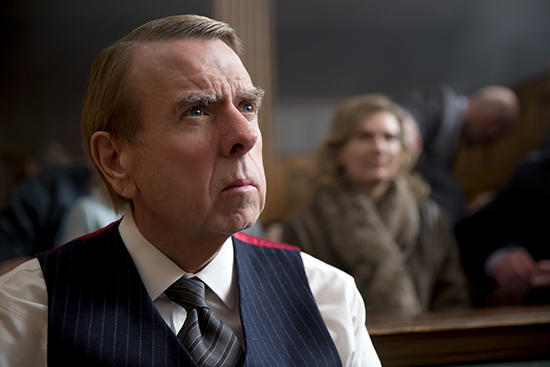 Timothy Spall as David Irving in Denial (Entertainment One)
A minor strand of the film shaped around a Holocaust survivor (Harriet Walter) is overwrought, wincingly so. Every now then there are shots with a hand-held camera in an unnecessary and unsubtle attempt to ramp up the temperature. And while the statue of Queen Boudicca on The Embankment was probably part of Lipstadt's London experience during the trial, this monument, representing fight and determination, comes across as heavy-handed and clichéd. But these are relatively insignificant quibbles in an otherwise admirable film.
Denial (Entertainment One), 110 minutes, is directed by Mick Jackson and based on the book History on Trial: My day in court with a Holocaust denier (2005) by Deborah Lipstadt.
ABR Arts is generously supported by The Ian Potter Foundation.