Music
András Schiff: 'The Last Sonatas' (Kajimoto) ★★★★
How much is too much music? What creates a successful program? The first of András Schiff's two Tokyo recitals in the splendid Opera City Concert Hall left these and other questions in the forefront of this reviewer's mind. Advertised under the banner 'The Last Sonatas', the pair of recitals covers the final two piano sonatas by the four great Viennese masters, Haydn, Mozart, Beethoven, and Schubert. In a logically pleasing fashion, the first evening was given over to each composer's penultimate sonata. Beyond this conceptual conceit, there was little else in common between the four works. Even the number of movements varied between Haydn's two-movement Sonata no. 61 and Schubert's four-movement Sonata no. 20 (unsurprisingly, these were respectively the shortest and longest items on the program, at about eight and forty minutes). Mozart's no. 17 and Beethoven's no. 31 both were listed as three-movement works, although in Beethoven's case the final movement comprises a complex multi-section fusion of slow-movement and finale functions.
Despite being last-but-one sonatas, these works stemmed from very different stages of their creators' lives: Haydn's no. 61 was written around 1794–95, when he was in his early sixties, but he still had another decade and a half to live; Schubert was less than half as old when he wrote penultimate A major sonata, but he would die of syphilis a few months later, aged just thirty-one. But even more pertinent than mere biographical placement is the notion of 'lateness', a much-debated concept that is most obvious in the case of Beethoven's works after 1818 (including the Sonata Op. 110 on the program). According to the philosopher Theodor Adorno, Beethoven's late works are 'bitter spiny fruit', the result of the withdrawal of the composer's subjective presence that was so evident in his heroic middle-period works (think of the intensely personal Appassionata sonata). Arguably, despite his untimely early demise, Schubert too has a late style, most evident here in the second movement of the A major sonata, where the middle section startlingly breaks away from the melancholy simplicity of the opening, a rupture that calls into question the coherence of the structure.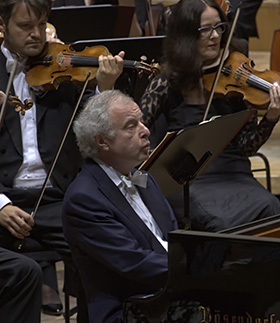 András Schiff at Gewandhaus Leipzig in 2016 (photograph by Alexander Böhm, via Wikimedia Commons)Could the notion of late style potentially also apply to performers? If one thinks of the octogenarian Vladimir Horowitz's live performances of Schumann, happily recorded for posterity, or Glenn Gould's second studio recording of the Goldberg Variations the year before his death, the notion does not seem outrageous. Idiosyncratic they may be, but both offer transcendental insights that are the fruit of a late maturity. Whether Schiff fits into this category is debatable: he is only in his mid-sixties, yet his demeanour on the platform had a kind of patrician stillness appropriate to the mature artist he undoubtedly is. The same quality applied to his interpretations, which were beautifully considered and pretty much flawlessly executed. The delights they offered (and these were many) were in the matter of colour and a host of inventive details. What was not apparent was any sense of risk-taking or much in the way of excitement. This perhaps sounds more critical than it is meant to be: Schiff of course provided plenty of dynamic variation within his ambit, it was just that his ambit was deliberately narrowed. He offered classical interpretations of classics.
His performance of Mozart Sonata in B-flat major (KV 570) wisely did not try to make the work out to be bigger than it is, but nor did it trivialise it. Rather, by capturing the simplicity Schiff made it seem both fresh and elegant. A few discreet ornaments were added in the repeated sections, entirely in keeping with the aesthetic. There were almost no pauses between movements – not for him the prolonged hacking and tension-relieving whispers – something that would become characteristic of the entire evening. Even at the end of the sonata, he merely stood, inclined gently in acknowledgment of the audience's appreciation, and was back down on the stool to begin Beethoven's Op. 110. Since both are relatively short works, and the opening of Beethoven's Sonata sounds like a throwback to an earlier classical idiom, this bridge made musical sense.
The first movement, which unusually for Beethoven is marked 'Moderato cantabile molto espressivo', was played in a warm and lyrical fashion. The feathery broken chord passages were not split between the hands, as is often the case; this created a slightly lumpier effect than usual. The Allegro molto second movement could have been a rare chance in this work to let his hair down, but Schiff kept the tempo rather steady, preferring homogeneity over variety here. The pedalling in the lugubrious Arioso dolente was deliberately smudgy, the big Bösendorfer creating momentary cluster effects. When this tune came back in G minor, Schiff gave it less melodic projection, as if the first defeat of the fugue had left the musical protagonist exhausted. The revival of the fugue (now in inversion) was magical, with the dynamic level held down until the original fugal idea re-entered. The ending was utterly joyous, deserving the enthusiastic applause it received.
Until this point, I had assumed that the concert would fall into the customary two halves, with the Haydn Sonata prefacing the Schubert after the interval, just as the Mozart had preceded the Beethoven. However, Schiff had other ideas, and the Haydn followed directly. My memory of the Haydn is patchy; it was enjoyable, for sure, and the second movement had a nice lightness to it, although, unsurprisingly, it could have been delivered in a more rollicking fashion. But even though Op. 110 isn't one of the longer, more heavy-duty Beethoven Sonatas, the third movement in particular takes the listener on a profound journey, and I for one would have welcomed more time to process it, rather than jump straight into playful Papa Haydn.
Even now, my mind was fixated on the customary architecture of such concerts in the Anglophone and Germanic worlds, so I had mentally justified the triple-bill first half with the idea that the greater length of the Schubert Sonata was why it would have the second part to itself. Not a bit of it; with as little pause as before, Schiff launched straight into Schubert's forty-minute work. As a seasoned concert-goer and professional musicologist, I can take long unbroken stretches of music – Mahler 3 (95+ minutes), Der fliegende Holländer (130+ minutes), and Das Rheingold (150+ minutes) are all grist to my mill. Yet here I felt that the catenation of these four dissimilar works into a single 105-minute stretch was doing a disservice to both music and audience. My concentration did not lapse, but my enjoyment was less than it might have been. It recalled a much older tradition of hanging paintings (still found in places like the Sans-Souci Palace in Potsdam) where every square inch of wall is fitted with canvasses, in contrast to space and separation each painting enjoys in a modern gallery. Gems too tightly packed lose their individual lustre.
András Schiff at the Tokyo Opera City Concert Hall (photograph courtesy of Kajimoto)
Schubert's A major sonata was the most heroic item on the program, and here I wanted (but was not expecting) a certain muscularity. Schiff is incapable of producing anything other than a cultured sound, but I would have traded this in once or twice for a true explosion. Drama was certainly not lacking in this account – the development of the first movement, for instance, had verve aplenty, and the insanity of the middle of the second movement was let loose. But at the start of the third movement, which exudes vitality and exuberance, Schiff went for a sotto voce fairy-music texture: a valid and imaginative take, to be sure, but one which felt representative of the evening as a whole. Some of the sensitive sections of the work were wonderful: the coda of the first movement was rich with the wisdom of life, and the final three chords sounded almost transfigured. The main theme in the second movement made me think of 'grey velvet', it was so smooth and subtly varied within an overall subdued palette. In the fourth movement, the theme of which should convey both warmth with just a hint of melancholy, Schiff dropped the dynamic level to daringly low levels in places, and at others achieved real dramatic intensity. The coda was genuinely exciting.
Even now, the evening was not finished, for Schiff granted no fewer than six encores, lasting another half an hour: Schubert's second Klavierstück D. 946, then Bach's Italian Concerto (in two tranches), after which I uncharitably could only think of the same composer's cantata 'Ich habe genug' (I've had enough). This was followed by Beethoven's B minor Bagatelle from Op. 126, the first movement Mozart's 'Easy' sonata in C, KV 545, and the third of Schubert's Moments Musicaux in F minor, D. 780. The core audience's enthusiasm seemed undimmed (Schiff even gestured as if to play a seventh piece, before pulling back), although more than few made earlier exits. Were one to be charitable, one might compare Schiff's neglect of traditional concert practice to Beethoven's equal disdain of compositional convention in his last works. Maybe, after all, this was a late-style performance.
András Schiff: 'The Last Sonatas' (Kajimoto) was performed at Tokyo Opera City Concert Hall, Nishi-Shinjuku, over two nights on 21 and 23 March 2017. Performance attended: 21 March

ABR Arts is generously supported by The Ian Potter Foundation.