Dance
Faster (The Australian Ballet) ★★★1/2
The Australian Ballet opened its first 2017 Melbourne season looking like a new creature – mature, chic, and serious, ready to tackle any challenges choreographers placed in its path.
Squander and Glory, a dramatic world première for The Australian Ballet by alumnus and resident choreographer Timothy Harbour, provides the centrepiece of Faster. Two British works book-end the program: Faster (from the Olympic slogan 'Faster, Higher, Stronger') by David Bintley, artistic director of Birmingham Royal Ballet; and Infra, by Wayne McGregor, a resident choreographer at the Royal Ballet in London.
It is surprising in this time in ballet history, three decades after William Forsythe tipped Paris Opera Ballet off its pure geometrical axis with his postmodern In the Middle, Somewhat Elevated (1987) – from which there are several extracts on YouTube – that the three ballets share a similar structure. They open with tableaux or ensembles that split into solos, duos, and other combinations, and they feature unique motifs for individual dancers, one or two featured duets, and a distinctive coda. In Faster, superb pas de deux anchor each of the ballets in the mind's eye.
Created in the lead-up to the London Olympic Games of 2012, Bintley's Faster is a whirlwind of dances shaped by running, gymnastics, synchronised swimming, fencing, and basketball, with a rollicking, multifaceted score by Matthew Hindson. It is also a traditionally English festive work, sometimes cute, sometimes slightly camp. One scene is tense, reflecting the fear of injury, the pain of failure, and the inability to console. A dramatic pas de deux exquisitely explores these deeper feelings with the finesse of a Verdi duet.
For all its entertainment value, Faster is a monster of detail, at times a Chinese puzzle of folding pathways that is a nightmare to lock down. Sustaining the dancing to hammer-drill noises booming from the pit, while the brass challenge the rest of the band for outrageousness, is no mean feat. Outstanding performances from principals Chengwu Guo, Andrew Killian, and Ako Kondo, soloist Dana Stephensen, coryphée Jill Ogai, and promising corps de ballet artists Nathan Brook and Richard House made it hard to differentiate their ranking.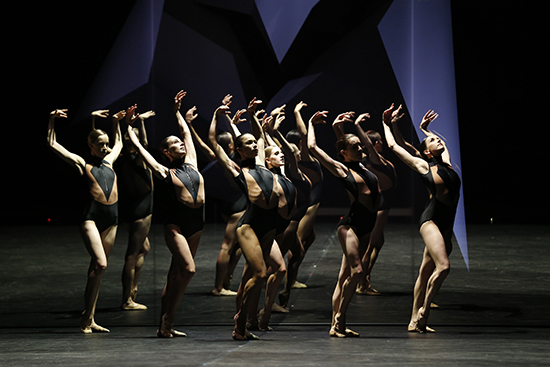 Artists of The Australian Ballet perform Squander and Glory (photograph by Jeff Busby)
Harbour's Squander and Glory is a darker work, influenced by French philosopher Georges Bataille's The Accursed Share: An essay on general economy (1949), in which Bataille proposes that the 'excess energy' generated in life and industry 'must be spent, without profit; it must be spent, willingly or not, gloriously or catastrophically'. In the season's program, Harbour takes up this point as a metaphor for the many hours and copious energy he invests in his ballet, all of which dissipates after each performance. And what a handsome work it is, on a stage doubled by a mirrored backcloth, and a tall sculpture that changes colour as emotional, choreographic, and atmospheric temperatures rise and fall. Revealing the audience on the backcloth, a favourite of some contemporary opera directors, introduces a moment of surprise and inclusion in what appears to swell into a monumental event before our eyes.
Monumentalism dominates the ballet's score: Weather One, by American composer Michael Gordon, a founder and artistic director of one of the world's most eclectic, experimental, contemporary-classical ensembles. As Nicolette Fraillon, The Australian Ballet's music director and chief conductor, explains in her program note, Gordon has created 'an almost baroque, concerto grosso feel', but it is unambiguously contemporary, using only the orchestral strings to create weather noises. Inexorable clusters and riffs climb into ziggurats of sound that overwhelm the senses; exhilarating and cascading accumulations make the sound feel meaty. Then at its most tender moments, the sound becomes intimate, though the music is forcefully amplified.
Harbour's choreography has traditionally featured clusters, accumulations, and rapid twists and reversals of direction, so Squander and Glory is tuned into the full range of Gordon's ideas, though music and dance only came together in the final compilation of the elements. Brilliant performances are essential here, and there were plenty across the ranks from Vivienne Wong and Kevin Jackson, Leanne Stojmenov, Brett Chynoweth, Alice Topp, and Marcus Morelli.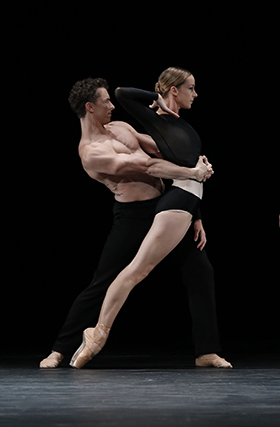 Kevin Jackson and Alice Topp perform Infra (photograph by Jeff Busby)McGregor's sombre ballet Infra (2008), is a far cry from Bintley's sunny games. Made after the London bombings of 2007, Infra delves beneath the surfaces of faces and cities to see what they hide. Meanwhile, a video of people constantly walking overground plays on a black wall illustrated by artist Julian Opie. McGregor's fifth and most openly lyrical work for the Royal Ballet, Infra is made up of distinctive portraits – from dazzling and confident to reflective and broken-hearted. The line-up of principals including Adam Bull, Robyn Hendricks, Amy Harris, Guo, and Jackson, along with ascending talents, Alice Topp, Francois-Eloi Lavignac, and Christopher Rogers-Wilson, delivered a poignant performance that will live long in the mind.
Max Richter's orchestral soundscape is more filmic and rhythmical than a choreographic driver, sitting under the ballet, marking its own routine and habit. At the first matinée, the weaknesses in the score showed up how strong each dancer has to be to sustain the audience's interest. The second cast lacked the first's exemplary expression, but there were some deeply rewarding moments from Jake Mangakahia, Cristiano Martino, Kondo, Chynoweth and Rogers-Wilson.
Faster, presented by The Australian Ballet, continues until 27 March at the State Theatre, Arts Centre Melbourne, then moves to the Joan Sutherland Theatre, Sydney Opera House, 7 –27 March. Performances attended: 17 and 18 March 2017.
ABR Arts is generously supported by The Ian Potter Foundation.