Theatre
Wot? No Fish!!, Portraits in Motion, and Richard III (2017 Adelaide Festival)
Along with the spectacular offerings at this year's Adelaide Festival, there are a number of small-scale, one-person shows which, in their concentration on the essence of theatre – what Eric Bentley describes as 'A impersonates B while C looks on' – can, perhaps, engage the audience's imagination even more powerfully.
Foremost among these is Danny Bravermann's touching, gently humorous, and captivating Wot? No Fish!! (★★★★★) which presents the tale of his great-uncle's astonishing collection of lost art: dozens and dozens of sketches and cartoons, drawn on pay packets during his working life as a shoemaker in the East End. I saw this show previously at the Sydney Festival and was determined to catch it again, just to be reminded of how authenticity and (only seeming) artlessness can, through a brilliant performer, present theatre which charms, moves, and, yes, inspires.
In essence, and along with all its other qualities, this show is a master class in how to combine the performer's two basic tasks: storyteller and actor. At the outset, we wonder when and how the piece will get under way, as Bravermann chats to the audience about the difference between boiled and fried fishballs, and then hands round containers of them for the audience to sample. Watching it a second time, I marvelled again at the deftness of his transition from getting the audience in tune with his persona to drawing them into the stories that arise from the showing of images on the pay packets, projected onto a large screen.
And what stories: from the hilarious images from the early years of his uncle's and aunt's marriage; through the deeply moving account of one of their son's long internment in a mental asylum; to the final, haunting (and really moving, as, for the first time, an image is animated) portrait of them walking up a hill pathway into the distance. Bravermann's deft use of the stage space, his casual occupying of, and shifting between, two basic performance areas, and his careful presentation of pictures from several lives, is something to marvel at only later. At the time, we are just enchanted by the journey.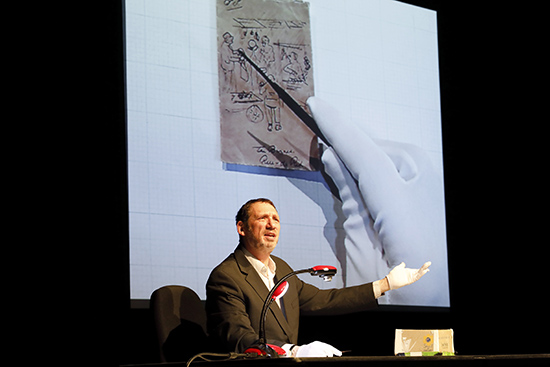 Danny Braverman in Wot? No Fish!! at the 2017 Adelaide Festival
(photograph by Tony Lewis)
Which is also the case with Volker Gerling's equally, apparently unassuming journey through Germany, and his engagement with an array of figures in various landscapes whom he encounters on the way. Since 2002, when he set off on a summer walk from Berlin to Basel, Gerling has been making photographic flipbook portraits of the people he meets. Over the course of the relaxed yet beguiling seventy-five minutes of Portraits in Motion (★★★★ 1/2), he introduces them to us, and to his own accounts of how he persuades his subjects to agree to have their photos taken, and to subsequently join other, previous subjects on the hawker's tray he carries at his waist as he goes from village to town, from canal to bar, offering his travelling exhibition, and expanding it on the way. It is like viewing a theatrical version of, say, Laurie Lee at the time of As I Walked Out One Midsummer's Morning, or tagging along behind one of those nineteenth-century knights of the road.
Once again, Gerling's ability at establishing a persona, and making it both the commentator on, and partner in, the encounters is remarkable. He speaks English throughout – completely fluent and idiomatic, and seemingly off the cuff: actually it's carefully, deftly scripted, without ever appearing so. And as he places the flipbooks under a projector and thumbs through them to give the impression of a monochrome cartoon or silent film – the German word he uses for his collection is actually more direct and droll than the English : it translates as 'thumb-cinema' – the audience starts to believe that they may know the subjects almost as well as he does.
And what subjects, what photos: the beautiful young Swiss girl with freckles and her anxiety about them; a ravishing dual portrait of a mother and daughter; a shot of a man in a hat revisiting a railway track where, decades earlier, as a child, he buried a dead white mouse. In this case, the pre-publicity has it absolutely right: 'art could not be quieter, simpler or more beautiful'.
There is another, essentially one-man show featuring prominently at the Festival: unfortunately, it could be described in none of the terms above. Thomas Ostermeier's Richard III (1/2 star), which naïve theatregoers might think a large-scale play, is here reduced to an over-the-top, one-man turn from Lars Eidinger. Oh, there is a supporting cast of eight, some of whom double, and a drummer, who brought noise levels in the theatre to new heights of pain and suffering.
Ostermeier is on record as declaring that he 'finds this play to be more about the power of language than [Richard's] cruelty or physical violence.' Hard to equate this with one of the more non-iambic textual moments of the performance. When it popped up on the surtitle screen, I must confess I did spend a second scrolling through my own recollection of quotes from the play before deciding it had to be an add-on – like the drummer, the proudly displayed, artificial, strap-on hump, the head gear, the neck brace, the clown club foot, the downstage peeing in the audience's general direction, the mike strung from the flies and used for all the monologues, emphasising Richard's links to (what else?) full-on rappers.
Those of a gentle and Shakespearian disposition should read no further: from memory, the lines run: 'You look like shit. Have you eaten any pussy today?' And, of course, the audience was invited to join in. I think that's called appealing to the groundlings.
Wot? No Fish!! ran from 3–7 March at the AC Arts Main Theatre. Portraits in Motion continues until 19 March 2017 at the Radford Auditorium, Art Gallery of South Australia. Richard III ran from 3–9 March at Her Majesty's Theatre.
ABR Arts is generously supported by The Ian Potter Foundation.