Opera
La Bohème (Opera Australia) ★★★1/2
The real test of an opera singer is how they sound in an opera theatre. The bane of 'legitimate' opera singers' lives are singers on television talent shows, many of whom describe themselves as 'opera singers'. They sing the occasional opera aria, frequently transposed into a more comfortable vocal register, but they have never come within cooee of an opera stage. The ultimate operatic test is to stand on stage, a large orchestra in the pit in front of one, and confront the demons. Without any amplification, is the voice going to project over this 'wall' of sound? Those moments just before an entrance, when suddenly the mind seems blank, pulse racing, dry throat constricted, are faced by every singer early in their careers.
The traditional path to a substantial operatic career has changed radically. In earlier generations, most singers after finishing their training would join an opera company, singing small roles and covering larger ones. A sympathetic management would nurture these young voices, only casting them in roles when ready to face the challenges. Gradually, the most talented of these young singers moved on to more challenging roles, and then onto bigger and more highly profiled theatres.
This has changed completely for most young singers today. Even in the state-subsidised German-language opera houses – a traditional training ground – full-time ensembles of principal singers are rapidly being curtailed or even disappearing. Most young singers with an opera career in mind have to find performance opportunities and effectively manage their own career development, hoping to develop essential skills.
Greta Bradman, who has just made her operatic début, typifies this 'new' singer. The thirty-five-year-old Adelaide-born soprano has not followed a traditional path, but has constructed a varied performing career, which finally led to her singing Mimì in Gale Edwards' highly successful production of Puccini's La Bohème with Opera Australia in the Sydney Opera House. It doesn't get more 'big time' in Australia than that. Described on her website as a 'recitalist, concert and stage performer', not 'opera singer', Bradman epitomises the reality for many singers of her generation, and younger.
So, did Bradman live up to the expectations that her Opera Australia début had engendered? The answer is yes, with some qualifications. She possesses a voice of warmth and evenness, bright, but with a multi-hued range of colours and a secure top register. On her recent CD with Richard Bonynge, there were some questionable choices of repertoire, but the role of Mimì is certainly within her capacity at this stage in her career. That is not to say that the role does not pose major challenges for a relatively inexperienced performer. Mimi has little time to warm up before her first aria ('Mi chimiano Mimì') which contains most of the glories, and pitfalls, of Puccini's magnificent writing for the soprano voice.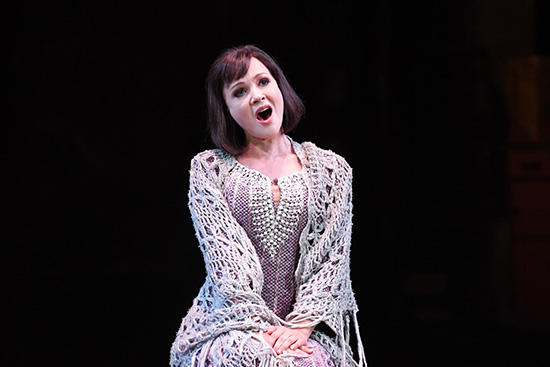 Greta Bradman as Mimì in Opera Australia's La Bohème (photograph by Lindsay Kearney)
Bradman certainly showed excellent breath control and the ability to sustain the typical Puccinian long-breathed phrases. Her attractive vocal colour suits the vulnerability and warmth of the character, but there is, as yet, perhaps not quite the vocal heft and focus to ride the wash of orchestral sound when Puccini, often with strings doubling the vocal line, demands that the singer project over the orchestra to reach the back of the theatre. With consistent singing in this repertoire, this capacity will develop.
Bradman reveals a strongly developed musicality and winning stage presence. There was some very idiomatic phrasing and expressive use of the text, while her soft singing was most impressive. In Act One, she seemed to lack confidence in her voice's capacity to 'bloom' at the top, slightly pushing the tone and allowing the voice to spread. But she was much more at home in Act Three – one of the most 'perfect' in all opera – and her interaction with Rodolfo captured the passion and vulnerability of the character. All in all, a successful début.
Another singer making a role début with the company is Julie Goodwin as Musetta. In 2007, at the age of nineteen, Goodwin was plucked from her training at the Sydney Conservatorium to sing the role of Christine in The Phantom of the Opera starring Anthony Warlow. Since then she has established a burgeoning career in musicals. Switches of this kind from music theatre to opera are happening more frequently. Goodwin displayed well-projected and substantial vocal tone, and created a persona that completely suited the character: her stage experience in musicals was apparent. As with Greta Bradman, a bright future beckons.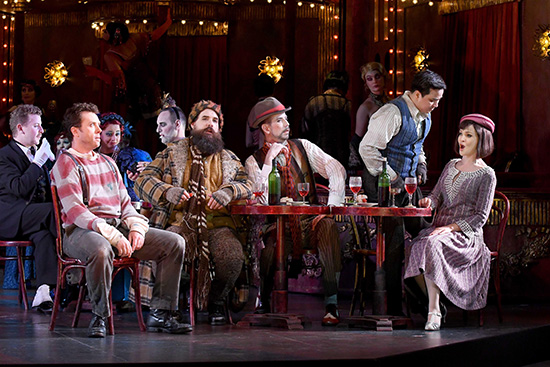 The cast of Opera Australia's La Bohème (photograph by Lindsay Kearney)
Filipino-American tenor Arthur Espiritu, the new Rodolfo, sang his 'Che gelida manina' with assurance and a ringing tone, and was convincing in the interplay with the other characters. Although not big, his voice has a beautiful quality: this was another auspicious company début. The cast was rounded out with some experienced bohemians: Andrew Jones, Shane Lowrencev, and Richard Anderson. The spirited performance was led by conductor Pietro Rizzo, who set some brisk tempi, though here he was not always in full agreement with the singers.
It is always exciting when young singers take important steps in their careers, and Friday's performance was just such an occasion. With luck and a fair wind behind them, we should be hearing a lot more from these singers.
La Bohème (Opera Australia) continues at the Joan Sutherland Theatre, Sydney Opera House, until 24 March 2017. Performance attended: 25 February 2017
ABR Arts is generously supported by The Ian Potter Foundation.