Unlike Martin Scorsese's previous forays into the subject of spiritual faith, The Last Temptation of Christ (1988) and Kundun (1997) – both of which used intense, almost delirious musical compositions to evoke a sense of religious fervour – his new film has no score at all. An adaptation of Shūsaku Endō's 1966 novel Silence, it opens on the intensifying sounds of nature, the buzzing of gnats or crickets, abruptly cut off by a hefty silence. Or is it the silence of the void? This question haunts the two Portuguese Jesuit priests, Rodrigues (Andrew Garfield) and Garupe (Adam Driver), who have been sent to mid-seventeenth-century Japan to stoke the dying embers of a Christianity under merciless attack by local authorities.
They have also come to discover the whereabouts of their mentor and apparent apostate, Father Ferreira (Liam Neeson). The idea that their most revered spiritual leader would publicly renounce his religion is abhorrent to these two firebrands, and the determination to clear his name seems folded into their missionary zeal. When they arrive on the shores of Japan, guided by a rather unsavoury-looking young man by the name of Kichijiro (Yôsuke Kubozuka), they find no trace of Ferreira, but plenty of evidence of brutal oppression.
The local Christians are living on the outskirts of their humanity; nourished virtually by their faith alone, they scurry from safe house to safe house, afraid of being captured but desperate for the salvation the two new priests embody. They seem to have only a rudimentary grasp of their religion, mispronouncing key terms and confusing key concepts. It is initially something that troubles Garupe more than Rodrigues, but it will eventually open veins of doubt in both men, and play a role in the explication of Father Ferreira's downfall.
These early scenes – as Rodrigues and Garupe cower in a tiny wooden shack in the mountains and the local villagers scamper up to receive their benediction – are incredibly moving; there is a kind of nobility to the furtiveness, and the risks they are all taking is palpable. The terror and the determination are depicted as different sides of the same coin, and the result is a sharp and highly convincing representation of religious belief. Scorsese's ability to hold conflicting ideas in play, to tease out the paradox of faith and doubt, gives the film its particular psychological tension and also means the villains, when they come, are rendered with nuance and depth.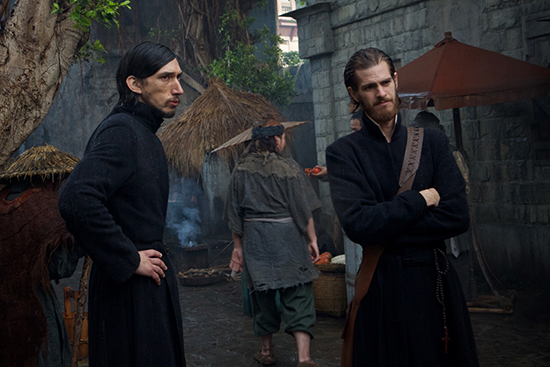 Adam Driver as Garupe and Andrew Garfield as Rodrigues in Silence
(Transmission Films)
When Rodrigues and Garupe split up, in the hope of finding word of Ferreira as much as widening their missionary scope, the film opens out both visually and intellectually. Garfield's luscious hair gives him a distinctly Christ-like profile, and for a while it looks like the film itself might become merely ecclesiastic or doctrinaire. But any suggestion that Scorsese might be trying to 'memorise another Golgotha', to luxuriate in the gory imagery of the Passion in the way Mel Gibson would, is eventually displaced; the Japanese authorities reveal a deep knowledge of Christian thought, and the arrogance of a culture attempting to exert its beliefs in a foreign land begins to trouble the viewer.
Nothing is simple in Silence; conflicting ideologies are given equal weight, and the supplicating devices of resolution and catharsis are constantly withheld. Even the act of apostasy itself is treated with ambivalence: the Inquisitor (Issei Ogata) merely requires his prisoners to step on a tile depicting a Christian scene in order to satisfy the government. 'It is only a formality,' he coos. But it is impossible to see this act as anything other than a momentous betrayal, not just of one's personal belief but of one's fellow believers. Only the debased and denatured Kichijiro manages to consistently apostatise before crawling back to Rodrigues for absolution, and he is depicted as utterly lost, the fly in the frankincense.
Of all the fascinating relationships Rodrigues endures throughout the film – from the growing unease with Garupe, through the taut and delicate negotiations with the Inquisitor, to the eventual reunion with the compromised Ferreira – it is this niggling and distasteful Judas figure that comes to define the man. Kubozuka is outstanding as the doe-eyed humiliation, in a film of superb performances. Driver is brilliantly pained as the fellow priest, and Ogata is extraordinary as the prim, deadly torturer. Neeson brings a weary sense of loss to the great carapace that is Ferreira. But it is Garfield who has to incorporate all these encounters into his character. He is at turns appalled, delirious, wrenched, and noble; it seems perverse that the awards buzz has been for his work in Gibson's Hacksaw Ridge and not for the profoundly supple and moving performance he delivers here.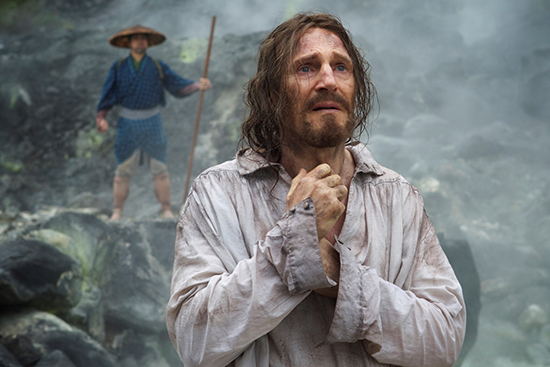 Liam Neeson as Father Ferreira in Silence (Transmission Films)
No one other than Martin Scorsese could have brought this film to fruition. Endō's sparse and deeply felt novel needed a fellow believer, certainly, but one alive to the despair and doubt that lurks in the heart of all religion. As far from born-again revivalism as can be imagined, the film is instead a troubling and uncompromising masterpiece. It is long, serious and repetitive, which may explain the Oscar snubs, but it is also achingly beautiful and compassionate. Scorsese's tendency to dazzling cinematic technique is underplayed (the Rococo excess of production designer Dante Ferretti dialled way down), and the insistence of his vision almost muted. It leaves more room for nature and silence.
Silence, 165 mins, directed by Martin Scorsese. Adapted from Silence (1966), by Shūsaku Endō. Distributed in Australia by Transmission Films. In cinemas from 16 February 2017.
ABR Arts is generously supported by The Ian Potter Foundation.