Music
Shakespeare: The Complete Works (Decca)
It was a job worthy of William himself: not only the ambitious scale of the project, but the speed with which it was completed. In just seven years, between 1958 and 1964, Argo Records, with the Marlowe Dramatic Society, released the complete works of Shakespeare in forty box-set LPs, unabridged and fully dramatised with a cast of hundreds.
This remarkable venture was led by George Rylands (1902–99), a fellow of King's College, Cambridge, and for many years the head of the Marlowe Dramatic Society, a university theatre club. Known among his Bloomsbury friends as 'Dadie', Rylands was a leading Shakespeare scholar and a more than capable project administrator. When the British Council first floated the idea of creating unabridged recordings of Shakespeare, it was Rylands who insisted that a complete set should be released in time for the quatercentenary of Shakespeare's birth. And he saw it through, ahead of schedule and under budget.
Rylands was an excellent personnel manager. Who knows? If it hadn't been for his love of the stage and his devotion to Shakespeare, he might have fallen into the espionage racket, as did others of his cohort. (Donald Beaves, an English don who plays Falstaff in the Argo recordings of Henry IV 1 & 2 was publicly named as a member of the Cambridge Five, though it turned out he was merely flamboyant.)
All the same, Rylands and the Society were working to promote the cause of Empire. The British Council wanted an educational resource for foreign students of English and of Shakespeare, particularly in the United States and the Dominions. Rylands had plenty of experience with these sorts of government-directed cultural activities. In 1948 he took productions of Measure for Measure and Webster's The White Devil to Berlin as part of the Foreign Office's hurried response to the historic Red Army Choir tour.
Perhaps this is why he went to such pains, knowing that the recordings could only be of lasting value if they were also works of art, capable of educating and also inspiring. Some of them are still among the best of their kind, such as the recording of Much Ado about Nothing (1962), with John Gielgud and Peggy Ashcroft. The two stars had done the play in 1950 and again in 1952 and 1955, to much acclaim, and here their voices sparkle with the silvery echo of all that applause. Ashcroft also plays Kate in The Taming of the Shrew (1963), which is as good an unabridged recording as you could wish to find.
Rylands had a connection with the Royal Shakespeare Company through Society alumnus Peter Hall. He filled many of the leading roles with RSC regulars like Dorothy Tutin, Tony Church, Irene Worth, Patrick Wyemark, Wendy Gifford, Michael Hordern, and Ian Holm. They are, across the board, more than competent. The ethos of these recordings is not to dazzle with novel interpretations or charismatic idiosyncrasies, but to highlight the fine modelling of the verse with as much naturalness as possible.
By the early 1960s there was competition. American audiobook specialist Caedmon was creating its own series of unabridged Shakespeare recordings with much starrier casts. Today, some of these Argo recordings can seem a bit underpowered by comparison. Tony Church, for instance, was a good man to swell a progress – his Polonius at the RSC was highly praised – but he doesn't have the voice of a natural Othello or Macbeth or Shylock.
And yet these recordings are never supernumerary. Each one has its surprises and advantages. Compare the Caedmon and the Argo recordings of Twelfth Night, both released in 1961. Caedmon has a glittering cast, with Siobhan McKenna and Vanessa Redgrave as Viola and Olivia, and Paul Scofield as Malvolio. Argo's leads are less bright, but we do get Peter Pears, the renowned tenor and muse of Benjamin Britten, as Feste the musical fool touched by a melancholy God. And the young Prunella Scales, Sybil Fawlty herself, turns out to be ideal casting as Maria the chambermaid. It is also good fun in these recordings to hear those who will go on to bigger things. Derek Jacobi's voice, even when he was a stripling undergraduate, is all honey. There is Corin Redgrave, Clive Swift, and Trevor Nunn, current artistic director of the Theatre Royal Haymarket. Jacobi's Cambridge chum Ian McKellen pops up in a handful of smaller roles.
Decca has now released the complete set of Argo recordings as a set of 100 CDs. It is a large but elegant package, with clean, minimalist presentation. The striking illustrations produced by Arthur Wragg for the original covers have been retained. There is also a booklet combining the useful liner notes. But it was a serious oversight not to include access to MP3s with the set. It simply creates extra work for the large proportion of listeners who prefer to enjoy these recordings on their iPod or mobile phone or whatever. The only other major complaint is that this set does not include the four re-recordings made with new casts in the early 1970s, including Richard Johnson as Othello, Janet Suzman as Rosalind, Ian Holm as Julius Caesar, and Richard Pasco as Richard II.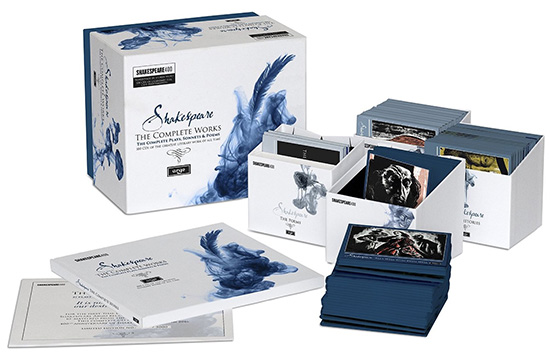 Still, the Argo collection will fascinate anyone interested in spoken word recordings, and is a necessary item for universities and high schools; no other complete set of Shakespeare recordings is so consistent or so attentive to effective verse speaking.
Shakespeare: The Complete Works (Decca). 100 CD-set. International release: 29 July 2016, 254783506

ABR Arts is generously supported by The Ian Potter Foundation.