Theatre
The Testament of Mary (Sydney Theatre Company) ★★★★1/2
The opening scene of the The Testament of Mary sets the tone of this excellent production and dramatises brilliantly Colm Tóibín's radical reassessment of Mary as the Mother of God. Elizabeth Gadsby's dark marble set, bordered by a red velvet rope, holds one empty chair, one empty cardboard box. Two stairs lead to a tall, seemingly solid marble arch. A sepulchre? No. When the lights come up, the richly robed Blessed Virgin is revealed in all her iconography – votive candles, golden halo, suckling breast, cradled lamb – standing rigid in her niche. She steps down from her pedestal, discards her regal dress. She casts off her pulsing heart and rigid breast, throws down the lamb, then peels off the immobile mask of serenity. Before us stands Mary, the ageing, grief-stricken mother of a crucified son.
Tóibín's Mary cannot sleep. She is haunted by what she has witnessed, by her loss, her regrets, her personal failures. She now lives in a foreign land, guarded by men who want to transcribe her memories of 'that time', 'that day'; to validate the narrative they are busy constructing. They tell her that she held her son's broken body after he was taken down from the Cross. They inform her about his conception. She knows better. In their absence, she gives voice to her truth.
Alison Whyte delivers an assured and powerful performance of a woman who, in articulating her trauma, recovers and relives strange, shocking, painful memories. Whyte embodies Mary's raw and savage emotions, building to a gripping crescendo as she recounts the chaotic horror as well as the banal realities of that fateful day on Golgotha. She reads her audience well, delivering restorative moments of well-timed humour. Under the astute direction of Imara Savage, rapid, sometimes jolting scene changes operate to unfold key dramatic narrative moments as well as to replicate the sudden disruptive surfacing of traumatic memory. Whyte's Mary emerges from each blackout repositioned both bodily and psychologically.
For eighty minutes Whyte delivers a monologue, but there are subtle conversations established between her story and Max Lyandvert's pitch-perfect musical score and the sound effects that he viscerally imposes on the audience's experience. So too Emma Valente's lighting, from the first flickering candles through muted darkness, occasionally pierced by searing brightness, reflects and responds to Mary's experiences and emotions.
The Testament of Mary was commissioned and first performed for the Dublin Theatre Festival in 2011. The next year Tóibín rewrote the monologue into a novel of the same name. Then, in collaboration with Fiona Shaw and Deborah Warner, he wrote a tighter, more confronting script that was performed on Broadway in 2013, and now here at STC. It works better as a play, and Wharf 1 theatre offers a space with effective acoustics and a necessary intimacy.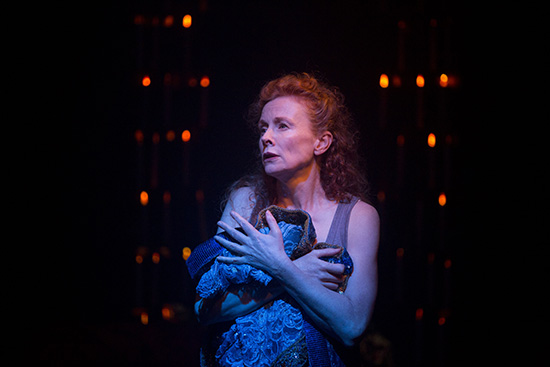 Alison Whyte in The Testament of Mary (Sydney Theatre Company)
In the program, Tóibín explains that the play grew out of his discovery, in E.V. Rieu's translation of the Four Gospels, that John may have read Aeschylus. John was the only gospel writer to place Mary at the foot of the Cross. While visiting Ephesus, Tóibín imagined John in the open-air theatre there. Could John have been inspired by watching 'the enactment of a grieving woman imploring, crying out, and gaining power from her own voice'? For some years Tóibín also wondered about the competing images offered by the luscious transcendence of Titian's Assumption and Tintoretto's 'earthly, all human' Crucifixion. The Mary of his Testament inhabits the space between the two. Beneath her blue cape and blood red dress, she is clothed in a khaki singlet and loose dark trousers.
They were protests outside the Walter Kerr Theatre in 2013. Some viewers here may find the recasting of the Blessed Virgin as a fallible, sexual woman offensive, even blasphemous. But there is much respect, love, and empathy in this play. Tóibín insists that he could not have written it if he had not had a Catholic upbringing in Ireland: 'The play comes from belief.'
It is only after the lights first come up that we realise we are positioned before one of those demarcated spaces of worship within a Catholic cathedral (which quickly becomes Mary's humble Ephesian house). Moments from the conclusion, Whyte sits back in Mary's niche cradling the scarlet robes as her dead son; the dimly lit iconic Madonna has been transformed into a feeling, breathing Pietà.
The Testament of Mary is very much about Tóibín's Mary, but it is also a play about witnessing, memory, and trauma, history and narrative, politics and the way young men across time can so easily be drawn into the thrall of a charismatic spiritual leader, with cataclysmic consequences. Go along if you can. It is good theatre.
The Testament of Mary (Sydney Theatre Company), written by Colm Tóibín and directed by Imara Savage, continues until 25 February 2017 at Wharf 1. Performance attended: 19 January 2017.
ABR Arts is generously supported by The Ian Potter Foundation.