Opera
Götterdämmerung (Opera Australia) ★★★★
After the exaltation of the closing duet in Siegfried (memorably sung by Stefan Vinke and Lise Lindstrom), we had to wait until the second part of the Prologue to Götterdämmerung before meeting the post-coital lovers.
First we had the Norns (Tania Ferris, Jacqueline Dark, Anna-Louise Cole), daughters of Erda, weavers of the rope of fate on which the world's future will depend. Back on the rock, Siegfried and Brünnhilde's exposed mattress was set far back on the large stage. This presented some difficulties for both singers, who seemed understandably tired after their heroics in Siegfried. Early on, Lindstrom evinced signs of strain. Then she simply sang louder, longer, surer – a revival worthy of her character. When Brünnhilde offered Siegfried her horse, Grane ('Zu neuen Taten'), Lindstrom produced a long, ecstatic trill.
Lindstrom, a Californian of German-Norwegian extraction, is fairly new to Australian audiences; last year she was Turandot in Sydney. Like Salome, Puccini's final heroine has been a signature role for Lindstrom since 2003. She has since added Elektra; next year she will tackle the Dyer's Wife in Die Frau ohne Schatten in Hamburg. Lindstrom has sung Brünnhilde once before (Walküre only, in Palermo); this is her first complete Ring. It surely won't be her last. Lindstrom is a revelation: magnificent to behold on stage, with a cutting voice and fearless high notes.
What a shame, then, that this great scene was spoiled by the return of the aimless extras when Siegfried sets off on his journey down the Rhine, intent on performing heroic deeds. During one of the greatest passages in the Ring, the supernumeraries performed a Mexican wave and jarring aerobics. Who were these people? Why were they there? It was an embarrassment.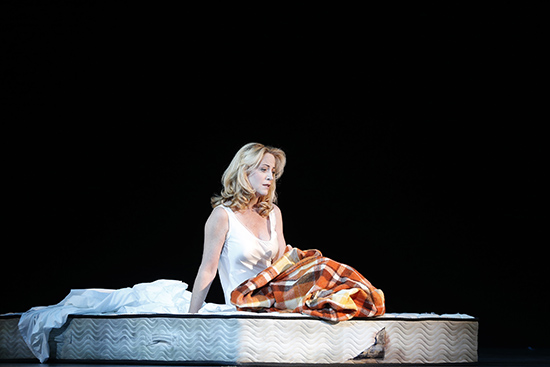 Lise Lindstrom as Brünnhilde in Opera Australia's Götterdämmerung (photograph by Jeff Busby)
Germane here it might be to quote from a fascinating letter Wagner sent to August Röckel during the creation of Götterdämmerung:
I believe that it was a true instinct that led me to guard against an excessive eagerness to make things plain, for I have learned to feel that to make one's intentions too obvious risks impairing a proper understanding of the work in question; in drama – as in any work of art – it is a question of making an impression not by parading one's opinions but by setting forth what is instinctive.
The rest of the opera progressed with the usual elations and longueurs. In the first scene of Act I, the hall of the tribe of Gibichungs had been turned into a private gymnasium with exercise machines and old masters on the back wall. We met Gunther and Gutrune and their half-brother, Hagen, son of Alberich. Then Siegfried made his cocky appearance. There was much to admire in the singing. Taryn Fiebig (a radiant Woodbird in 2013) did not seem utterly comfortable as Gutrune, but Luke Gabbedy was a vocally strong and suitably insipid Gunther, flinching during the blood oath with Siegfried, despite being promised Brünnhilde as his bride.
Sian Pendry was an impassioned Waltraute during her anguished encounter with Brünnhilde, whom she tries futilely to persuade to return to Wotan, now catatonic on his throne in Valhalla, desperate for Brünnhilde's return. After this, Gunther/Siegfried's abduction of Brünnhilde was swiftly effected, with the aid of the Tarnhelm, a scene of considerable menace, not comfortable to watch.
The following acts contain some remarkable and transgressive music, beginning with Hagen's dream scene in which Alberich, creepily played by Warwick Fyfe, appears in his sleep and adjures him to retrieve the Ring. Of the several Hagens Arts Update has heard from Daniel Sumegi (beginning in Adelaide in 1998), this was by far his best, vocally and dramatically.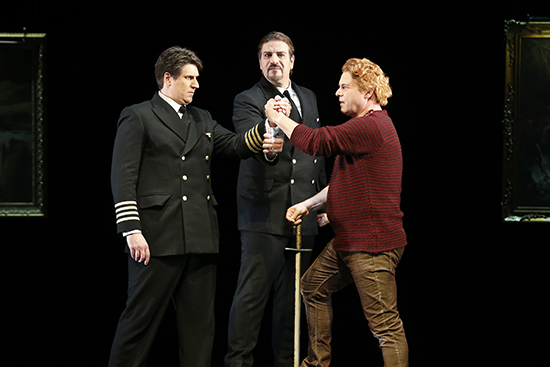 Luke Gabbedy as Gunther, Daniel Sumegi as Hagen, and Stefan Vinke as Siegfried in Opera Australia's Götterdämmerung (photograph by Jeff Busby)
Musically, Wagner begins to do all manner of things he has previously eschewed. The double wedding is set in a white marquee redolent of more weddings than Arts Update likes to recall. As if exhausted (though never destitute), Wagner throws in a magnificent chorus – the very thing he has resisted throughout the Ring. Act II even ends with a thrilling and almost Verdian trio in which Brünnhilde conspires with Gunther and Hagen to destroy Siegfried.
The long scene preceding Siegfried's execution lacked a certain edge, but Stefan Vinke was good throughout. Having a shopping jeep on stage (for the obligatory slabs of beer) seemed de trop; it distracted from the gravitas and sheer monumentality of the Funeral March. Instead of removing Siegfried, Neil Armfield has him unbuttoned and washed before being daubed with white paint and stood upright in ghosted death.
Then it was time for Brünnhilde's slow, charismatic entrance at the back of the stage. Imperiously she silences the mournful Gutrune: 'Wretched woman, peace! / You were never his lawful wife'. After the unfortunate extras have appeared with their tributes, it is Brünnhilde's melancholy duty to expiate the gods' manifold sins and return the Ring to the Rhine. Lise Lindstrom – superb to watch – was in magnificent voice throughout the Immolation, never faltering.
Götterdämmerung, it must be said, is a flawed dramatic work. One thinks of the abrupt efficacy of Gutrune's magic potion and Siegfried's convenient loss of memory. Then there is the suddenness and ferocity of Brünnhilde's vengefulness towards Siegfried when she sees him with Gutrune. Only Verdi – Wagner's great rival and antithesis – could have depicted such Italianate enragement. And then there is the ending. 'Why,' a friend of Wagner's wrote to him, 'since the gold is returned to the Rhine, is it still necessary for the gods to perish?'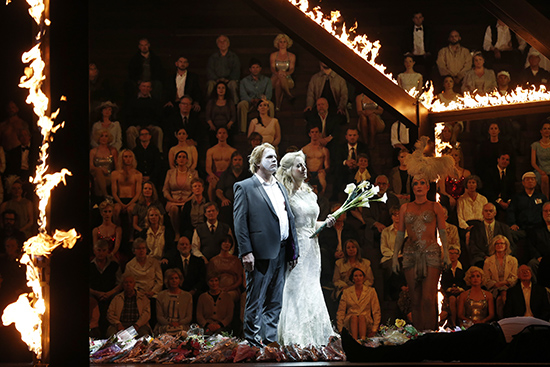 Stefan Vinke as Siegfried and Lise Lindstrom as Brünnhilde in Opera Australia's Götterdämmerung (photograph by Jeff Busby)
Charles Osborne, while acknowledging these extravagances and the mediocrity of Wagner's poem, writes:
Considered as an old Norse saga of gods, heroes, dwarfs, dragons and giants, reworked by Wagner into frequently bad and repetitive verse. The Ring is obviously a flawed and unsatisfactory affair. However, its power to move an audience lies elsewhere: in the uncanny ability of Wagner's music to bypass its listeners' intellectual and aesthetic responses, communicating directly within the deepest recesses of the psyche. The naïve absurdities of its plot and the antiquated trappings of the old saga all fade into insignificance before the emotive force of Wagner's music.
Nietzsche, as only Nietzsche could, put it even more eloquently: '[Wagner] knows of a chord which expresses those secret and weird midnight hours of the soul when cause and effect seem to have fallen asunder and at every moment something may spring out of nonentity ...'
Nonentity, for a week, in this demoralised and meretricious age of plutocrats and Trumps, was emphatically overcome.
At the end of this first cycle there was a long and enthusiastic ovation, especially for Lise Lindstrom, who looked rightly elated. Word of this performance, and of the Ring in general, should travel far, and audiences for the two remaining cycles will doubtless grow.
For many – especially those new to the Ring and keen for bright effects in the theatre – this has been a transformative experience. For Arts Update, it was notable for the excellence of the singing. How refreshing to attend a Ring without a single dud individual performance. Four of the main roles – Brünnhilde, Sieglinde, Alberich, Siegfried – were sung about as well as we mortals have a right to expect. Even James Johnson, an under-powered Wotan in the first two operas, was impressive in Siegfried, helped by the Wanderer's rather different music and tessitura.
Neil Armfield's production, though detailed and attentive, remains problematic, largely because of the absence of any identifiable concept running through the tetralogy. The first and last operas were marred by the pointless introduction and hapless deployment of those otiose supernumeraries. Instead of the clutter at the end of Götterdämmerung, imagine Lindstrom and Vinke alone on a bare stage, sans Lady Di's floral tributes.
Orchestrally, this was a fine Ring, with bright, unflagging playing from the Melbourne Ring Orchestra. Pietari Inkinen, though a busy conductor, lacks the qualities of a great Wagner interpreter. When it mattered most, music of great profundity passed by without the requisite emotional heft or reverberation. The Funeral March was just one example: it merely sounded loud and monochromatic.
Let us hope that Opera Australia – with support from government and patrons – is able to mount a new Ring in the future. Clearly, there is a committed Wagner audience in Melbourne. Rarely has Arts Update been part of such a silent, respectful, avid and ultimately demonstrative Ring audience. (Amber Wagner remarked on this during an interview I recorded with her for the ABR podcast) Melbourne struggles to attain a true 'festival atmosphere' each October, but the Ring – this transcendent, perverse creation a quarter of a century in the making– generated this 'festival' tonic this week. Economists should exult, not just Wagnerites.
Brünnhilde, after such a night, deserves to have the final word. Lise Lindstrom, profiled in the November 2016 edition of Opera magazine, mounted this defence of opera's appeal and demands:
I'm really quite tired of dumbing down opera in order to cater to a lower common denominator public ... What makes opera so spectacular is the fact that it's a specific art form that incorporates so many other art forms, and it's intellectual, it's interesting, it's engaging. The idea of making it less challenging for the audience I think robs the form of its intrinsic value, and is insulting to the audience in the end as well. And certainly insulting to the art form and the singers, because it's so glorious. It is over the top, it is beyond comprehension in lots of ways, and it should be.
Götterdämmerung, by Richard Wagner, is directed by Neil Armfield and presented by Opera Australia. It will be repeated on 7 and 16 December during the second and third cycles of Der Ring des Nibelungen, in the State Theatre, Arts Centre Melbourne. Performance attended: 28 November 2016.
ABC FM is broadcasting the second cycle: next up is Die Walküre on Friday, 1 December.
Arts Update is generously supported by The Ian Potter Foundation.