Desdemona's plangent, soaring phrase at the end of the 'Willow Song' in Verdi's penultimate opera, Otello, has been described as the last despairing cry of the bel canto. After many years of relentless tragedies, Verdi's final opera, Falstaff, would be a bubbling and effervescent comedy – only his second in his illustrious career. Yet it is autumnal work as well. The great actress Eleanor Duse, mistress of Verdi's librettist Arrigo Boito, observed: com' è triste la tua commedia ('how sad your comedy is') with its melancholy tinge and profound sense of the end of an era. Puccini and the verismo composers were looming large and they would take Italian opera in a new direction which would end with Puccini's unfinished Turandot in 1924.
A similar claim might possibly be made for the final scene in Jules Massenet's comédie héroïque, Don Quichotte. Sancho Panza's brief Act V arioso: 'Ô mon maître, ô mon grand!' ('O my master, o my great!'), is a moving farewell to the age of chivalry, but might also be seen as a farewell to French Romantic opera. Rather than the soaring tones of a soprano or tenor, it has the rich, dark warmth of the bass voice. There is a parallel with Verdi's scene in Otello in that the introduction to the scene is sounded in the low strings, which creates a gloomy and foreboding atmosphere.
By 1908, Massenet was the eminent father-figure of French opera. Many considered his musical style somewhat outdated, but he still enjoyed great respect and popularity, with few failures along the way. Yet in 1909, his new work, Bacchus, was an unexpected flop. This saddened Massenet as he neared the end of his career. Ill as he was, in some ways it colours Don Quichotte. Perhaps he saw something of himself in the title figure.
Of course, Cervantes's immortal novel of 1615 is one of the pillars of European art and has been adapted countless times into a variety of genres. The theatrical adaptation, Le chevalier de la longue figure (The Knight of the Long Face), was written by poet and shoemaker Jacques Le Lorrain in 1906. A curious figure whose story itself has operatic overtones, Le Lorrain had dreamed of success as a poet when he came to Paris, but turned to shoemaking as a means to an end – shades of Hans Sachs! By all accounts, the playwright identified strongly with the character of Quichotte, whose foolhardiness has a touch of nobility. When his play was finally accepted for production in 1904, he was lying dangerously ill in the Midi. Ignoring his doctor, he journeyed to Paris, fell into a coma but managed to force himself out of bed and to the theatre. He saw the performance and died a few days later. Raoul Gunsbourg, general director of the de Monte Carlo, attended the performance and commissioned Massenet to create an opera based on the play, to be performed at Gunsbourg's opera house in 1910.
Musically, the opera looks backwards rather than ahead. It is staggering to think that Strauss's Elektra was premièred the year before. Verdi liked to talk about his operas as each having a distinctive tinta – a dominant tonal colour mainly provided by the orchestra, but also created by his choice of particular voices and their vocal ranges and timbres. Don Quichotte is dominated by the dark bass voices of the Don and Sancho, but also by a particularly light orchestral texture that is both transparent and warm – an Italianate chiaroscuro.
The opera is unusual in that Massenet's overall predilection for the soprano voice gives way to a mezzo. Thus the three principals all have lower voices. La Belle Dulcinée is an earthy character, unlike Cervantes's Dulcinea, who is a figment of the Don's imagination. There are strong 'Spanish' elements in her music, with much use of typical rhythmic devices and guitar-like accompaniment. Debussy saw in Massenet an 'untiring curiosity in seeking in music the data for the history of the feminine soul … The harmonies are like enlacing arms, the melodies are the necks we kiss; we gaze into the women's eyes to learn at any cost what lies behind.' Dulcinée is one of Massenet's most vivid female characterisations.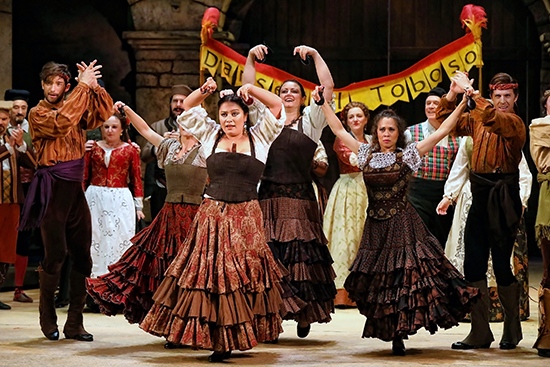 The brief final scene is one of the most noble and moving in all late romantic opera, introduced by an orchestral interlude dominated by a beautiful cello solo. This scene could so easily descend into sentimentality and mawkishness, but the simplicity, craft, and warmth of Massenet's music capture perfectly the nobility of both these characters. It is almost a parodic upending of the final scene from so many operas where the dying soprano lies in the arms of the tenor. Here, Quichotte lies in the arms of the ever-faithful and noble Panza; the interweaving of the two bass voices provides a majesty and grandeur supplemented in the final moments by the rich off-stage mezzo of Dulcinée.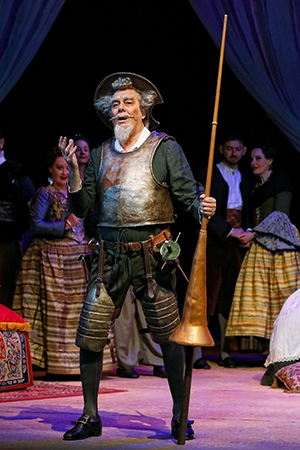 It is a treat for opera audiences to have a chance to see this rarely performed work. Like a production of Hamlet where one might not consider staging the play before securing an actor for the title role, so too with this opera. One needs a singer of both vocal authority as well as theatrical charisma; Massenet certainly had it in his Don – the great Russian bass Fyodor Chaliapin. This production has Ferruccio Furlanetto – long one of the most celebrated and beloved basses in contemporary opera, who has ranged widely from Verdi to Mussorgsky and many others. Furlanetto, who was indisposed on opening night (replaced by Shane Lowrencev), captures the nobility of the character with his rich and expressive voice and striking physical presence, perfectly suited to the requirements of the role. The final moments of the opera were profoundly moving as he, for the last time, invokes the image of Dulcinée who is 'la lumière, l'amour, la jeunesse' (the light, the love, the youth) of his life. The voice possesses reserves of power and vocal freshness that defy Furlanetto's more than forty-year career; his vocal incarnation of the dying knight was superb. A great singing actor.
Of course, the Don is nothing without his Sancho Panza, here sung by Warwick Fyfe in one of the finest of his many performances for Opera Australia. From Alberich to Sancho seems a vast chasm, but Fyfe's versatility is on full display. Fully in control of the many textual felicities of the French language, he brings a warm and incisive vocal tone to this musically and dramatically rewarding character. It is a buffo role, but also has several moments of warm lyricism in which Fyfe reveals the full beauty of his voice. Elena Maximova has all the earthy vocal opulence required for Dulcinée – very much a flesh-and-blood figure as opposed to Quichotte's ideal vision. Much of her music has a Spanish rhythmic bite, but her burnished tone provides poignantly lyrical moments of empathy for Quichotte and draws much sympathy from the audience for the mercurial, but ultimately warm-hearted character.
The opera is very much a three-hander, but there were vivid vocal and physical characterisations from Graeme Macfarlane, John Longmuir, Jane Ede, and Anna Dowsley, Dulcinée's quartet of admirers. The Opera Australia chorus provided both a striking physical and vocal background to the action – they are one of the central glories of the company – and the relatively small number on stage created a remarkably full and vivid sound. Hugh Halliday has directed this revival of the 2009 San Diego Opera production with highly functional sets by Ralph Funicello and costumes by Missy West. It is an unfussy, visually engaging, and dramatically coherent staging; the windmill scene in particular is entrancing. The extensive and highly effective dance scenes are vividly choreographed by Tomás Dietz. Conductor Guillaume Tourniaire, always a welcome visitor to these shores, brought out all the orchestral fire in the score while providing plangent orchestral tone underpinning the sweetness and pathos of much of the vocal writing.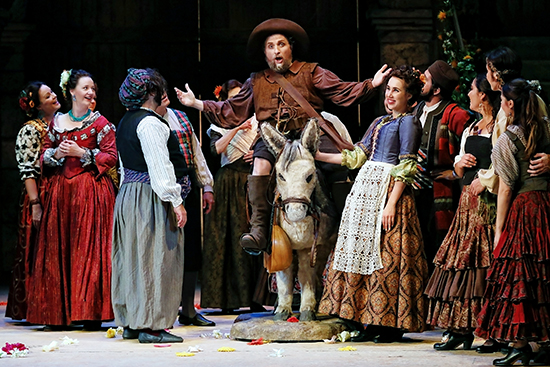 Don Quichotte, though not a neglected masterpiece, is certainly work that deserves to be heard when the right constellation of singers is aligned. It provides a most enjoyable and often deeply moving couple of hours in the theatre, and has the musical and dramatic power to bring a furtive tear to the most cynical eye at the end.
Don Quichotte (Opera Australia) will be performed at the Joan Sutherland Theatre, Sydney Opera House until 28 March, 2018. Performance attended: 19 March.
ABR Arts is generously supported by The Ian Potter Foundation and the ABR Patrons.