Whereas the miniseries, most often based on revered literary texts, has been a staple of British television for fifty years, I could count on the fingers of a dismembered hand its Australian counterparts. In fact, the miniseries in general, as distinct from serials that run for a longer or shorter period, seems never to have been as common here, though The Dismissal (1983) remains an Australian small-screen highlight. (As for those derived from novels, the count is even sparser.)
However, last year delivered the goods in Rake, and2011 may just be about to lift the miniseries score significantly: we have had the excellent Paper Giants, ostensibly about the founding of Cleo magazine, but in fact an incisive study of changing cultural mores; we are promised a lavishly cast version of Christos Tsiolkas's The Slap; and now comes Cloudstreet. For my money, this may be the most adventurous miniseries ever made here.
Since it was published in 1995, Tim Winton's Cloudstreet has rightly won a key, or even the dreaded 'iconic', place in the annals of Australian fiction, including first place in ABR's Favourite Australian Novel poll, in 2010. In its ambition and its scope, Cloudstreet aspires to an epic quality, a tract of time and place put before us for our contemplation, as well as for the more customary novelistic pleasure of emotional involvement. It is also intensely poetic in its insights into how people relate to time and place.
At its heart are two families on their uppers, each with a major accident in its past, each of which will have an offspring that wants to break away from the family cycle. Otherwise, the families have little in common when their fates bring them to live in a rundown house on the Swan River, near to Perth, in the decades after World War II. The house, inherited by the Pickles family and tenanted by the Lambs, assumes a presence in the novel, one that overrides the two disparate lifestyles practised by the families that share its roof – and yard. Further, the narrating voice goes beyond mere omniscient functionality, offering the reader strange and evocative perspectives on the lives of these families – and, indeed, on the very nature of family and of life itself.
So, what is television to make of this? The short answer is, a great deal. For more than a decade there were attempts to film Cloudstreet, from a screenplay by Ella Fontana. Now, in the more expansive format of a six-hour miniseries, Winton himself has worked with Fontana to produce a script that preserves the novel's overall narrative trajectory, while also making something essentially new. Various characters, including some of the children of each family, are reduced to shadowy figures; some events are telescoped in the interests of dramatic impact; the time frame of the novel's twenty years has been reduced to ten, and there is less sense of 'size' as a result. The miniseries concentrates more fixedly on the house, the damaged boy, Fish Lamb, and the parallels, whether for contrast or comparison, between the two fathers, the two children who leave the nest (though 'eyrie', in some ways, evokes it more vividly), and, most poignantly, the two mothers.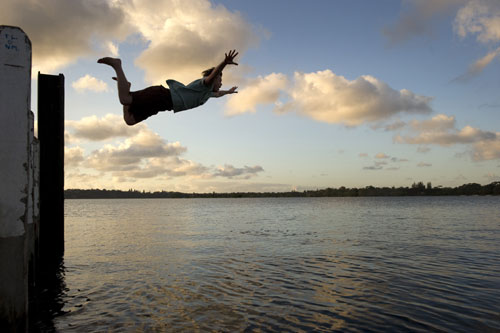 A still from Cloudstreet
This still gives it plenty to work on, and director Matthew Saville, with much notable television and the taut, multi-plotted feature Noise (2007) behind him, and with a slew of gifted collaborators, has made a television event that is both memorable and rare. By 'rare' I mean especially that this is a miniseries in which 'story' isn't everything. Those whose preferred television tipple is Friday Night Crime may find it too reflective for their taste. I don't suggest that it is short of plot: the two families still converge on the house, the slovenly one offset against the more industrious one, though that makes it sound schematic, which it is not; Quick Lamb heads for the outback and Rose Pickles for the city before both return to set up with each other; and so on. What I mean is that here is television quite daringly espousing the poetic, in terms both visual (the house itself in its shabby grandeur) and verbal (Ron Haddrick's voice-over, which inducts us into places beyond what meets the eye).
Without a vestige of sentimentality, the miniseries becomes a study in reconciliation. Rose and Quick, married in the nick of time before their baby is born, unite the unlikely pair of families, and Saville has chosen to end on this note rather than with the book's image of the two mothers together in the garden. The last line is given to the adult whom Fish never fully becomes, but for me the moment that lingers is that in which, at the wedding celebration, the unbending Oriel Lamb (Kerry Fox) takes sluttish Dolly Pickles (Essie Davis) to dance. If this beautiful impulse of reaching out doesn't move you, you may not be a very nice person.
Cloudstreet, directed by Matthew Saville. 110 minutes. Screening from 22 May 2011 on Showcase and Showcase 2.