Opera
Siegfried (Opera Australia) ★★★★1/2
We know that Siegfried – third opera in Der Ring des Nibelungen – had a curious gestation. Wagner put it aside after writing Act II, as if weary of Siegfried's progress: this improbable hero's search for love, fulfilment, individuation. For twelve years Wagner was diverted by love of a metaphysical kind (Tristan und Isolde, 1865) and by a rich comic social panoply, (Die Meistersinger von Nürnberg, 1868). When he resumed work on Siegfried in 1869, he did so with a new urgency and compositional brilliance. Unlike Das Rheingold (1869) and Die Walküre (1870), the opera would not be premièred until the first complete Ring cycle on 16 August 1876, one day before the première of Götterdämmerung. The venue was the Festspielhaus in Bayreuth, Wagner's bespoke theatre, always intended to be temporary – but still there.
As between the first two offerings in the Ring, the dramatic and tonal differences between Walküre and Siegfried are huge. Act I finds Siegfried, illicit child of Siegmund and Sieglinde, being raised by Alberich's mendacious brother Mime, who adopted him following Sieglinde's death and passes himself off as Siegfried's parents (both of them). They live in a dump, incongruously set beneath designer Robert Cousins's high white proscenium arch. Desperately, Mime tries to forge the shattered Nothung while Siegfried romps on his bunk-bed and paints his dragon. Bored, fractious, insolent, he has learned to despise Mime ('I'd rather stay dull and stupid. / I only need / set eyes upon you, to recognise evil / in all that you do'). During one of Siegfried's absences, Wotan – now disguised as the Wanderer – teases Mime and eventually informs him that only one incapable of fear can forge Nothung. Mime sets Siegfried to work and after some of Wagner's most electrifying music, the deed is done and Siegfried on his way.
George Bernard Shaw, in The Perfect Wagnerite (essential reading), writes brilliantly of Siegfried:
The boy Siegfried, having no god to instruct him in the art of unhappiness, inherits none of his father's ill luck, and all his father's hardihood ... the son knows no law but his own humour; detests the ugly dwarf who has nursed him; chafes furiously under his claims for some return for his tender care; and is, in short, a totally unmoral person, a born anarchist, the ideal of Bakoonin [Bakhunin], an anticipation of the 'overman' of Nietzsche.
Act I can be a testing one in the theatre. Postwar directors have felt a reflexive need to strip Siegmund's posthumous son (and Wotan's grandson) of any heroic potential. In doing so they often make him tedious or fatuous – a buffoon in whom we struggle to believe during the poignant meditations of Act II and his enraptured rescue of Brünnhilde (still slumbering on her rock) in Act III. Often, a kind of barking style adopted by Mime begins to grate.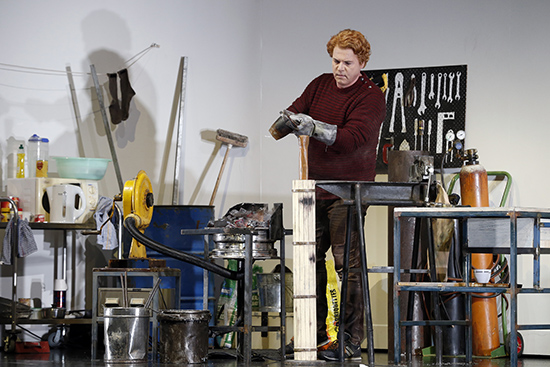 Stefan Vinke as Siegfried in Opera Australia's production of Siegfried (photograph by Jeff Busby)
Things could not have been more different on opening night. Even the most seasoned agnostic would have been impressed by this brilliant first act. Even the soup-making scene, which can be interminable, was amusing as Mime plundered his bar fridge and poured Ratsak into the pot. The physical comedy and interplay between Mime and his charge worked well, thanks to close direction by Neil Armfield and vibrant performances from Graeme Macfarlane (Mime) and Stefan Vinke (Siegfried). Armfield presents this 'Siegfried Bakoonin' as wholly sympathetic and endearing, even when Siegfried goads the old rogue and throws his tantrums. In doing so the director humanises Siegfried.
As for Mime, Macfarlane – who would be droll at a funeral – has made the role his own. Like Graham Clark of the Barenboim era, Macfarlane could be performing the role for years to come, though not perhaps quite as long as the celebrated German Mime Julius Leban, who sang it from the 1880s to 1933.
Vinke, who was good in the 2013 Ring (as he was as Paul in Die Tote Stadt in Sydney one year earlier, a role he considers even harder than Siegfried), was even better this time. Both these singing actors took it fast and furious, but everything went to plan and in the famous Forging Scene – the Schmeltzlied or Schwertlied (Melting or Sword Song) – he gave Lauritz Melchior a run for his money. This was, by a considerable margin, the best act in the Ring to date, and the warm, engrossed Melbourne audience responded with enthusiasm.
Siegfried might be said to be Wagner's hardest role; we have all heard some dreadful botches and Act III surrenders to human frailty. But Vinke was superb all night, heroically so. Nor is he capable only of flamboyant, sustained high notes. Some of his most beautiful singing came in Act II, after he slays the dragon and finally dispatches the loathsome dwarf who has raised him. In 'Das der mein Vater nich ist', music of great lyricism and loneliness, Siegfried tries to imagine what his true father looked like, and yearns for his mother ('Do all mortal mothers / perish / because of their sons?').
The revelation of the night was James Johnson as the Wanderer. Johnson, though acting well and seeming like Wotan, has been recessive vocally. Right from the start on this occasion he sang powerfully, with more volume than we had expected. Wotan as the Wanderer is a more complex character than the patriarch of Das Rheingold and the enforcer of Die Walküre. While composing the opera, Wagner wrote illuminatingly to August Röckel: '[Wotan] rises to the tragic heights of willing his own destruction. This is all we need to learn from the history of mankind: to will what is necessary and to bring it about ourselves. The final creative product of this supreme, self-destructive will is a fearless human being who never ceases to love: Siegfried.'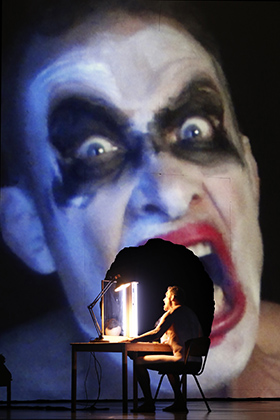 Jud Arthur as Fafner in Opera Australia's production of Siegfried (photograph by Jeff Busby)Act II begins with a final confrontation between Wotan and Alberich (Warwick Fyfe). By the cave in which Fafner (now the dragon) guards the Ring, Wotan warns the Nibelung that a hero approaches who will rescue the gold, and warns Fafner of the youngster's strength and prowess.
The dragon scene is done well. Jud Arthur, as in 2013, is the dragon. Earlier, Act II opened with Fafner naked and making himself up grotesquely in front of a mirror (projected on a screen). The cave itself is merely a hole beneath the ubiquitous proscenium arch. Why waste millions of dollars on a dragon, as they did in Adelaide in 2004 – a folly that ended up giving the finger to the audience and any principles of economy?
Then the Woodbird (sung and acted brilliantly by Julie Lea Goodwin) reappears and tells Siegfried of the 'glorious wife' awaiting him, high on a fell, fire burning round her hall. Siegfried, exultant, sets off to find her.
In 1869 Wagner resumed work on Siegfried with the Act III Prelude, one of his most complex passages to date, with an extraordinary richness of interplay between the many motifs we have learned to recognise (and virtually hum in our sleep by now). For some, the Prelude is one of the finest passages in the Ring (there are some excellent performances on record, none better than Karajan's with the Berlin Philharmonic Orchestra?). Wotan (sung memorably by Hans Hotter in the Solti/VPO recording), awakens Erda ('Ewiges Weib!') in search of knowledge.
As in Das Rheingold, Liane Keegan sings beautifully as Erda, who knows how all things were, how all things are, and how all things will be. Small though this role is, Erda is one of Wagner's pivotal creations. Her mind clouded by the deeds of men, Erda functions as the conscience of the Ring. To music of immense grandeur, she tells Wotan: 'My sleep is dreaming, / my dreaming brooding, / my brooding the exercise of knowledge', then denounces him and returns to her world-weary sleep.
Follows a short and remarkable scene in which the Wanderer tries to bar Siegfried's path. Siegfried, impatient with the bitter old man, will have none of it and breaks Wotan's spear with his sword. The power of the gods is at an end, and Wotan disappears forever.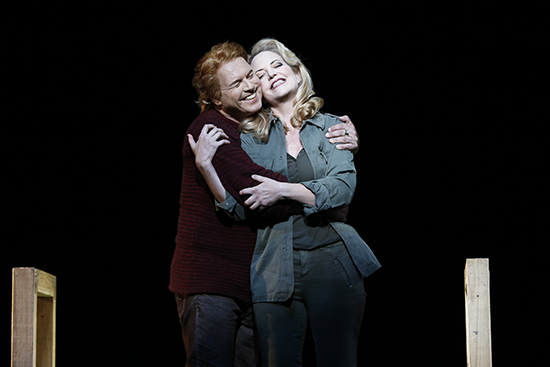 Stefan Vinke as Siegfried and Lise Lindstrom as Brünnhilde in Opera Australia's production of Siegfried (photograph by Jeff Busby)
Finally, after eight hours, a love duet! – one of the most gradual and ecstatic of its kind. Siegfried discovers Brünnhilde on her rock – a kind of rock from Ikea, wrapped in plastic, like the ones for the taxidermic animals. This long scene requires great artistry from both principals. Lise Lindstrom, looking magnificent after her epic sleep, is magnetic as Siegfried kisses her awake ('Heil dir, Sonne! Heil dir, Licht!). With a mixture of tenderness and fright she resists Siegfried's advances and laments her lost godlike status ('Ewig war ich'). Then, to the most exhilarating music, Brünnhilde relents and the lovers – aunt and nephew – greet the day and rhapsodise. Both singers, at the top of their form, sang with lustre and appropriate fearlessness – a thrilling end to this performance.
Siegfried, by Richard Wagner, is directed by Neil Armfield and presented by Opera Australia. It will be repeated on 5 and 14 December during the second and third cycles of Der Ring des Nibelungen, in the State Theatre, Arts Centre Melbourne. Performance attended: 25 November 2016.
Arts Update is generously supported by The Ian Potter Foundation.