Opera
Tristan und Isolde (Tasmanian Symphony Orchestra) ★★★★★
Rarely has Arts Update sensed such anticipation in a city as it did before Saturday evening's performance of highlights from Tristan und Isolde in Hobart. Throughout the day – much of it spent at MONA, admiring the new exhibition, On the Origin of Art – we kept meeting operaphiles from the mainland who were keen to find out how the TSO had managed to lure Nina Stemme and Stuart Skelton to Hobart for this single performance. Never before had the great Swedish soprano appeared in Australia; and this would be Skelton's Australian début as Tristan, after performances in London, Baden-Baden, and New York (all of them in 2016, his 'year of Tristan', as he told Arts Update during an interview in September).
Arts Update heard both singers in Mariusz Treliński's intelligent, if controversial, production at the Metropolitan Opera in late September (Arts Update, 12 October 2016). That was an unforgettable occasion, with some towering singing and a stirring performance from the Metropolitan Opera, conducted by Simon Rattle.
The Hobart concert was different in a number of ways: a smaller hall (approximately half the size of the Met), a backstage chorus, and a slimmer orchestra (though Robert Gibson, in his cultivated program notes, makes the point that Richard Wagner scored the opera for a modest orchestra). The massive three-act work had been trimmed. King Marke and Kurwenal were absentees: only Brangäne joined the dazed lovers. Act I was abridged to fifty minutes; each of the following acts ran for about half an hour. The transitions were smooth, even the potentially awkward one in Act I when spite and hurt and circumspection are chemically altered and inamorated.
From the first bar, we knew this was going to be an exceptional night. Conductor Marko Letonja announced this with a penetrating 'Tristan chord', the 'dissonant aggregation of notes quoted countless times throughout the opera' (Gibson again). The playing was always fine, powerful and balanced, with some excellent individual contributions, notably the cellos, the principal viola, and Dinah Woods on cor anglais, who thoroughly earned her conductor's bouquet at the end.
Nina Stemme sang magnificently all night, never faltering, never disengaging. Her German is delectable, and it was fascinating to watch her taunt Tristan during Act I, only to swoon after taking the love potion. With Stemme there was just enough movement and expression all night; she was magnetic to watch. The Liebestod – queenly, galvanic, impassioned – was sung with the greatest emotion, like an invocation to the superbly attentive audience ('Do you not feel and see it? / Do I alone / hear this melody?).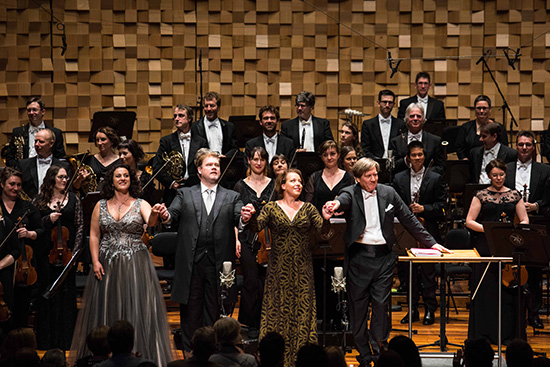 Monika Bohinec, Stuart Skelton, Nina Stemme, and conductor Marko Letonja in Tristan und Isolde (photograph by Alastair Bett, Tasmanian Symphony Orchestra)

Stuart Skelton, remarkably, was in even better voice than he was during the New York première. Like Stemme, he used the Federation Concert Hall's fine acoustic to outstanding effect; his middle voice is that of a Heldentenor of the first rank, and all night he kept on launching high notes that filled the hall.
Best of all, as it should be, was the Love Duet in Act II. Here the unaffected rapport between the two principals was most evident. Together they generated extraordinary power, especially in the frisson-rich climax. The ample-voiced Monika Bohinec's mezzo, heard from the gods, was at its most resonant as she intermittently warned the lovers from Brangäne's tower.
At the end, the audience responded tumultuously, as only a Wagner audience can. Bravo to the TSO for presenting these two commanding artists in Wagner's masterwork. This extraordinary concert will be spoken about – and keenly felt by those who were lucky enough to be present – for years to come.
Tristan und Isolde, by Richard Wagner, was presented by the Tasmanian Symphony Orchestra and conducted by Marko Letonja in the Federation Concert Hall on 19 November 2016.
This concert will be broadcast on ABC FM on Monday, 28 November, at 8 pm.
Arts Update is generously supported by The Ian Potter Foundation.