Theatre
Faith Healer (Belvoir St Theatre) ★★★1/2
Brian Friel's play Faith Healer is now considered to be, if not his masterpiece Translations (1980) probably takes that distinction at least one of his most successful works, but it took a while before its sneakily subverted approach to truth and illusion was appreciated. Its 1979 Broadway première, directed by José Quintero and starring James Mason no less, lasted a mere twenty performances. The fact that it is structured as four monologues probably did not appeal to a Broadway audience accustomed to colour and movement. Its many subsequent productions, including a magnificent one from the Abbey Theatre in the early 1990s starring Donal McCann, Judy Geeson, and Ron Cook have proved its worth although there are still recalcitrant critics like the Spectator's Lloyd Evans whose supercilious review of a recent production sees it as patronising blarney and calls it 'a miserable snapshot of Ireland'.
In fact, Faith Healer is one of Friel's least overtly Irish plays. Two of the three characters are Irish, but the stories they tell take place mostly in Wales, Scotland, and London, though the culminating story occurs in the fictional town of Ballybeg in which Friel has set several of his plays. Frank Hardy is an itinerant faith healer who traverses Wales and Scotland with his mistress or wife Grace, we are never sure which she is, and manager Teddy. In separate monologues, the three reminisce, their memories contradicting each other and occasionally themselves.
Was the town of Kinlochbernie bathed in sunshine or covered in mist? While there, did Grace give birth to a stillborn child as Grace and Teddy claim, or was she barren as Frank suggests? Was Frank's theme-song, Jerome Kern's 'The Way You Look Tonight', sung by Fred Astaire, his choice or Grace's or Harry's? The past, Friel suggests, has a way of eluding us, particularly if there are things we would rather forget.
But Faith Healer is not simply a memory play. It is also a play about the transcendent and destructive power of someone burdened with what Grace calls 'this gift, this talent, this art, this magic'. The burdens of the artist, in fact. The surprisingly perceptive Teddy speaking of the gifted says: 'they know they have something fantastic, sure ... But what it is they have, how they do it, how it works, what that sensational talent is, what it all means – believe me, they don't know ...' For Frank, his act is mostly a con but every so often without his control, a power descends on him. All three remember with clarity the night in Llanblethian when, out of the blue, Frank cures a roomful of the afflicted, but none of them could explain how or why it happened. In her director's notes, Judy Davis quotes Friel as saying 'I think, when the possibility of being able to control or determine what you should do, or what you must do, is no longer in your hands and can no longer be summoned, I think in that case death occurs. Maybe not necessarily a physical death but a spiritual death occurs.' To greater or lesser extent this is the journey of all three characters.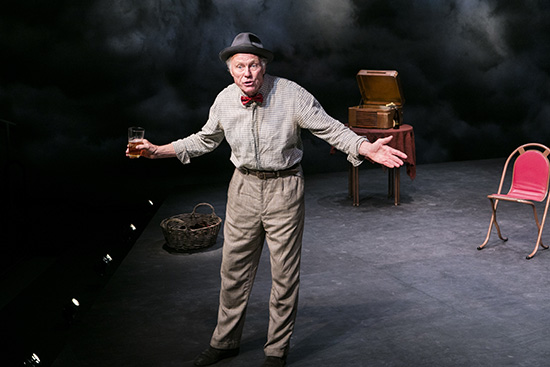 Pip Miller as Teddy in Belvoir St Theatre's Faith Healer (photograph by Brett Boardman)
Friel has structured the play as if it were a piece of music in four movements. Themes appear, disappear, and reoccur in different forms. Frank begins and ends the play while Grace's monologue is a sort of elegy and Teddy's a scherzo.
Davis's staging is minimal as it should be, putting all the emphasis on the actors. Designer Brian Thomson surrounds them with the background of a lowering sky in front of which hangs Frank's tatty banner announcing his show. Paul Charlier's music and sound design subtly evoke a feeling of threat. If Verity Hampson's lighting design is occasionally a bit too obvious, at the end she builds it to a tremendous climax.
Pip Miller is magnificent as Teddy the eternally optimistic showman, desperately trying to keep the faltering show on the road. He is very funny as he describes the previous acts he has managed, but he has complete control shifting emotional gears as he confronts the darker moments of his time with Frank and Grace. We are left with a sad, bewildered man abandoned by those he loved.
Alison Whyte's Grace is devastating. She is a woman at the end of her tether, disintegrating before our eyes, a mixture of rage and grief. The bitter resignation with which she describes the humiliations heaped on her by Frank is balanced by the howl of pain with which, at the end of her monologue, she faces his loss.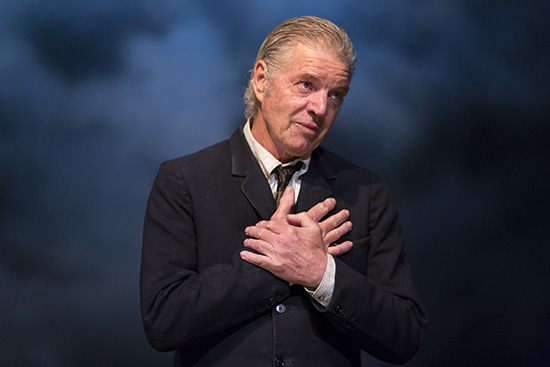 Colin Friel as Frank in Belvoir St Theatre's Faith Healer (photograph by Brett Boardman)
In spite of his thunderous incantatory recital of the towns and villages through which they pass – white noise to drown out unsettling thoughts – Colin Friels is at first a muted Frank. In his first monologue he is nicely sardonic, but there is no sense of the numinous quality that both Grace and Teddy describe, and which drew them to him. But when we meet him again, having learned more about him from the other two, Friels reveals more of his conflicted character and the sense of completion, almost of exultation, with which he finally meets his fate is overwhelming. A fitting culmination to this complex, many-layered play.
Faith Healer is at the Upstairs Theatre, Belvoir, until November 27. Performance attended: 27 October 2016.
Arts Update is generously supported by The Ian Potter Foundation.