Art
Graham Sutherland's portrait of Helena Rubinstein
'There are no ugly women, only lazy ones' was Helena Rubinstein's attitude to personal allure, and her mantra has been a source of hope and steely resolve to the millions of customers who have bought her cosmetics and unguents over the past century.
Although she died in 1965, the Rubinstein name is still familiar to many; her brand is now owned by L'Oréal. But most will be unaware that Rubinstein's business empire did not spring to life fully formed in London, Paris, or New York but was developed and nurtured in Melbourne.
This is why – although it might initially seem odd that the National Portrait Gallery in Canberra should have shown such determination in acquiring a portrait of her by the famed British artist Graham Sutherland – it is fitting that this superb image of one of Australia's great female entrepreneurs should find a home here and not in Europe or America.
It was painted in Paris in 1956, when Rubinstein was eighty-three. Sutherland, after a successful career as a war artist, was in his fifties and at the height of his fame, with a slew of portraits behind him, including those of Somerset Maugham and Winston Churchill (which Churchill's wife later destroyed).
The present oil has come to Canberra through the munificence of three patrons (Marilyn Darling, Tim Fairfax, and the Sid and Fiona Myer Family Foundation); it was bought, for an undisclosed sum 'in the six figures' according to the NPG, from the London dealer Daniel Katz, who bought it in a sale of art works from the Helena Rubinstein Foundation when it was disbanded in 2011.
It is an imposing and imperious work, a three-quarter seated portrait in half profile. Rubinstein wears a heavily embroidered scarlet dress by Balenciaga, and six weighty tiers of pearls around her neck. Her fleshy, manicured hands are armoured with two hefty dress rings and she holds a gold palm-shaped object, possibly a mirror or a fan in one hand. All this adornment – except for a pair of large diamond and pearl earrings – is below the neck, and the flashy opulence could overwhelm a lesser presence. On Helena Rubinstein, however, the imperial and imperious combine in a face of watchful power, which easily surpasses the baubles and brocade. With jet hair pulled severely back, her corvid-like eye is outlined in kohl and her thin lips are a slash of scarlet lipstick. The chin juts defiantly, the nostrils flare. She must have been exciting to paint, however exacting her personality.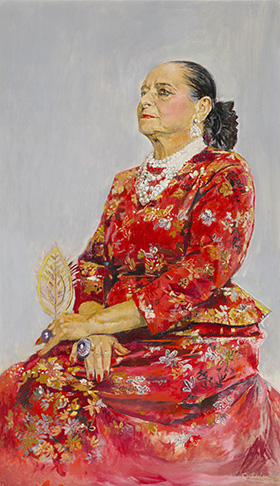 Helena Rubinstein in a red brocade Balenciaga gown 1957 by Graham Sutherland (1903–1980) oil on canvas (National Portrait Gallery)Sutherland is recorded as saying that, although barely four foot ten inches (145 cm), she looked like an empress, but Rubinstein initially disliked the portraits (he painted three versions, this was her favourite), complaining that the artist had made her look like an 'eagle-eyed matriarch'. She changed her mind after critics praised the works as being on par with Renaissance masterpieces when they went on display at the Tate Gallery.
It wasn't a bad comparison for a woman who, though not born to poverty, as she liked to suggest, had modest beginnings. Born in Kraków in 1872, the daughter of a kerosene and egg merchant, she escaped the threat of an unwanted marriage by leaving the country, arriving in Victoria in 1896. After a miserable stint in the small Western District town of Coleraine working for her Uncle Bernard Silberfeld, she moved to Melbourne. According to carefully crafted legend (and after glossed-over stints as a governess and waitress), she mixed lanolin into the little pots of face cream her mother had sent over, and added what she said were potent herbs from the Carpathian mountains. Victoria's wind-chapped and suntanned women couldn't get enough of her softening Crème Valaze. She charged a fortune, realising that the more women paid for luxury, the more they believed in the transformative promise of the product.
After only five years in business in Collins Street, she headed for Europe with £100,000 in profits and quickly opened Instituts de beauté in London, Paris, New York, and a dozen other destinations.
Rubinstein died at the age of ninety-two after a life of considerable business acumen and philanthropy. She perfected the blend of art and pseudo-science that is now de rigueur in the world of beauty products. Through her first marriage, to American publisher Edward Titus, she met many of Europe's pre-war avant-garde, including D.H. Lawrence, Ernest Hemingway, and James Joyce. The latter offered to write copy for her products in the style of Ulysses, claiming that 'women will be so puzzled they will rush out and buy'. Through her second husband, an impoverished Russian nobleman twenty-five years her junior, Rubinstein became the Princess Gourielli.
Angus Trumble, director of the NPG, describes the Sutherland painting as a swagger portrait full of power and splendour. It is interesting to look at it beside other Rubinstein portraits; she was painted by many familiar names including Salvador Dalí, Marie Laurencin, and Raoul Dufy. None translate such a sense of presence and determination; neither do the works most familiar to Australian gallery visitors, the dark, Orientalised paintings that William Dobell created of her in 1957, for entry in the Archibald Prize.
Interestingly, he didn't acknowledge her imperiousness or power either, rather cruelly mocking her vanity in one so old and noting that she seemed sad, despite her millions. Sutherland, accustomed to painting personages, may have been more familiar with the qualities that produce a world-famous titan of business and style. In his portrait, Helena Rubinstein's aphorism on the relationship between resolve, discipline, and glamour is brilliantly evoked.
Helena Rubinstein by Graham Sutherland is currently on display in Gallery Two of the National Portrait Gallery.
Arts Update is generously supported by The Ian Potter Foundation.