Art
New Objectivity: Modern German Art in the Weimar Republic, 1919-1933 (Los Angeles County Museum of Art)
The Weimar period in Germany – spanning less than fifteen years following the end of World War I through to the coup d'état by the National Socialists in 1933 – was crucial in shaping modern Germany. The nation was in a ruinous state because of its wartime defeat, crippling reparations, the Wall Street crash, high unemployment, and hyper-inflation. The political outcome at the end of the Weimar Republic was catastrophic for Europe as a whole. The poles of radical and conservative politics, social upheaval and rapid change mirrored through its art, formed the subject of a fascinating exhibition and accompanying catalogue, first in Venice, then at the Los Angeles County Museum of Art (where I saw it earlier this year).
The term Neue Sachlichkeit (New Objectivity) gained currency when used as the title of an exhibition shown in Mannheim in 1925 – Neue Sachlichkeit: Deutsche Malerei seit dem Expressionismus (New Objectivity: German Painting since Expressionism) – and the label has stuck. In the 1920s, New Objectivity covered a wide field, which is reflected in the diversity of art and artists. Artists of the New Objectivity were not united by a manifesto or particular style or technique: they distanced themselves and their work from expressionism and subjectivity, focusing on representation, and in many cases showing a renewed interest in the art and techniques of the past. As Stephanie Barron describes it, New Objectivity was characterised by 'observation of the modern environment that was sober, unsentimental, and significantly divorced from the palette, painterliness, and tendency toward exoticism and impassioned subjectivity popular in the previous decade'.
Barron and Sabine Eckmann have assembled a team of more than a dozen contributors to cover the wide expanse of the topic. Barron's excellent introduction contextualises the art of the Weimar era and New Objectivity. Rather than focus on styles, chronology, or a few well-known artists – George Grosz, Otto Dix, Max Beckmann, Christian Schad, all of whom are well represented with fine works – the show and the volume are comprehensive and diverse; both explore multiple themes and introduce many new artists.
The book (New Objectivity: modern german art in the weimar republic, 1919–1933, edited by Stephanie Barron and Sabine Eckmann, Los Angeles County Museum of Art, USD$75 hb, 360 pp, 9783791354316) and exhibition follow the same structure, dividing the material into five key themes: 'Life in the Democracy and the Aftermath of War', 'The City and the Nature of Landscape', 'Man and Machine, Still Lifes and Commodities', and 'New Identities: Types and Portraiture'. In addition, the book has several fascinating essays that cover a range of topics, including: 'New Women, New Men, New Objectivity', 'The Politics of New Objectivity', 'New Objectivity and "Totalitarianism"', 'Writing Photography'. This allows for stimulating thematic essays and results in an immensely satisfying experience for the reader. Juxtaposition, which can seem clumsy in exhibitions – chiefly when paintings are hung adjacent to photographs – came off brilliantly here.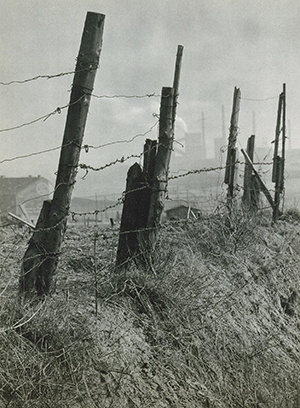 Untitled (Industrial Landscape near Essen) by Albert Renger-Patzsch, 1929 (The J. Paul Getty Museum)In a masterful selection of photography, August Sander is well represented, with several images from his People of the Twentieth Century series. Other photographers whose work deserves to be better known outside photography circles include Aenne Biermann, Hans Finsler, and Albert Renger-Patzsch. The latter, despite Walter Benjamin's negatively intended criticism that he had the ability to 'endow any soup can with cosmic significance', proves to be one of the most arresting photographers of the era. All three photographers use powerful modernist aesthetics of composition and lighting to present images. Their apparent cool 'objectivity' and frequent use of abstract form do not negate the artists' strong interest in the surrounding world. Like the paintings, they are firmly of their epoch.
Even more disturbing than Otto Dix's series of anti-war etchings, Der Kreig (War), are the images by Dix and others on the sex murder (Lustmord) theme. Sex murders of prostitutes became so prevalent in Germany during the late 1910s and early 1920s that they became a genre for artists. Barron does not shy away from presenting this confronting part of post war Germany. She also includes images of the maimed and broken. Germany's progressive approach to sexuality is covered and includes some remarkably frank images of same-sex couples. Given the Nazi's pathological hatred of any 'deviant' sexuality, it is surprising that any of this material from the Berlin's gay scene of the 1920s survived at all.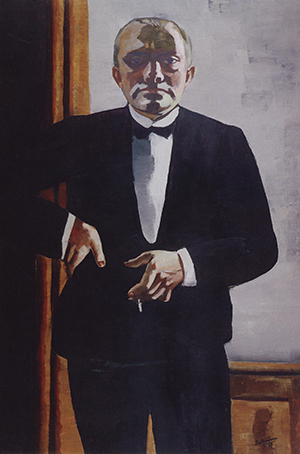 Self-Portrait in Tuxedo by Max Beckmann, 1927 (Harvard Art Museums)Among this rich offering, it is the paintings that stand out, and many of the most famous works by artists of the New Objectivity are included. There are the distancing ironic images of bourgeois society by Dix and Beckmann, the bleak views of postwar Germany offered by Grosz and Georg Sholz, and some extra- ordinary portraits by Christian Schad.
It is impossible not to read a book covering this period without knowledge of what followed. There is a portrait by Kurt Günther of an intense self-contained blond boy who must be destined for the Hilter Youth at the very least; Renger-Patzsch's supposedly neutral photographs were greatly favoured by the Third Reich; Otto Dix was dismissed from his teaching position in 1933, and his work was removed from German collections and featured in the Entartete Kunst (Degenerate Art) exhibition of 1937. New Objectivity provides an arresting visual record of the art that preceded Germany's most inglorious years.
New Objectivity: Modern German Art in the Weimar Republic, 1919–1933 ran from 4 October, 2015 to 18 January, 2016 at the Los Angeles County Museum of Art.
Arts Update is generously supported by The Ian Potter Foundation.