Film
Joe Cinque's Consolation ★★★
Early in Helen Garner's Joe Cinque's Consolation (2004) there is a striking description of Anu Singh, the Canberra law student arrested in 1997 for drugging her boyfriend Joe Cinque with a cocktail of heroin and Rohypnol. In court one morning, Singh uses the interval before the judge's arrival to tie back her hair. Most observers would scarcely register this commonplace act, but Garner homes in, giving a blow-by-blow account of what she sees as 'an almost indecently intimate and histrionic display, a series of age-old feminine gestures'.
Garner, it hardly needs saying, is an extraordinary writer, and what she does is qualitatively different from the usual run of crime journalism. She writes not as an expert in law or criminal psychology, but as a literary artist – equipped with a rare sensitivity to nuances of dress, speech, and body language, and with the faith that such details can reveal the essence of a personality or a moral condition.
At the same time, Garner stresses her own unreliability as a narrator, questioning but refusing to abandon her instinctive emotional responses: pity for Cinque and his shattered parents, rage towards Singh – who reminds her of the worst aspects of her younger self – and baffled horror at the friends who knew of Singh's plans and did nothing to stop them. Thus the book tells two stories in one: the story of Cinque, Singh, and their circle; and the story of Garner's quest to fit together the pieces of the puzzle. (Peter Rose reviewed the book in the September 2004 issue of ABR)
A first feature directed and co-written by Sotiris Dounoukos – who himself studied law in Canberra in the 1990s – this adaptation takes a different tack. Dounoukos has drawn inspiration from many of Garner's courtroom observations. In the university library, Maggie Naouri as Singh ominously ties back her hair just before photocopying texts on suicide and poison. But the film unfolds in linear fashion, ending with Singh's arrest and excising the book's urgent first-person voice: where Garner is frank about what she thinks of Singh and her alleged co-conspirator Madhavi Rao, Dounoukos leaves it to the audience to pronounce judgement.
On the surface, the result is not far removed from the mechanically fictionalised docudramas that are a staple of Australian commercial television, though the studied style indicates the blankness is at least partly intentional. Suburban houses and university lecture halls are framed symmetrically from afar, making us see Canberra as a closed world that keeps reality at bay – like Harvard in David Fincher's The Social Network (2010) or Versailles in Sofia Coppola's Marie Antoinette (2006). Dialogue scenes are often wilfully stilted, the actors occupying fixed, separate positions as if tossing a ball across an abyss, while Dounoukos cuts back and forth.
These choices seem to be intended to hold us at arm's length, but in any case there is little danger of us identifying too closely with anyone on screen. By most accounts, Cinque (Jerome Meyer) was a kind, easygoing fellow whose only mistake was to fall for the wrong girl, but none of this makes him very compelling from a dramatic point of view. In both book and film, the spotlight is mostly on Singh, depicted here as both a depressive and a classic histrionic personality. She is always trying to create an impression, whether hosting a dinner party or scowling as if those around her were responsible for her suffering. The effect of Naouri's interesting performance is that of a good actress playing a bad one.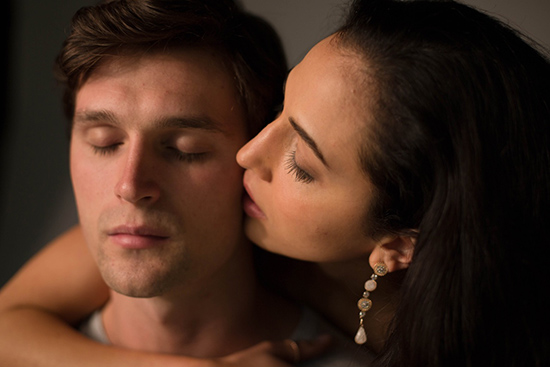 Jerome Meyer and Maggie Naouri in Joe Cinques Consolation
More interesting still is the ethnically diverse but middle-class student milieu, seen as decadent but not glamorously so. With his spectacles and gelled hair, Saul the heroin dealer (Jacob Collins-Levy) could be the frontman of a Christian rock group. Dounoukos's deadpan approach introduces an element of black comedy not present in the book, as life-or-death discussions are interpersed with casual banality (Do you guys want to grab some brunch or something?'). Time seems to have stalled, with adolescence over and adulthood not yet begun; stuck on the treadmill of study, the characters find reality and fantasy hard to differentiate, and leap at any chance for excitement.
The most intriguing character is Rao (Sacha Joseph), the motherly, outwardly common-sensical friend who supports Singh nearly all the way in her crazed scheme (initially framed as a supposed suicide pact). In some respects, she is the true villain of the film, yet her motives are even more mysterious than Singh's: suppressed rage, a need for control, a yearning to escape a staid persona? Doukounos provides some hints, like the glimpse of Rao dancing in a shower of glitter at a ball the night of Cinque's death, and gazing the next morning at a leftover sequin. But where Garner finds significance everywhere, this imperfect but unusual film suggests understanding might finally be out of reach – to the point where it is hard to draw any certain moral.
Joe Cinque's Consolation (M), directed by Sotiris Dounoukos, written by Dounoukos and Matt Rubenstein, and produced by Consolation Films, is being shown at Cinema Nova.
Arts Update is generously supported by The Ian Potter Foundation.