I began to lose count of the murders in You Were Never Really Here around the halfway mark. The film is only ninety minutes long, so quite a lot of carnage is crammed into it. Sometimes, the violence takes place just past the edge of the frame. Several gruesomely bloody scenes are interspersed with many bloodless yet no less visceral ones. The film's opening shot shows a man with a plastic bag tied over his head, close to suffocation. Things only get more brutal after that.
You Were Never Really Here concerns a hitman, known only as Joe (Joaquin Phoenix), who specialises in extracting young girls from situations of sexual trafficking. Joe is the kind of guy who enters a building by the fire escape and then leaves again the same way, having caused mayhem in between. When he's not out and about murdering traffickers, he looks after his ageing, fragile mother (Judith Roberts) and engages in rounds of auto-asphyxiation. It's Joe we see in the opening shot, suffocating himself. Staccato flashbacks throughout the film yank us back to Joe's childhood, which was marred by domestic violence, and to his former career as a US army soldier.
Phoenix combines nervous energy and nervous exhaustion in his portrayal of a man whose life has been blighted by fear and violence. Phoenix has transformed himself physically for the role, grown bearded and bulky, and his presence must carry a film that has little dialogue and few roles, apart from his. There isn't a great deal of plot, either. For $50,000, Joe is hired to rescue Nina (Ekaterina Samsonov), a young runaway who has fallen into the clutches of a New York paedophile ring. Nina's father happens to be a high-ranking city politician; he demands of Joe both secrecy and ruthlessness. 'I want you to hurt them,' he says. But the rescue goes wrong, which was probably bound to happen: it's hard to maintain discretion when you've hired a hitman whose weapon of choice is a hammer.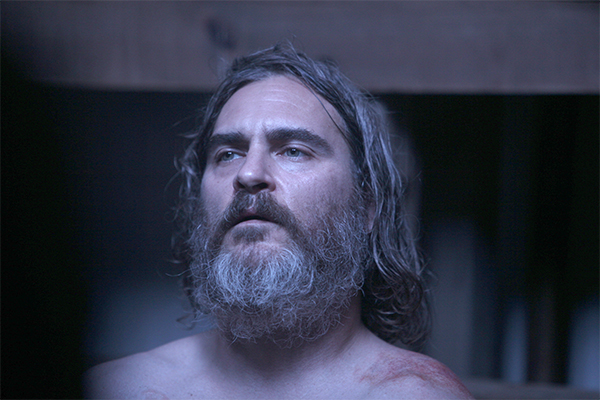 A still of Joaquin Phoenix in You Were Never Really Here (Umbrella Entertainment)
The film's director, Lynne Ramsay, has a small but impressive body of work behind her (three features before this one), centred on the relationship between physical violence and emotional guilt. Her début, Ratcatcher (1999), which was set in Ramsay's home city of Glasgow during the early 1970s, was about a young boy implicated in the death of a playmate. Morvern Callar (2002), also set in Scotland, is named for its protagonist, played by the excellent and underused English actor Samantha Morton. The film opens just after the suicide of Morvern's boyfriend, on Christmas morning: Morvern's difficult and secretive bereavement becomes the motor of the plot. We Need To Talk About Kevin (2011), Ramsay's previous film, starred Tilda Swinton as a mother whose son, a teenage murderer, is a living torment to her.
Ramsay's skill in framing and composition is second to none; she builds her films meticulously, shot by shot, like visual poems. Dialogue and plot are sparse because narrative is of secondary interest to her; sensory impressions are key. Her eye is drawn to everyday objects made strange or sinister by her characters' emotional afflictions. In You Were Never Really Here, such objects include silver cutlery, a coffee percolator, discarded tissues, and, rather memorably, jelly beans. In this film she often frames people's torsos, rather than their faces, to create a visual analogue for the fragmented, traumatised way in which Joe experiences the world. And when it comes to onscreen violence, she uses visually distancing devices – filming reflections, for instance, or using surveillance footage – to emphasise Joe's profound alienation from himself and from his actions.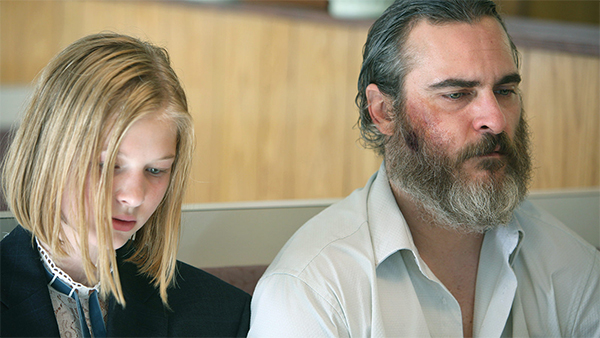 A still of Ekaterina Samsonov and Joaquin Phoenix in You Were Never Really Here (Umbrella Entertainment)
Ramsay's eye is matched by the ear of her sound designer, Paul Davies, whose work here is calculated to unnerve. The film's diegetic sound – the rustle of a plastic bag, a cat's purr, the conversation of passers-by – is deliberately too crisp and loud, conveying the sense of a protagonist at the edge of his wits, while occasional mismatches between sound and image heighten the disorientation of Joe's flashbacks. There is enough going on in the sound design to make the film's scraping, atonal score, by Jonny Greenwood – who also scored We Need To Talk About Kevin – feel largely extraneous. The score also feels rhythmically adrift from the editing, as if chunks of it had simply been laid on top of the visuals.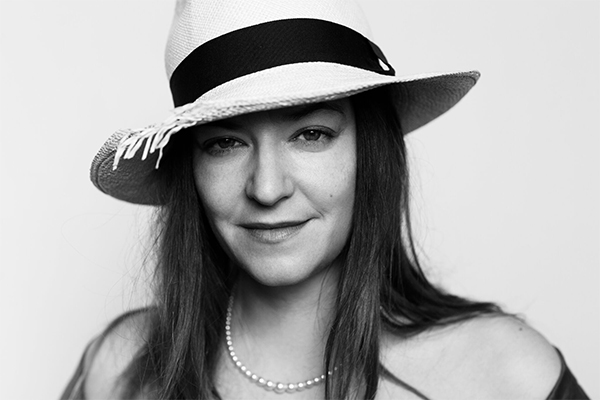 Director Lynne Ramsay (Photo via Umbrella Entertainment)This is one of the film's few technical shortcomings. It's hard to fault You Were Never Really Here on the level of craft – it's surely the most beautiful-looking film about cold-blooded murder that you're likely to see this year. And yet I remained unconvinced by it, which hasn't been true of Ramsay's previous work. For all the emotional strangeness, and estrangement, that characterises Ramsay's style, her earlier films retained a potent connection to the realities of ordinary life; it was the combination of extremity and banality that made them haunting. You Were Never Really Here feels much more remote and unreal in its scenario, and though it has been compared several times already to Martin Scorsese's Taxi Driver (1976), I'm not sure that the comparison holds weight. Part of the power of Taxi Driver is that Travis Bickle is, well, a taxi driver: an ordinary man disguised as an avenging angel (or vice versa). Joe is much more of an assassin, a genre character in a film that tries very hard to rise above the level of genre filmmaking but that might have been better off digging down into the muck of it.
You Were Never Really Here (Umbrella Entertainment), 90 minutes, directed by Lynne Ramsay, screenplay by Lynne Ramsay from a novel by Jonathan Ames. In cinemas: 6 September 2018.
ABR Arts is generously supported by The Ian Potter Foundation and the ABR Patrons.