Film
David Brent: Life on the road ★★★
The ending of the BBC 'mockumentary' sitcom, The Office (2001–03) was suitably cathartic. Its supporting protagonists, Tim Canterbury (Martin Freeman) and Dawn Tinsley (Lucy Davis), walked off into the sunset hand in hand to Yazoo's synth love-ballad 'Only You', and its central character David Brent (Ricky Gervais) – the deluded middle-manager of fictional paper company Wernham–Hogg – found a glimmer of salvation in a woman who could stand him. He even summoned the courage to tell the bullying office chauvinist 'Finchy' to 'fuck off'. So resonant were the triumphs of The Office's everymen (and everywoman), and so well-rounded were their story arcs that Gervais, the show's co-creator – with Stephen Merchant – firmly rejected the notion of a third series after the Christmas Specials: 'There's not even a part of me that thinks, "I wonder if we can do another one". We just mustn't.'
In creating David Brent: Life on the road (written and directed without Merchant), Gervais has found a loophole in his post-Office pledge. It is a spin-off of sorts, rather than a sequel, following the exploits of its titular character twelve years after the events of the original series. Brent has been taken down a peg or two since then: he is no longer a regional office manager, but a field salesman at Lavichem, a cleaning and feminine hygiene products company. His new workplace contains a mixture of hostile and quietly concerned colleagues. Jezza (Andrew Brooke), the office bully, aggressively chastises Brent and his younger 'sidekick' Nigel (Tom Bennett), but is rebuffed by the sympathetic receptionist Karen (Mandeep Dhillon) and by Pauline (Jo Hartley) from accounts, a mousy character who loves Brent from afar for no discernible reason other than to serve as a prop for his own 'into-the-sunset' moment at the end of the film.
Brent's hopes of rock stardom, at the age of fifty-five, are fading fast. He makes one final, desperate lunge at fame by recruiting a gaggle of younger, trendier musicians, including a rapper Dom Johnson (Ben Bailey Smith) and a sound engineer Dan (Tom Basden) to reform his old band 'Forgone Conclusion' and to embark on a 'world tour' around his home county of Berkshire. As the group are dragged from one poorly attended gig to the next, compelled only by the promise of being paid, Brent's attempts to come off as a politically correct and erudite front man fall flat in front of paltry crowds, much to the chagrin of his band mates. They wince behind their instruments while grudgingly playing such songs as 'Please Don't Make Fun of the Disabled' ('please be kind to the ones with feeble minds, help the awkward through a door') and 'Native American' ('they only scalped when they got real mad'). The songs are suitably outrageous and demonstrate Gervais's considerable talents as a comedic songwriter, rather than as essential elements to drive the narrative of David Brent forward.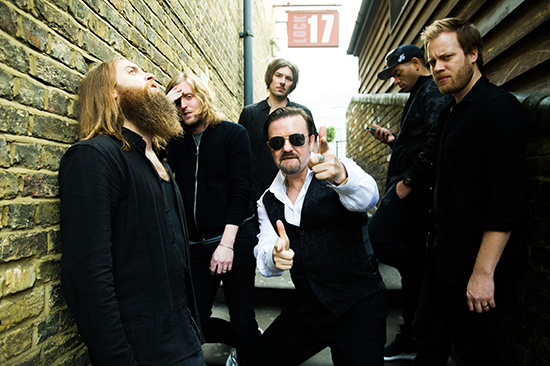 Ricky Gervais as David Brent, and his band 'Foregone Conclusion' in David Brent: Life on the road (EntertainmentOne)
The film is undeniably funny. However, like many of Gervais's recently directed works – think the abysmal Special Correspondents (2016) – suffers from an uneven tone, which swings from the comic to the maudlin. In the opening act, Brent confesses that he has been on anti-depressants and has undergone extensive psychotherapy following the events of The Office. The notion that Brent is a man with serious mental issues, rather than simply being an awkward buffoon, pricks at the viewer's conscience throughout, and jars with more farcical moments, such as Brent taking a tumble on stage, accidentally firing a T-shirt cannon into a woman's face, or frequently dropping the 'N' bomb in a drunken, misguided attempt to connect with his black 'friend' Dom Johnson.
David Brent features some solid performances from its relatively unknown cast. Tom Basden who plays the straight-talking Dan, counters Brent's bluster with po-faced candour. His character is as close to being 'our man on the inside' as any in the film – a lens through which the audience can observe Brent's flailing from a safe distance, not dissimilar to the The Office's dry, witty Tim Canterbury, albeit less developed. Ricky Gervais himself has not lost his touch. The comedic idiosyncrasies that made David Brent such a memorable character – the awkward, toothy grin; the 'help me' stare at the camera; the hollow, pudgy swagger – have aged well. A few scenes prior to the film's unexpected and somewhat trite denouement we see Brent at his lowest ebb, stripped of any delusions and on the verge of tears – a fine, understated performance from Gervais.
David Brent is a departure from The Office in almost every sense. At one point, our protagonist literally waves goodbye to Lavichem before he ventures into the wider world. Gone are the grey, sterile office walls and the gloomy trading estate befitting John Betjeman's vision of 'Slough' (Come friendly bombs and fall on Slough! / It isn't fit for humans now / There isn't grass to graze a cow); gone are the subdued office flirtations of Tim and Dawn; gone are the seemingly endless moments in which the viewer is left to soak in the brine of an excruciating moment, punctuated only by the sound of a distant photocopier; and gone is Gervais's most successful collaborator Stephen Merchant, the astute mediator between the comedic intellect and the child-like indulgences of Ricky Gervais. What remains is an undisciplined film, packed to the brim with humourous content and interspersed with moments of pathos, but lacking in the subtlety and realism of its source. However, as far as superfluous indulgences go, David Brent is an entertaining one and, tellingly, Gervais's most competent film to date as writer–director.
David Brent: Life on the road (MA 15+) is written and directed by and starring Ricky Gervais, and distributed by EntertainmentOne. 96 minutes. In cinemas in Australia from 25 August 2016.
Arts Update is generously supported by the Ian Potter Foundation.